Michelle Obama's purple suit and sequined bustier are a showstopping combo
Michelle Obama wrapped up her "Becoming" book tour Sunday night with a final dazzling stop in Nashville, Tennessee, alongside "Late Show" host Stephen Colbert. The former first lady shone in a minty metallic suit one day after wowing crowds in Atlanta in a purple suit and custom black bustier.
The Atlanta and Nashville outfits continued Obama's "power suiting" trend that's included nearly every style, color and eye-catching accessory over the past few months ― from pink crystals to plaid stripes and everything in between.
Nothing surpassed this metallic sensation, which seemed like the perfectly suited sendoff for the author. Colbert reminded Obama this was a major moment, considering that the Nashville audience was missing "Game of Thrones."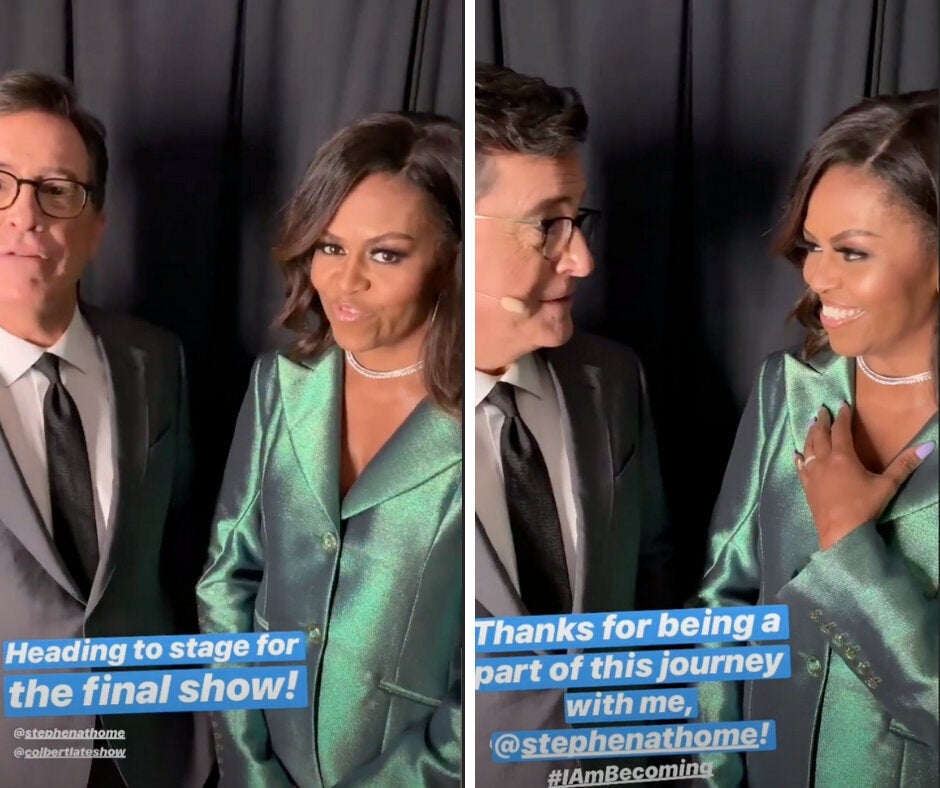 Back in Atlanta, the former first lady appeared in a stunning purple silk suit from Sergio Hudson's Fall 2019 collection, as identified by Footwear News, paired with a purple and gold belt.
"What [an] honor for our Forever First Lady @michelleobama to wear a custom suit from our Fall 2019 collection," the designer said on Instagram, later clarifying in a separate post that the color was "eggplant."
That night, Obama also wore a custom black sequined bustier by Christy Rilling Studio (Rilling has been her tailor since 2009) and towering black stilettos.
Michelle Obama's style transformation
Michelle Obama's style transformation
In her memoir, "Becoming," Obama wrote about the process of crafting her distinctive style during her husband's first presidential campaign and subsequent terms in office.
"It was a thin line to walk. I was supposed to stand out without overshadowing others, to blend in but not fade away," she wrote, speaking about the fashion choices she made with Meredith Koop, who later became her wardrobe stylist and still styles Obama today.
"As a black woman, too, I knew I'd be criticized if I was perceived as being showy and high-end, and I'd also be criticized if I was too casual," Obama said. "So I mixed it up. I'd match a Michael Kors skirt with a T-shirt from Gap. I wore something from Target one day and Diane von Furstenberg the next."
Take a look at more of Obama's stylish looks below:
Michelle Obama's show-stopping looks on tour
Michelle Obama's show-stopping looks on tour
This article originally appeared on HuffPost.
Read Full Story