Try this twist on your typical bbq sandwich
Have you tried jackfruit yet? It seems like this food trend has completely exploded over the last few years, for which I'm really happy about.
I've been a vegetarian for well over a decade and it's amazing to watch the transition happen on a larger level in addition to my own. In the beginning, it was difficult to even find tofu at certain grocery stores and now I can enjoy jackfruit BBQ sandwiches in such places as Kansas City, MO– known for their BBQ, not exactly their vegan options.
It's pretty exciting.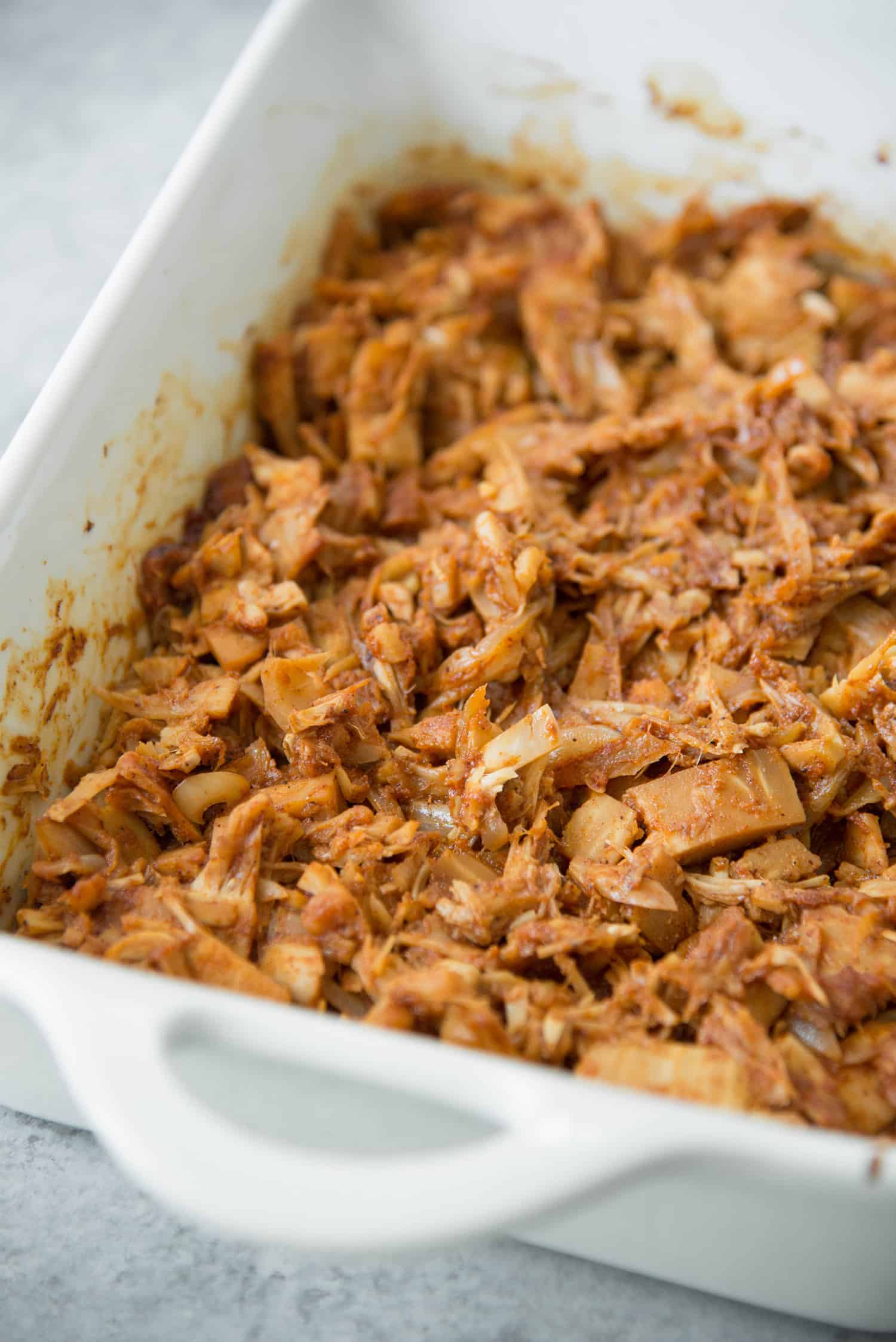 I first made jackfruit years ago after finding a recipe from Isa for a 'pulled pork' version. Honestly, I wasn't sure what to expect. I tracked down some canned jackfruit at an Asian supermarket and, after viewing the contents of the can, didn't think it would be able to be turned into the BBQ I was imagining.
Thankfully, Isa knows her way around a recipe and in a little over an hour, the canned fruit was completely transformed. The secret, like tofu and tempeh, lies in prepping the jackfruit well and a killer sauce.
I've found that sautéing the jackfruit first with aromatics like onion and garlic, then baking it with BBQ sauce creates depth of flavor and perfectly crispy bits. The video below shows how to properly slice the jackfruit, and I'll explain it here as well.
Drain the jackfruit completely. Please make sure your jackfruit is in brine or in water, it will NOT work if it's canned in syrup as that's the ripened jackfruit, not the unripe version. Think of green papaya and ripe papaya, same fruit but a completely different flavor.
From there, slice the jackfruit from end to end to create thin strips. As the jackfruit cooks and softens, use a potato masher to break the jackfruit up into stringy pieces. Add your favorite BBQ sauce, then place in an oven-safe container and bake for 15 minutes. Remove, add more sauce and finish baking. Baking twice encourages the jackfruit to soak up as much sauce as possible and create slightly charred ends that taste a lot like pulled pork.
From there, it's up to you. I like this best with creamy coleslaw in a bun, but you can enjoy this one however you like your BBQ. Since most of the flavor comes from the sauce, choose one you love.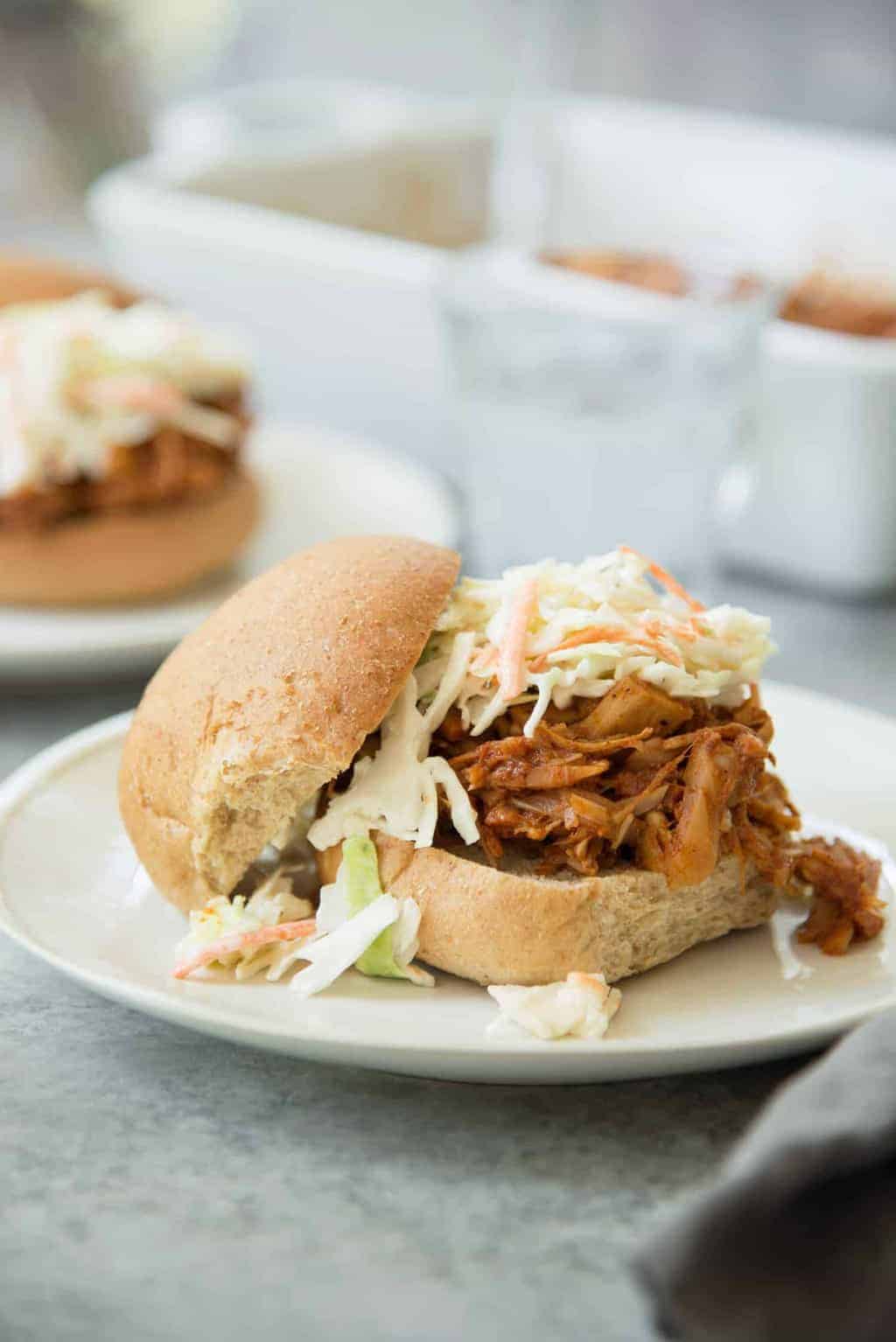 The only downside to using jackfruit is that it's fairly low in protein, making this a less than ideal meat substitute. However, I don't eat this all the time and feel confident in getting enough protein from other foods/meals throughout the day that I'm not too worried about it. However, I'm working on creating this recipe again using some tempeh or beans to up the protein and fiber. Stay tuned!
BBQ Jackfruit Sandwiches
AuthorAlex
BBQ Jackfruit Sandwiches! If you haven't tried this pulled pork alternative before, you've gotta try this recipe. Shredded Jackfruit with homemade BBQ sauce.
Ingredients
2 cans young jackfruit in water or brine (not in syrup)
1 tablespoon oil
1/2 white onion, sliced
2 garlic cloves, minced
1/3 cup vegetable broth
2 cups BBQ sauce
8 buns, for serving
Coleslaw, for serving (I use this recipe)
Instructions
-Preheat the oven to 400 degrees F. Whisk together all of the ingredients for the BBQ sauce, adjust for seasoning, then set aside.
-Drain and rinse the jackfruit. Remove from the can and slice the jackfruit from the core to the end, lengthwise. Doing it this way will allow the jackfruit to shred properly.
-Heat the oil in a large skillet over medium heat. Add the onion and cook for 5 minutes, until just browned. Stir in the garlic and jackfruit and cook an additional 2-3 minutes.
-Add in the vegetable broth and let jackfruit simmer until warmed completely through, about 5 minutes. Using a potato masher, mash the jackfruit until it resembles shredded meat. Stir in 1 cups of the BBQ sauce, then transfer mixture to an oven-safe container.
-Bake for 15 minutes, then remove from the oven, stir and add in the remaining BBQ sauce. Return to the oven and cook an additional 10 minutes.
-Serve with buns of choice and coleslaw.
The post BBQ Jackfruit Sandwiches appeared first on Delish Knowledge.
RELATED: Products your grill needs this summer

Grilling products to buy this summer
Grilling products to buy this summer
Read Full Story