15 minute vegan pad thai
Let's all cheer for 15 minute meals. I almost didn't share this one because it's so simple and not really much of a recipe but then I remembered that this is what we do.
We share food that we love; bonus points if it's ready in less time than it takes to call up take-out or scrummage around the pantry trying to determine dinner.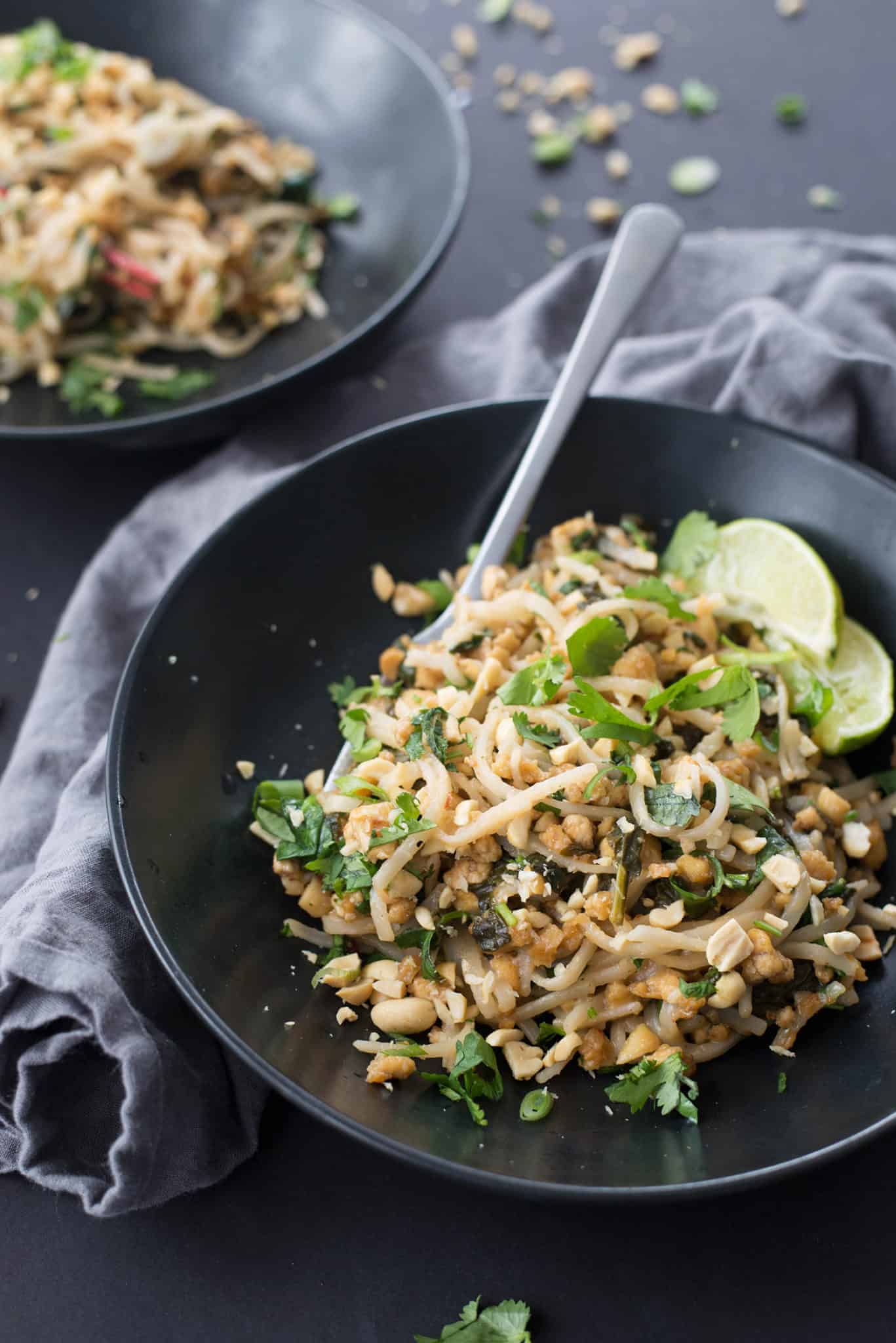 We all know how I feel about Thai food. Which, is a lot, especially for a Danish/Italian gal. While I'll always have a soft spot in my heart for pastries and pasta, I get downright giddy for spicy Asian fare.
Do I need to do my always disclaimer that this isn't authentic but it doesn't matter because it's so incredibly delicious? I think my above statement proves this fact. It's pad thai that's ready in 15 minutes, without any special trips to an Asian market. Sure, there is a time for those meals but this isn't one of them.
This is a hangry, exhausted from a long day of work, don't feel like cooking meal.
I created this meal under such circumstances. It was almost 9PM, BL was working late and I had almost thrown in the towel on dinner. I tend to do that the later into the evening it gets. Once the clock ticks past 8, I start looking for excuses to eat avocado toast or take-out for dinner.
BL called to let me know that he was on his way home and starving. Extra emphasis on starving. After I tried persuading him that cereal was an awesome dinner selection, I went into the kitchen to see what I could make for him.
Tofu, spinach, rice noodles- lets do pad thai! Or, my 15 minute version of it.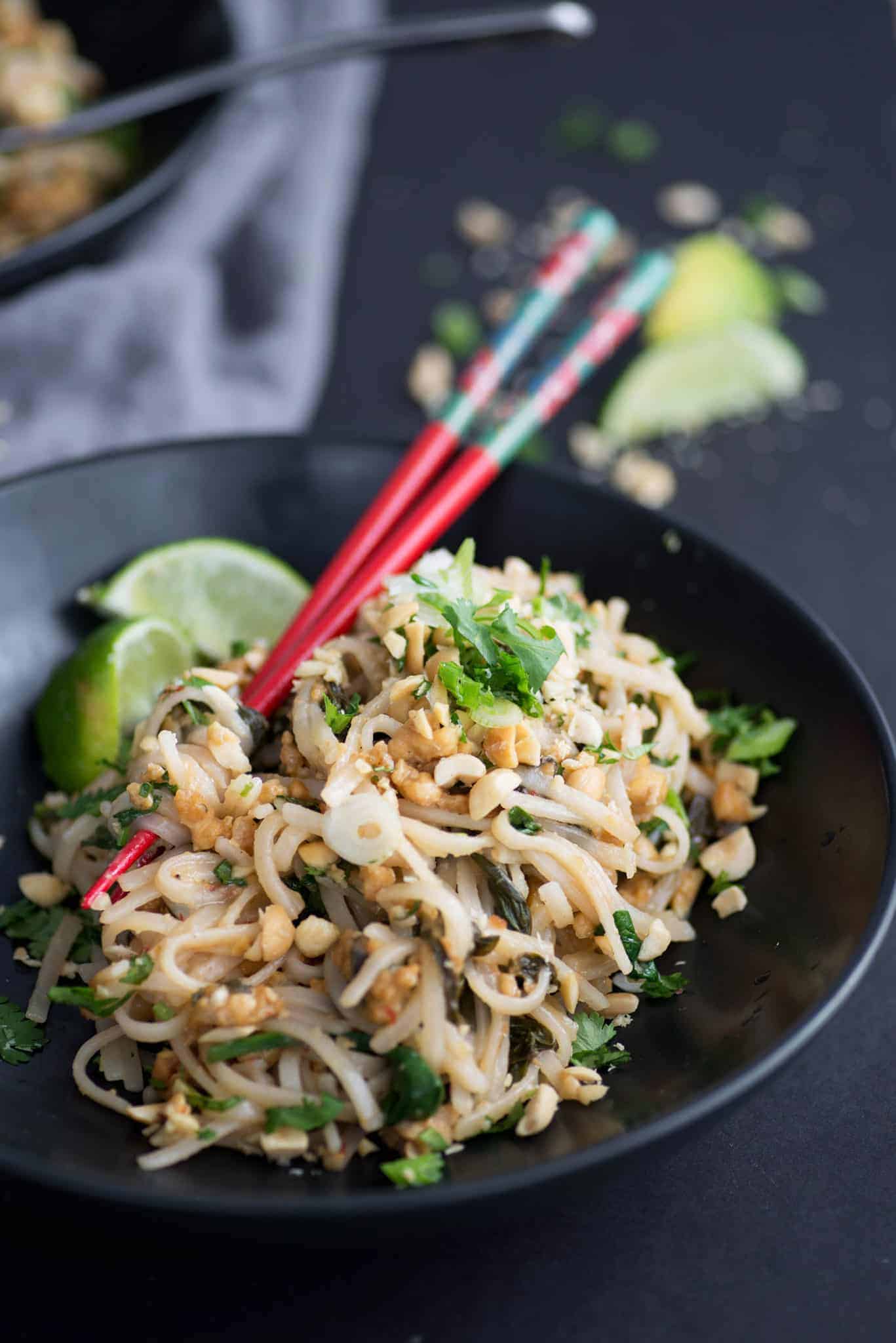 I've been working on this dry-fry method for tofu lately and it's really, really good. Did I mention how much BL thinks he hates tofu? I put this stuff in everything and he really has no idea what it is.
The secret is using a cast-iron pan to fry out most of the moisture in the tofu. This creates a chewy, dense crumble that's similar to finely scrambled eggs or ground meat. Add in the noodles, spinach and sauce and stir, stir together.
Garnish liberally with chopped peanuts and cilantro and you are looking at one delicious, simple dinner.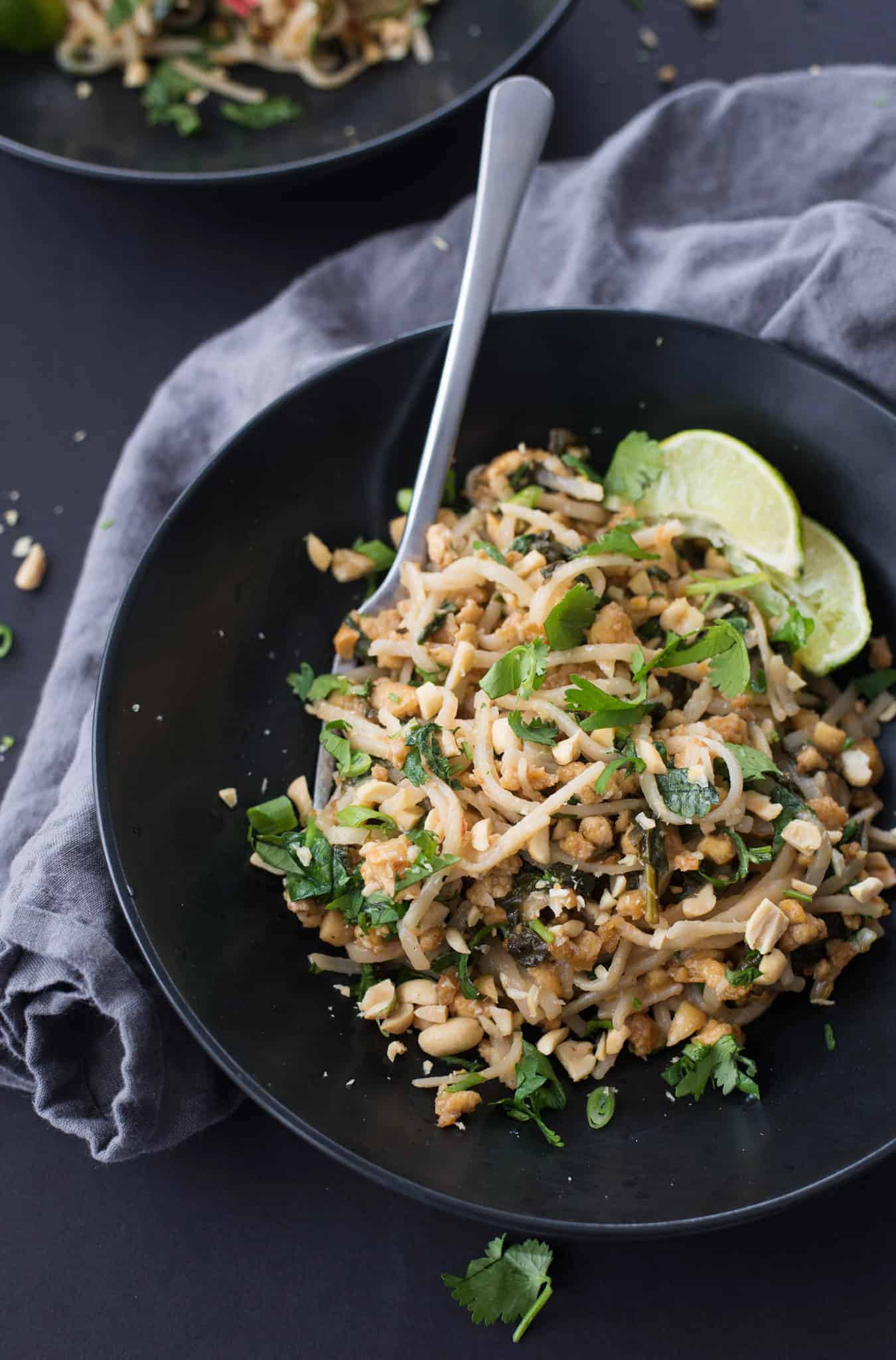 15 Minute Vegan Pad Thai
Prep
Cook
Total
AuthorAlex
Yield4servings

15 minute vegan pad thai! Save this one when you need a quick, healthy meal. Crispy tofu, brown rice noodles, spinach, peanuts and a simple pad thai sauce.

Ingredients
-3 tablespoons lime juice
-3 tablespoons brown sugar
-1/4 cup vegetable broth
-2 tablespoons rice wine vinegar
-1 tablespoon soy sauce
-1 teaspoon chili paste
-1 tablespoon peanut butter
-1 tablespoon oil
-8 ounces brown rice noodles
-6 ounces spinach leaves
-8 ounces tofu, pressed and drained
-1/2 cup peanuts, chopped
-1/4 cup chopped cilantro
1 scallion, chopped

Instructions
1. Whisk together the lime juice, brown sugar, vegetable broth, vinegar, soy sauce, chili paste and peanut butter until smooth. Set aside.
2. Bring a pot of water to a boil. Add the noodles and cook until just al dente according to package directions.
3. While the water is coming to a boil, drain and press the tofu, removing as much water as possible. Heat the tablespoon of oil in a cast iron skillet (or other skillet) over medium heat. Crumble in the tofu directly into the pan and stir, breaking up the tofu as much as possible. Cook until very dry and most moisture is gone, about 5-7 minutes.
4. Add the cooked noodles, spinach and pad thai sauce to the skillet. Toss for 3-4 minutes until warmed through and spinach is wilted. The sauce should have reduced and thickened with the noodles and spinach.
5. Stir in the peanuts, cilantro and scallions. Divide onto plates and serve immediately.

The post 15 minute vegan pad thai appeared first on Delish Knowledge.

RELATED: 8 pastas that only take 8 minutes to make

8 pastas that only take 8 minutes to make
8 pastas that only take 8 minutes to make
Read Full Story