Healthy and rich mushroom wonton soup
When you want things bad enough, you'll take matters into your own hands.
That was me, a few weeks ago, nursing a nasty, icky cold and craving nothing but soup. Not just any soup, wonton soup; the kind I used to order as a kid at my favorite Chinese restaurant whenever I was feeling under the weather. I know in my heart that soup didn't have any magical powers, but try telling that to a 9-year-old who insisted on a giant bowl of broth and dumplings anytime a fever spiked. Food memories, it's powerful stuff.
Living in the Midwest usually means that I'm not as spoiled with vegetarian options at every place. While I love our life in St. Louis, the thing I miss most about California (besides my friends, the culture and the weather) is the lack of vegetarian diversity. It's 2017! Shouldn't we have a few more plant-friendly joints in the area?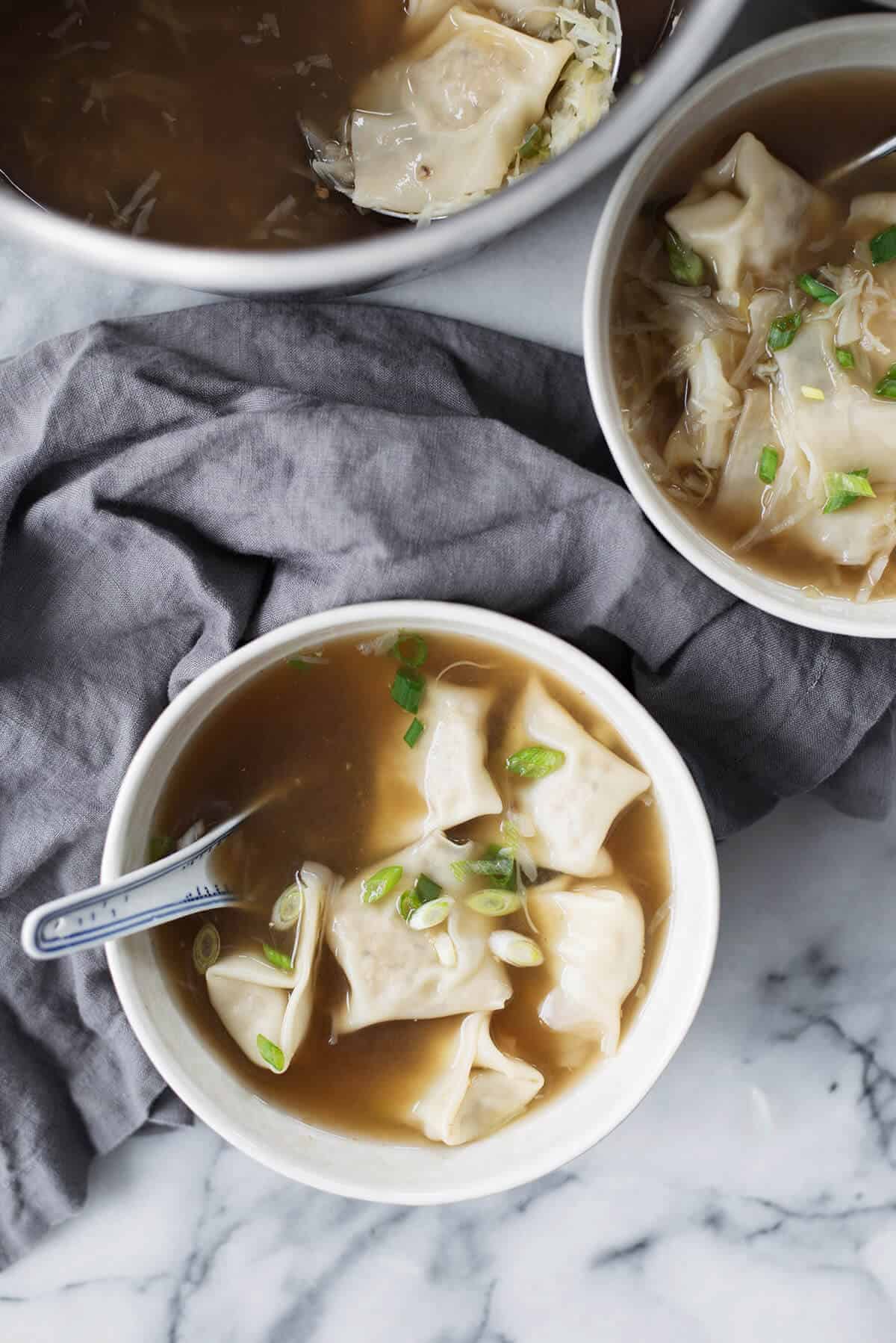 After calling around to shop after shop seeking veggie wontons, I dragged myself to the store and purchased a few ingredients: wonton wrappers, mushrooms, shredded cabbage. Is it sacrilegious to put shredded cabbage in your soup? Maybe, but for whatever reason, shredded, melty cabbage sounded perfect to my sickly heart.
If you haven't made your own wontons before, try it! I promise it's not as difficult as it looks– I first tackled this recipe in a sorry state of sore throat, runny nose and clammy temperature. Thankfully, no one was around to witness this pretty picture. If I can do it like that, you can too.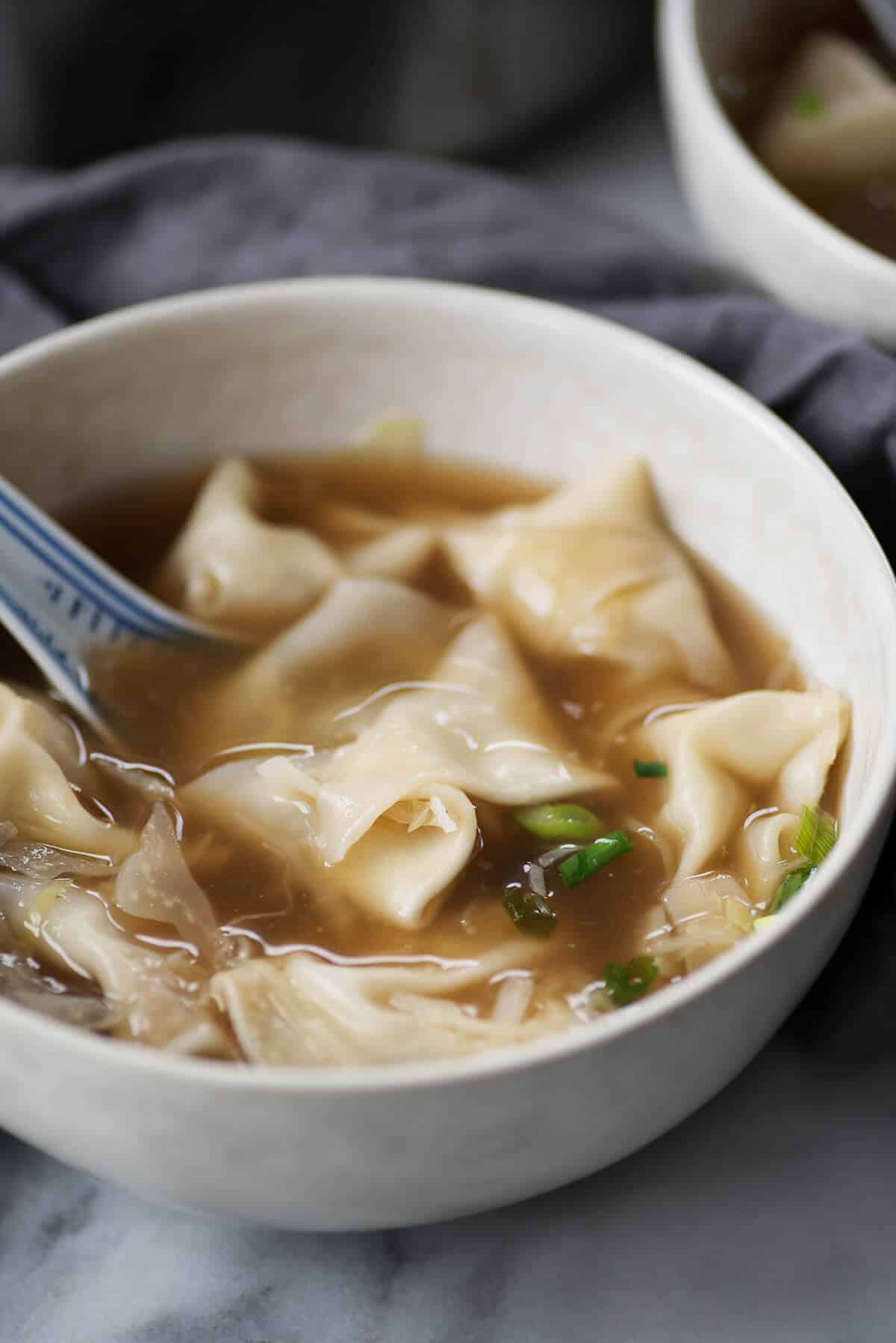 To save time, I used my favorite packaged mushroom broth from Pacific Foods. Though, if you're not fighting a 101 degree fever, I suppose you could also make your own. (I've got a killer dried mushroom broth recipe in my book)
If you're going to spend an hour making homemade wontons, why not double (or triple!) the recipe and spend an afternoon? Put on your favorite podcast (loving Pod Save America right now) and go to town. Cook what you need in the moment, then freeze the rest. Place prepared wontons in a single layer on a baking sheet and place in the freezer until hardened. Then, remove from the baking sheet and place in a freezer bag/airtight container. This way, the wontons are individually frozen so you can take out just what you need for wonton soup at a moments notice.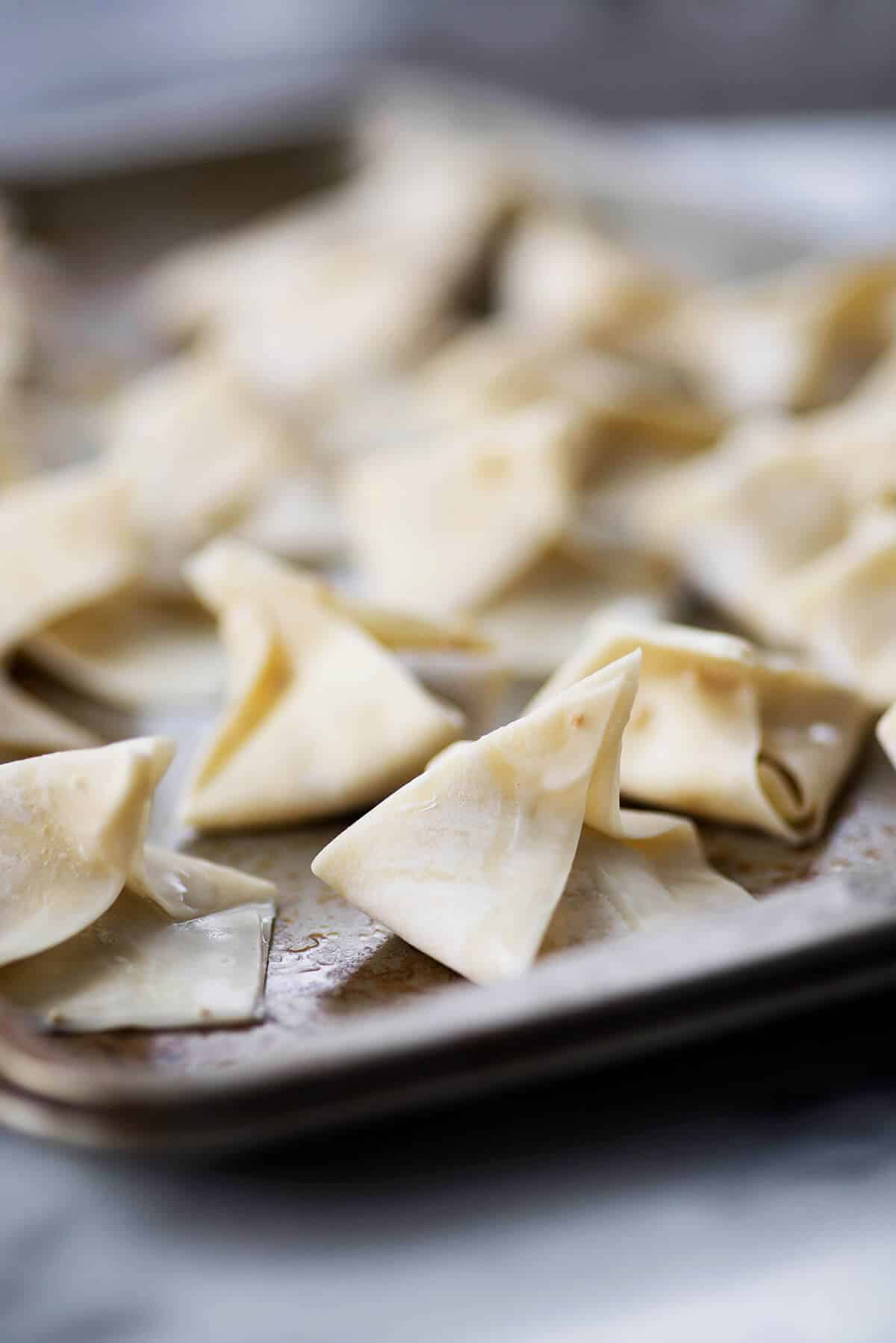 I hope you enjoy this wonton soup as much as I do! For my vegan friends, they do make eggless wonton wrappers, though they need to be sought out. Thrive Market carries them or you can make your own.
What's on your menu for Super Bowl (or is it Superbowl?) this weekend? I'm sharing my favorite game-day dips, snacks and apps on Facebook this week if you need inspiration. xo
Mushroom Wonton Soup
AuthorAlex

Mushroom Wonton Soup! Homemade wontons with mushrooms and tofu served in a rich mushroom broth. A vegetarian and vegan must!

Ingredients
~24 wonton wrappers (use vegan for vegan version)
1 teaspoon sesame oil
4 ounces shiitake mushrooms (or combination of mushrooms)
8 ounces extra-firm tofu, pressed
2 garlic cloves, minced
1 teaspoon ginger, grated
1 tablespoon soy sauce
1 green onion, chopped

Wonton Soup
4 cups mushroom broth
2 cups mushroom broth
1 garlic clove, minced
1 teaspoon ginger, grated
1 cup shredded cabbage
1 tablespoon rice vinegar
1-2 tablespoons soy sauce
2 green onions, chopped

Instructions
Make the Wontons:
-Heat the sesame oil in a large skillet over medium heat. Add the mushrooms and cook until browned and water has evaporated off. Stir often, making sure mushrooms don't stick.
-Crumble the tofu in the skillet along with the garlic, ginger and cook until heated through, about 3-5 minutes.
-Stir in the soy sauce and scallions, then place entire mixture in a food processor and pulse until coarsely ground.
-Take one wonton wrapper and place it on a cutting board, like a diamond. Place ~1 teaspoon of the filling in the middle of the wrapper, then lightly moisten the outside of the wrapper with water. Fold the bottom corner up to meet the top corner, making a triangle. Press down on the filling to squeeze out the air, then press down the edges to seal. Press the left and right sides of the triangle together, moisten the edges and seal.
-Repeat with the rest of the filling. Set aside to enjoy now, or freeze on a layer on a baking sheet, then place in a airtight bag or container in the freezer for up to 6 months.

Make the Soup:
-Place the mushroom and vegetable broth in a large pot and bring to a boil. Add in the garlic, ginger and cabbage, then stir to dissolve.
-Add in the cabbage and simmer over medium heat for 15-20 minutes to let the flavors deepen.
-Add the wontons and simmer until the wontons float, about 5 minutes. Remove from heat and stir in the rice vinegar and soy sauce. Stir in scallions and serve.
The post Mushroom Wonton Soup appeared first on Delish Knowledge.
RELATED: Hearty winter soups and stews
Hearty winter soups and stews
Hearty winter soups and stews
Read Full Story