Orange-amaretto pizzelle cookies
It's the time of year when cookies are near – like, within arms reach! It's so hard to resist all of them (so I don't), especially these Orange-Amaretto Pizzelle Cookies. Have you ever had or made pizzelle cookies? Pizzelle are traditional Italian waffle cookies that you make with an iron that's similar to a waffle maker. The pattern portion of a pizzelle iron is just much thinner than that of a waffle maker, and the cookies come of crispy and light.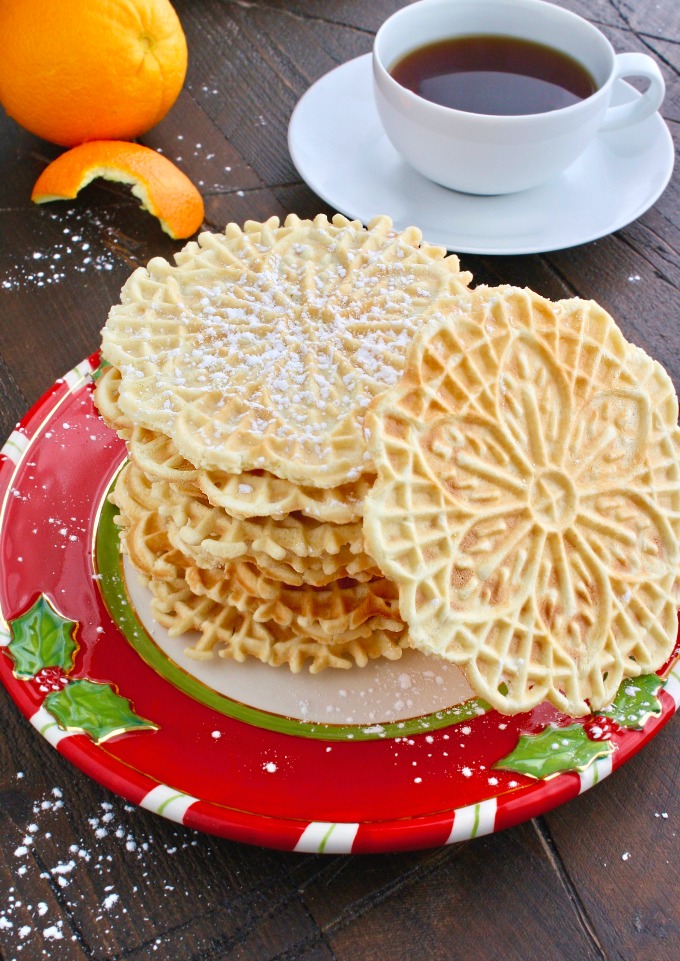 These cookies are popular at Christmastime – and at any other celebration, really. It wouldn't be Christmas in my home without them! I made Orange-Amaretto Pizzelle Cookies this year to keep with tradition.
Looking back to when I was a kid, I always thought these cookies were difficult to make. I think the reason I thought that was because my mom would always make such a huuuuuge batch of them, and it seemed to take all day to make them. In fact, there's no way for her to make just a few dozen without altering her recipe significantly. So she doesn't!
Really, these cookies are incredibly easy to make, and I think they're perfect for winter holidays because they look like giant snowflakes — so pretty. They make such a nice presentation on the cookie platter, too.
Honestly, when I was a kid, these weren't my favorite cookies. I mean, how could they compete with frosted cutout cookies, or cookies dunked in chocolate? The beauty in these pizzelles is their simplicity. My mom usually flavors hers with anise, and my brother sometimes makes chocolate pizzelles, and this year, we have this festive version with orange and amaretto flavors. These pizzelles are amazing with a piping hot cup of coffee or tea. I hope you try these Orange-Amaretto Pizzelle Cookies, and appreciate their simplicity. Enjoy the season!

Ingredients
- 3 eggs
- 1 cup sugar
- 6 tablespoons melted butter, at room temperature
- 2 tablespoons amaretto liqueur
- 1 tablespoon orange zest
- 1/2 teaspoon orange extract
- 2 cups all-purpose flour
- 2 teaspoons baking powder
- 1/8 teaspoon salt
- Nonstick cooking spray
- Powdered sugar for dusting
Instructions
1. Add the eggs and sugar to a large bowl and beat to combine. Whisk in the butter, a little at a time. Add the liqueur, orange zest, and extract. Mix well and set aside.
2. Add the flour, baking powder, and salt to a bowl, and whisk to combine.
3. A little at a time, add the dry mixture to the wet mixture. Use a wooden spoon to mix thoroughly.
4. Heat the pizzelle iron and lightly spritz it with the nonstick cooking spray.
5. Add about 1 tablespoon of the batter to the center of the patterned part of the iron. Bake according to the maker's instructions, about 30-40 seconds, or until lightly golden.
6. Remove and place on a baking rack to cool. Continue until all the batter is used.
7. Dust the cookies with a bit of powdered sugar before serving.
The post Orange-amaretto pizzelle cookies first appeared on Grab a Plate
Read Full Story