Vegan tuscan lentil soup
Vegan Tuscan Lentil Soup! Healthy lentil soup with an Italian flair. So delicious and perfect for winter!
After my recent trip to Italy, I've been partial to cooking with the flavors of Tuscany: tomatoes, oregano and basil. This lentil soup was no exception. I'm sticking with dried herbs since it's the middle of December, which still pack a potent punch as long as they are fresh. I'm been partial to grabbing spices out of the bulk bins (my local Fresh Thyme and Whole Foods has them) to ensure that I'm just getting exactly what I need. That way, I'm saving money and not packing my precious pantry space with oversize spices that will be stale in a year. Best of all, this lentil soup is packed with plant-based protein. With 18g of protein in every cup of lentils, it's a must make this winter.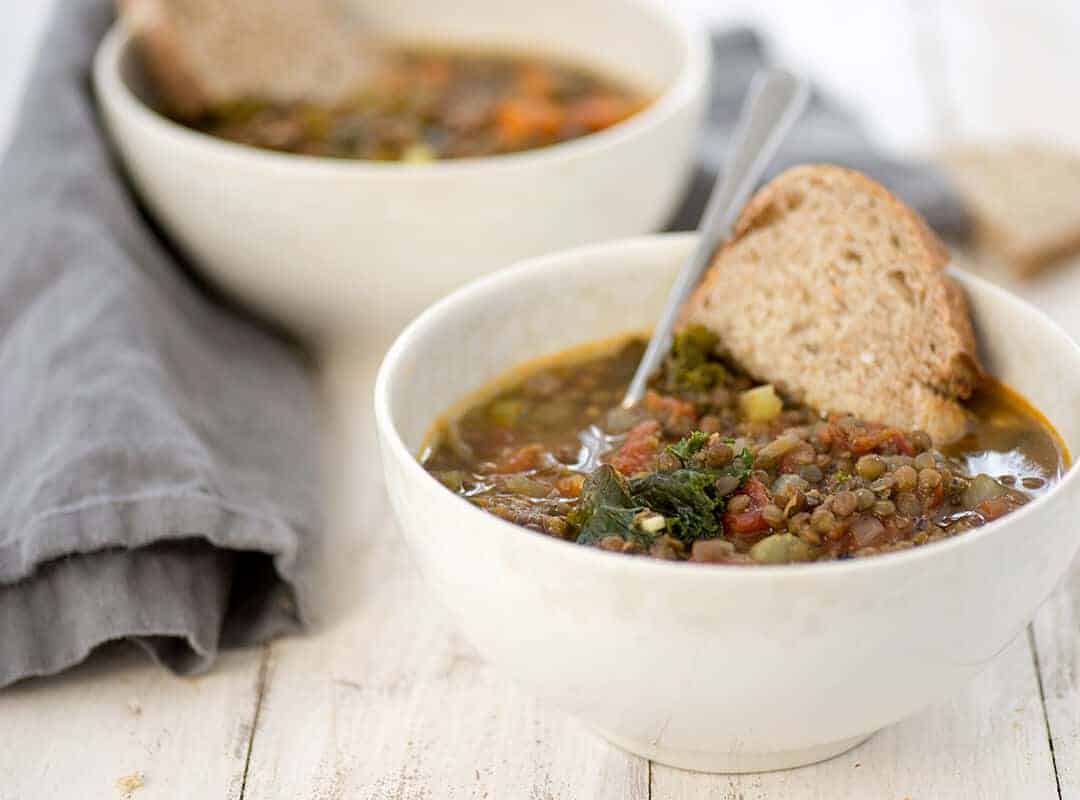 Ingredients
-2 cups fresh lentils
-1 tablespoon olive oil
-1 cup onion, chopped
-2 carrots, chopped
-2 celery stalks, chopped
-4 garlic cloves, chopped
-1 teaspoon dried oregano
-1 teaspoon dried basil
-½ teaspoon crushed red pepper
-1 bay leaf
-1 28 ounce can diced tomatoes, with juice
-4 cups vegetable broth
-4 cups torn kale leaves
Instructions
1. Place the lentil and 4 cups water in a medium saucepan over medium-heat heat. Bring to a boil, then reduce heat to a simmer. Cook, until just tender, about 25-30 minutes.
2. Drain, rinse and set aside.
3.​​​ Heat the olive oil in a stock pan over medium heat. Add the onion, carrots and celery. Cook until vegetables are tender, about 5-7 minutes.
4. Add in the garlic, oregano, basil and crushed red pepper. Stir until just headed through, then add in the bay leaf, tomatoes with juice, lentils and vegetable broth. Simmer over medium-low heat for 15-20 minutes to let flavors develop. Season to taste as needed with salt and pepper. I tend to start with ¼ teaspoon and go from there.
5. Stir in the kale and cook until wilted, about 10 more minutes.
6. Serve immediately
I love this soup with a little parmesan cheese sprinkled on top. For dairy-free versions, I use my homemade vegan parm or one by Follow Your Heart.
The post Vegan tuscan lentil soup appeared first on Delish Knowledge.
Read Full Story