Easy baked apples
Apple still ranks as my favorite produce choice for the Fall season, closely followed by butternut squash and pumpkin coming in a distant third. I feel like there's some unwritten rule that I'm supposed to go ga-ga over pumpkin everything (because, food blogger), but I just can't do it.
Yes, I love pumpkin but apples? Over and over again, yes. My snack of choice most afternoons is a honeycrisp apple with a smidge of honey-roasted peanut butter. (honey-roasted peanuts, blended into a butter. Try it. Pure magic). I eat this at least 3-4x a week, with no signs of stopping. It's so, so, good, especially when apples are in season.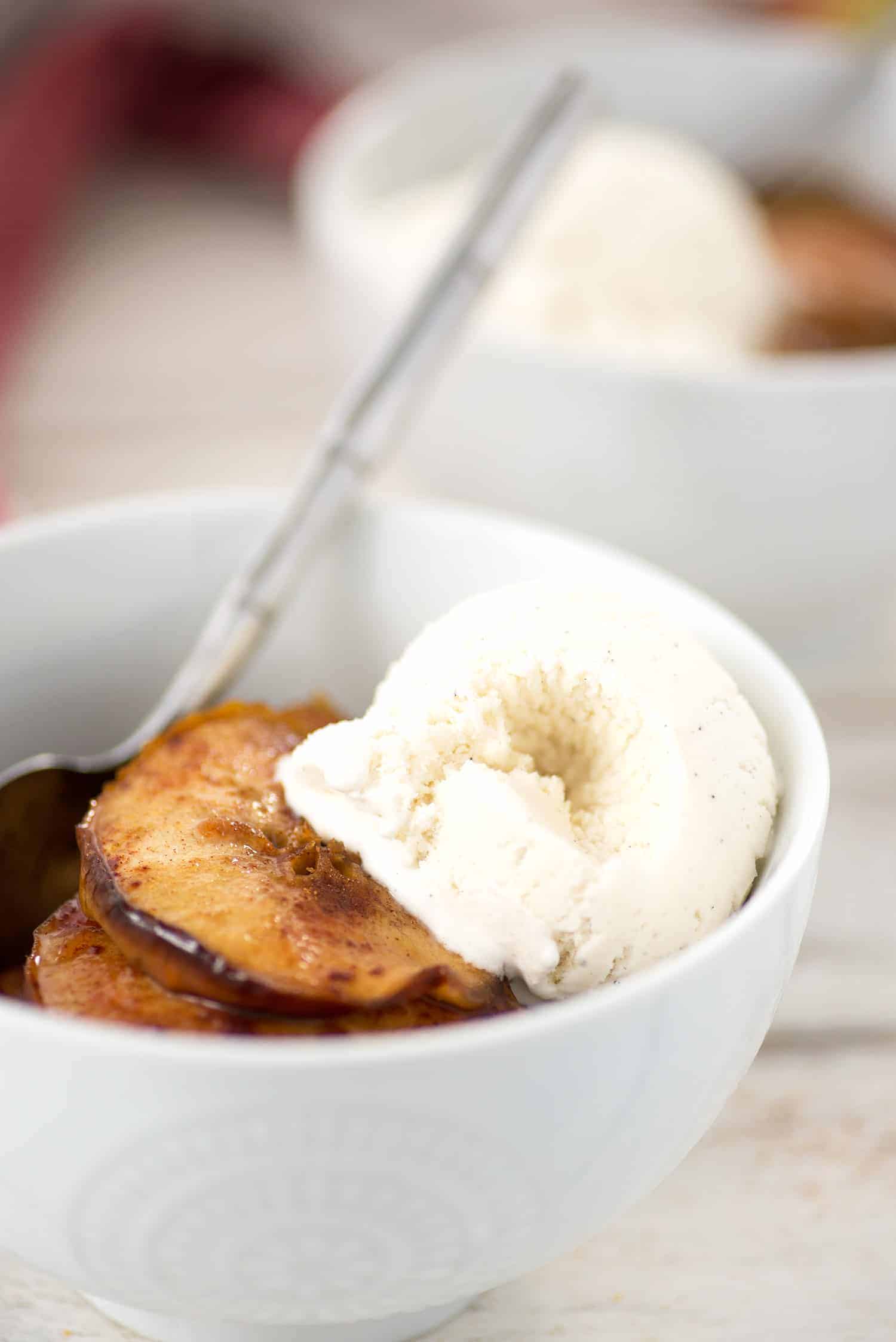 I'm also a sucker for baked apples, though I don't love the awkward handling of trying to eat a whole baked apple. Dessert shouldn't come with a knife. I want to shove a giant bite in my mouth, while nestled on the couch in the privacy of my own home. Therefore, sliced, baked apples > whole baked apples.
Did I mention how EASY these are? Even if boiling an egg still intimidates you, you can make these apples. Slice 'em, cover in apple cider, brown sugar, cinnamon and nutmeg then bake.
I'm a huge fan of these suckers for dessert (with a dollop of ice cream), but I also think they'd make a great breakfast on their own or with yogurt and a drizzle of peanut butter. (See honey-roasted peanut butter, above)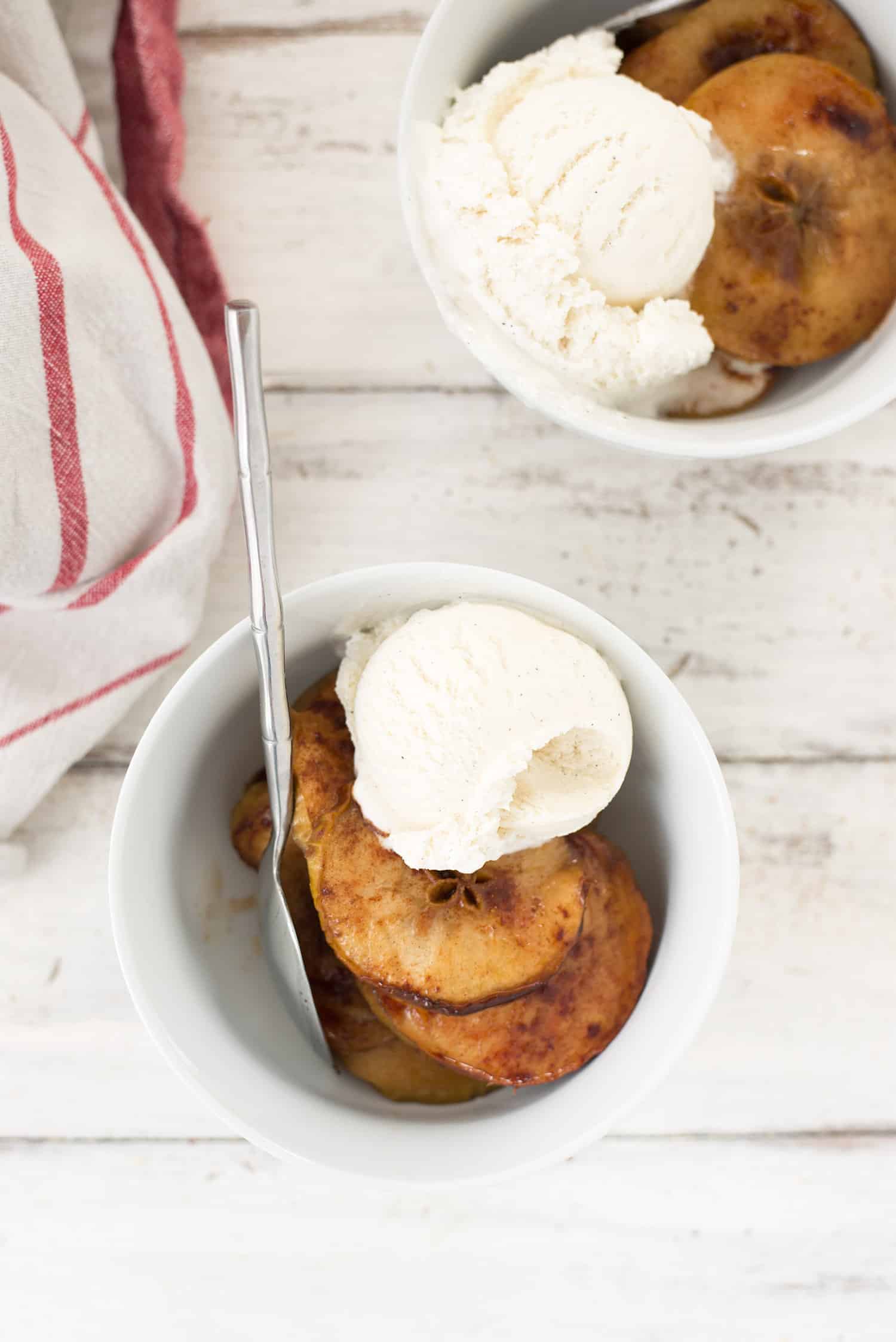 If you OD'ed on candy the past few weeks, and are looking for a more nourishing dessert option, try these baked apples. Slightly sweet, perfectly tart and loaded with cinnamon and nutmeg.

You're welcome in advance for making your house smell amazing!

Easy Baked Apples
Prep time:
Cook time:
Total time:
The easiest baked apples! You are going to love these simple apples, perfect for dessert or breakfast with yogurt. A must make for fall!

Author: Alex Caspero
Recipe type: apples, breakfast, dessert, easy
Serves: 6 servings

Ingredients:
-6 apples, sliced
-¼ cup brown sugar
-1 tablespoon cinnamon
-¼ teaspoon ground nutmeg
-1½ cups apple cider

Instructions:
-Preheat the oven to 350 degrees F.
-Mix together the brown sugar, cinnamon and nutmeg.
-Lightly spray a roasting pan with cooking spray and add the apples in a single layer.
-Sprinkle on some of the brown sugar and cinnamon mixture, then another layer of apples. Continue with all of the apples (depending on the size of your roasting pan, this could be 3-4 layers) and a final sprinkle of the sugar mixture.
-Place apples in the oven and bake for 30 minutes.
-Remove pan and add in apple cider
-Cook for another 15-20 minutes until apples are very soft and tender.
-Remove from oven and serve with vanilla ice cream, yogurt or on their own!
The post Easy Baked Apples appeared first on Delish Knowledge.
RELATED: Easy no bake cookie recipe
More from Delish Knowledge
Almond Joy granola bars
Pumpkin oatmeal latte
Vegan pozole
Read Full Story