Try this healthy twist on cinnamon-sugar donut holes
by Grab a Plate
The cinnamon-sugar coating on these donuts will have you licking your fingers for every last sweetly spiced granule and, trust me, you'll want to have a cup of coffee or milk or tea on hand to enjoy with these donut holes.
This recipe makes 48 donut holes, and that's the perfect number to be able to keep some for yourself, and to share some with friends. These are so easy to make, and I love that they're baked since I have a bit of an aversion to frying – I don't know why.
Cinnamon-Sugar Coated Donut Holes are great warm and at room temperature. Trust me, I tried them both ways!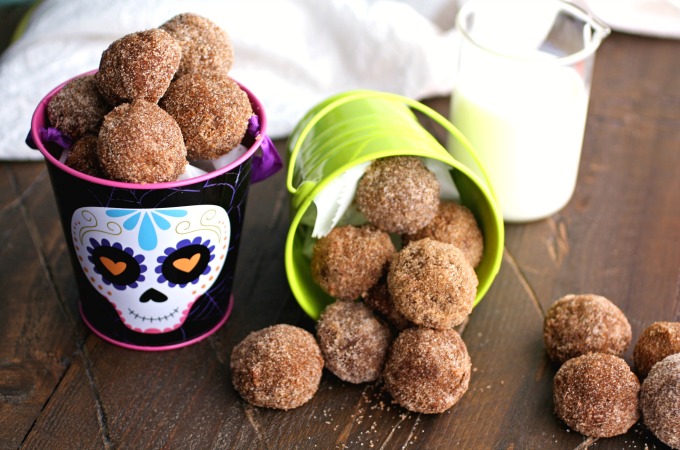 This flavor combination is perfect for all that fall has to offer: football parties, Halloween parties, Thanksgiving, and even a Wednesday morning with coffee.
Oh! And potluck lunches! Isn't it strange how potluck lunches at work are so popular during the fall? One thing I do know: if you bring these donut holes to a party, you'll be asked for the recipe.
I hope you'll make and enjoy these Cinnamon-Sugar Coated Donut Holes this fall for a special treat.


Yields 48
These gems are so delicious -- and baked! They're so easy to make, and they're the perfect fall treat!

For the Donut Holes
-1-2/3 cups flour
-1/3 cup cocoa powder
-1-1/2 tablespoons baking powder
-1/4 teaspoon salt
-1/4 teaspoon cinnamon
-1/2 cup sugar
-1 cup milk
-1 egg
-1/4 cup unsalted butter, melted
-Nonstick cooking spray

For the Coating
-2 tablespoons butter, melted
-1 cup sugar
-3 tablespoons cinnamon, more or less to taste

For the Donut Holes
-Preheat the oven to 350 degrees F. Lightly coat 2 mini muffin tins with the nonstick cooking spray. Set aside.
-Combine the flour, cocoa powder, baking powder, salt, and cinnamon. Whisk to mix. Set aside.
-Add the sugar and butter to a mixer. Mix on medium speed for about 3 minutes, or until fluffy. Add the milk and egg. Mix on low until smooth.
-A little at a time, add the dry ingredients to the wet ingredients. Mix until smooth.
-Drop the batter into the coated muffin tins by about 1-1/2 teaspoons. You don't want to overfill the wells of the muffin tin, or the batter will form mini muffins.
-Bake for 6-8 minutes, or until a toothpick inserted in the middle of one of the holes comes out clean.
-Allow the holes to site for a few minutes, then transfer to a wire baking rack.
-Wipe out the wells, add a bit more nonstick spray, and use up the remaining batter.

For the Coating
-Combine the sugar and cinnamon in a medium-sized bowl and mix to combine.
-Lightly brush one donut hole at a time with the melted butter, all the way around. Roll in the cinnamon-sugar mixture and set aside.
-Serve and enjoy.

Notes
-This recipe makes 48 donut holes. To keep these shaped as donut holes, be sure not to fill the wells too full with the batter (keep it at about less than halfway filled). About 1-1/2-2 teaspoons worth of batter should be sufficient.

The post Cinnamon-Sugar Coated Chocolate Donut Holes appeared first on Grab a Plate.

RELATED: Fall flavors: Apple recipes

Apple recipes
More from Grab a Plate:
Homemade apple chip trail mix
Pumpkin butter sriracha baked chicken wings
Spicy pine nut brittle
Read Full Story