Michael Phelps trades Baltimore townhouse for Scottsdale mansion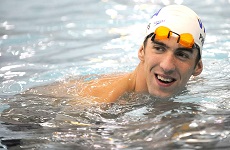 Just weeks before Michael Phelps competed in his final summer games, the gold-medal swimmer unloaded this Baltimore townhouse for $960,000.
He took a loss — a rarity for Phelps — after paying $1.03 million for it four years ago.
The loft-style, brick townhouse combines the urban grit of exposed air ducts and sliding factory doors with the stylishness of stainless steel appliances and polished hardwood floors.
With 3 bedrooms, 2.5 baths and 2 garages that hold eight cars, there was plenty of room for Phelps and his friends — plus a rooftop deck and a hot tub for kicking back after a long day in the lanes. The master suite boasts a soaking tub and a large, multi-head shower.
Take a look at the Baltimore abode below:
Michael Phelps Baltimore home
Michael Phelps Baltimore home
Now that Phelps is a family man with a fiancee, a baby girl, and a coaching job at Arizona State, he has traded the city for the sun and a $2.5-million mansion in Scottsdale.
"I grew up indoors. I swam indoors my whole career. Once we moved here, that's when it sunk in that I have a clearer head when I'm outside," Phelps told the folks at Arizona State. "I don't think I've been in a bad mood once since I've been here."
The listing was held by The Royal Metropolitan Group of Keller Williams, and buyers' agent Matthew Pecker from the brokerage represented Phelps. Hat tip to Variety's Real Estalker for breaking news of the sale.
Photos by Jeffrey Wolk.
More from Zillow.com:
Tony Romo Throws a $1.05M Home on the Market Near Dallas
Michael J. Fox Lists New England Estate
Seth Meyers Buys Home Near Washington Square Park
Read Full Story