Michael J. Fox lists New England estate
When Michael J. Fox was a young lad, he fell in love with the great room of an island home in British Columbia. "I'd never seen anything like it," he told Architectural Digest in 2000.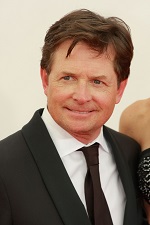 Back to the future — decades later — the actor found the perfect property on which to construct his own home with a great room: 72 acres in New England. Built in 1997 when he and wife Tracy Pollan were raising their children, the home is now on the market for $4.25 million.
Its 5,000 square feet include 6 bedrooms and 5 baths — with the guest room above a carriage house rather than inside the main home. The guest room was put there intentionally, according to Marc Charbonnet, an interior designer who worked on this home and the family's apartment on Fifth Avenue in New York.
"This is a family home. It's not some movie star, shindig house, but a quiet place for peo­ple constantly in the spotlight," Charbonnet said.
Check out the awesome pad below:
Michael J Fox's New England estate
Michael J Fox's New England estate
Fox, who grew up mostly in Army housing, said this country home is as much about what's outside as what's inside. He particularly loves the pond with its cozy fishing shack. "It's my playhouse," he told Architectural Digest.
The listing agent is Kathryn Clair of William Pitt/Sotheby's International Realty.
More from Zillow:
Tom Hanks Reportedly Lists Side-by-Side Mansions in Pacific Palisades
Seth Meyers Buys Home Near Washington Square Park
​​Brian Wilson's Lake House on the Market for $3.3M​​​​​​
Read Full Story