1 Stock For Investing In Child's Play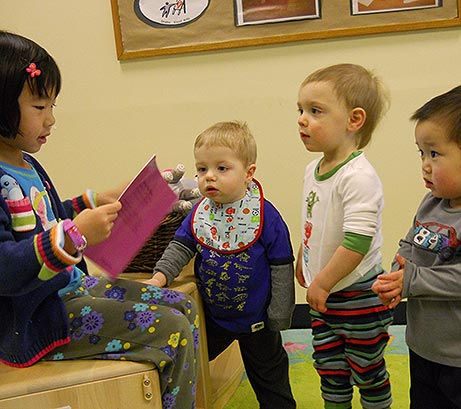 Source: Bright Horizons
Many investors like to invest in children-oriented businesses for two key reasons. Firstly, the steady birth rates every year suggest that demand stays relatively consistent. Secondly, these companies tend to have pricing power, because parents are usually quite price insensitive when it comes to spending money on their kids. Keeping these positive attributes of such businesses in mind, not every single one of them is created equal. Which of the following child-focused companies is the best investment: Bright Horizons Family Solutions , Mattel , or Crown Crafts ?
Bright prospects on the horizon
Bright Horizons, the country's biggest player in the for-profit employer-sponsored child care services space, is one of the best proxies for children's population growth. As more American families have both parents working full-time and an increasing number of employers see the value of providing child care benefits to their staff, companies like Bright Horizons have been capitalizing on the growing demand for child care and early education services.
The results speak for themselves. Bright Horizons has achieved 10 straight years of consistent top-line growth and margin expansion. It grew its revenue by a 10-year compound annual growth rate of 9.9% to $1.2 billion in 2013 while increasing its gross margin from 14.7% in 2002 to 23.1% in 2013.
While the market for domestic child care centers remains fragmented, with the 10 largest operators accounting for less than 10% market share, Bright Horizons enjoys an edge over its competitors with a 97% employer-sponsored center client retention rate. Quality is what separates Bright Horizons from its peers. About 70% of its centers are accredited by the National Association for the Education of Young Children, or NAEYC, and Bright Horizons boasts a blue-chip corporate customer base that is a strong calling card for other corporate clients.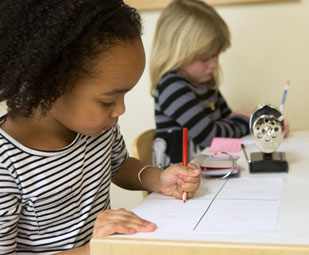 Source: Bright Horizons
In the first quarter of 2014, Bright Horizons continued along its strong growth trajectory as it grew its revenue and EBITDA by 19% and 18%, respectively. Going forward, Bright Horizons is expected to grow both organically and inorganically. Since 2001, Bright Horizons has opened a minimum of 30 new centers every year, with about half of this coming from acquisitions, according to the company.  
Do kids still play with toys?
As the saying goes, 'All work and no play makes Jack a dull boy.' Toys have traditionally been a big part of childhood and parents' expenditures on kids. However, with the digital revolution sweeping across the world, more children seem to be playing with smartphones and tablets rather than conventional toys.
Notwithstanding, Mattel's internal estimates show that kids' playing time with toys has remained stable at about half an hour per day for the last three years.  In addition, Euromonitor research indicates that global toy-industry revenue will increase by 6% per year from 2012 to 2017, and Latin America will be the fastest-growing market with a 11% CAGR over the same period.
These findings are validated by Mattel's financial results as well. From 2011 to 2013, Mattel has increased its revenue and earnings by respectable rates of 3.5% and 9.7%, respectively. This suggests that parents and kids haven't given up on toys altogether, while pockets of growth exist in developing markets. Mattel generates more than half of its revenue outside the U.S. and it should be a key beneficiary.
Another emerging trend in the toy industry is increased online retail penetration. Mattel has been well prepared for this shift in retail market share from off-line to online by building up its base of online-retailer customers in the early days. Mattel also works on its branding and image on social media platforms to ensure that it isn't left out when parents research toy-purchasing decisions online.
Mattel's confidence in the traditional toy industry was validated by its recent acquisition of MEGA Brands, the second-largest company in the $4 billion construction sets category. Mattel can leverage its global distribution network to expand the reach of MEGA Brands' Mega Bloks construction toys, which are popular with preschoolers, kids, and collectors.
Bargaining power with customers
Similarly to Bright Horizons and Mattel, Crown Crafts, one of the U.S.' largest sellers of infant/toddler bedding and bibs, benefits from positive birth-rate trends. The key difference lies in the fact that Crown Crafts has much more powerful customers. Crown Crafts' top four retailer customers accounted for 64% of its fiscal 2013 revenue, with the biggest customer making up 38% of its sales.
Crown Crafts understands this dynamic very well, so it has changed its sales mix. It increased the sales contribution of its company-owned brands from 20% in 2009 to 37% in 2013; it reduced its proportion of private-label sales from 31% to 23% over the same period.
Retailers receive limited benefits when they sell high proportions of private-label products; this also doesn't allow Crown Crafts to build its brand equity and private-label margins aren't high. The sales mix change has been a move in the right direction for Crown Crafts, as its gross margin has improved from 22.3% in fiscal 2011 to 25.2% in fiscal 2013.
Notwithstanding the positive change toward getting a higher sales contribution from company-owned brands, my view is that Crown Crafts has the weakest customer bargaining power among the three.
Foolish final thoughts
Among the three listed child-focused companies, my top pick is Bright Horizons, because it has the strongest pricing power with customers. This is evidenced by its stellar financial track record of consistent revenue and margin growth.
Are you ready to profit from this $14.4 trillion revolution?
Before we go into exciting stocks that benefit from technological revolutions, let's revisit the basics and put our monies with old-school stocks like child care center operator Bright Horizons. Let's face it, every investor wants to get in on revolutionary ideas before they hit it big. Like buying PC-maker Dell in the late 1980s, before the consumer computing boom. Or purchasing stock in e-commerce pioneer Amazon.com in the late 1990s, when it was nothing more than an upstart online bookstore. The problem is, most investors don't understand the key to investing in hyper-growth markets. The real trick is to find a small-cap "pure-play" and then watch as it grows in EXPLOSIVE lockstep with its industry. Our expert team of equity analysts has identified one stock that's poised to produce rocket-ship returns with the next $14.4 TRILLION industry. Click here to get the full story in this eye-opening report.
The article 1 Stock For Investing In Child's Play originally appeared on Fool.com.
Mark Lin has no position in any stocks mentioned. The Motley Fool recommends Mattel. Try any of our Foolish newsletter services free for 30 days. We Fools may not all hold the same opinions, but we all believe that considering a diverse range of insights makes us better investors. The Motley Fool has a disclosure policy.
Copyright © 1995 - 2014 The Motley Fool, LLC. All rights reserved. The Motley Fool has a disclosure policy.
Read Full Story