Which of These Diamond Stocks Will Sparkle?
Luxury retailer Tiffany
Aside from a long operating history, all three diamond companies have had stellar track records of profitability. Tiffany and Signet have been profitable in every single year for the past decade, while Blue Nile has only suffered losses in one out of the past 10 years.
The longevity and good financial track records of the three diamond stocks speak volumes about their attractiveness as investment candidates. But which of the three stocks should investors put their money into?
Back to basics
There is no diamond jewelry brand as iconic as Tiffany. The distinctive little blue box, which has been immortalized in popular culture with movies such as "Sleepless in Seattle" and "Breakfast at Tiffany's", isn't something creative marketers can replicate easily. Furthermore, Tiffany invests in the best diamond and gemstone inventories, maintains stores in the most exclusive locations, and showcases fine jewelry in an appealing manner without regard to space constraints. Tiffany's brand equity and strong pricing power is reflected in its stable and consistent gross margins, which have remained within a narrow 56%-59% range from fiscal 2005 to fiscal 2014.
But even the best brand requires investment to keep it relevant for its customers. Tiffany has recently embarked on sales initiatives in its top 25 stores during the holiday seasons such as efforts to improve staff training and visual merchandising. Results have been encouraging, with Tiffany growing quarterly sales by 6% through a combination of higher volumes and increased ASPs. Tiffany has plans to roll out these sales initiatives to the rest of its U.S. stores, which should drive higher top-line growth in the new year.
Is bigger better?
In February 2014, Signet announced that it entered into a definitive agreement to acquire Zale, potentially creating a combined company with $6 billion in revenue owning six of the most recognizable brands in jewelry: Kay Jewelers, Jared the Galleria of Jewelry, H.Samuel, Ernest Jones, Zales, and Peoples.
There are three key benefits associated with Signet's acquisition of Zale. Firstly, this acquisition allows Signet to expand its geographical presence, particularly in Canada, where Zale's Peoples Jewellers is the largest specialty fine jeweler in Canada. Secondly, Zale strengthen Signet's brand portfolio with the addition of mid-market value-oriented brands and exclusive bridal brands such as Vera Wang Love. Thirdly, Signet will derive cost synergies of $100 million within three years, given increased economies of scale in purchasing and advertising.
Despite all the benefits of the acquisition, it remains to be seen if Signet will be able to further vertically integrate itself by sourcing a larger proportion of rough diamonds directly. Even though a larger Signet will boast greater purchasing power in the buying of polished diamonds, it still faces supply chain risks unless it sources more raw diamonds directly.
In contrast, Tiffany is already fairly vertically integrated, enabling itself to have assured access to the best diamonds, which further enhances its luxury brand image. More than half of the polished diamonds used in the manufacture of Tiffany's jewelry have been sourced directly from mines. In some cases, Tiffany has even financed diamond mines in Sierra Leone and South Africa.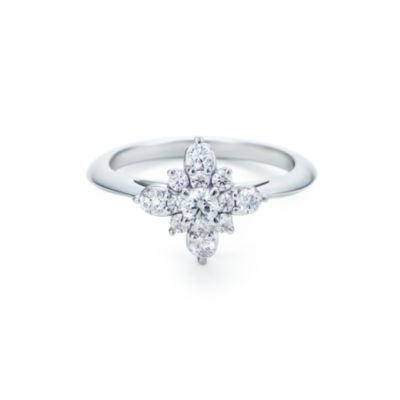 Does online luxury work?
While bricks and mortar retailers have been ceding market share to their online counterparts in many product categories, online luxury remains safe for now. Blue Nile's revenues currently remain approximately one-tenth of those of Tiffany and Signet. Notwithstanding, Blue Nile is optimistic that it has huge growth potential, given the fragmented nature of the $30 billion U.S. bridal and diamond market, where the major retailers have only about 20% market share. Indeed, Blue Nile's revenue growth has been impressive, boasting double-digit rate increases annually, compared with single-digit growth rates for Tiffany and Signet.
However, revenue is only one side of the story; profitability can't be ignored. Blue Nile runs a more efficient business model than Signet and Tiffany. Firstly, it requires less labor, and its labor productivity (calculated as revenues per employee) is about five times that of its peers. Secondly, Blue Nile doesn't worry about losing its prized locations due to lease expiry or paying ridiculous amounts to keep them. Thirdly, it also spends significantly less on selling, general, and administrative expenses, as bricks and mortar players have to invest more in advertising to keep up their brand image.
Despite superior efficiency, Blue Nile's profitability pales in comparison to Signet and Tiffany because of a lack of pricing power. Both Tiffany and Signet have net profit margins in the low double digits or high single digit, while Blue Nile's net margins are typically in the low single-digit region. The greater transparency of online diamond and jewelry sales suggests that Blue Nile doesn't have the ability to charge premium prices for its diamonds. On the cost side, Blue Nile also doesn't have the economies of scale in purchasing to lower its buying costs to the same level as its larger bricks and mortar peers.
Foolish final thoughts
Although Signet sounds more exciting with M&A synergies, and Blue Nile's pure online model is a more efficient model than bricks and mortar stores, Tiffany still remains my top pick among diamond stocks. Tiffany has unrivaled pricing power given its strong brand, distinctive customer shopping experiences, and prime store locations. 
Boost your 2014 returns with The Motley Fool's top stock
The top stock in the diamond & jewelry industry is Tiffany, also the company with the longest history and the most consistent financial track record. The Motley Fool's chief investment officer has selected his No. 1 stock for 2014, and it's one of those stocks that could make you rich. You can find out which stock it is in the special free report "The Motley Fool's Top Stock for 2014." Just click here to access the report and find out the name of this under-the-radar company.
The article Which of These Diamond Stocks Will Sparkle? originally appeared on Fool.com.
Mark Lin has no position in any stocks mentioned. The Motley Fool recommends Blue Nile. Try any of our Foolish newsletter services free for 30 days. We Fools may not all hold the same opinions, but we all believe that considering a diverse range of insights makes us better investors. The Motley Fool has a disclosure policy.
Copyright © 1995 - 2014 The Motley Fool, LLC. All rights reserved. The Motley Fool has a disclosure policy.
Read Full Story