This Energy News is Worth Knowing About
The following video encapsulates some of the most notable oil and natural gas news stories from April 9, 2014. Our energy analysts, Joel South and Taylor Muckerman discuss everything from the slow decline in traditional utilities while the likes of American Electric Power and NRG Energy start adapting to one of the hottest topics in energy production being solved by Devon Energy and Halliburton . Check out the short clip below for more on these stories, among others.
3 stock picks to ride America's energy bonanza
Record oil and natural gas production is revolutionizing the United States' energy position. Finding the right plays while historic amounts of capital expenditures are flooding the industry will pad your investment nest egg. For this reason, the Motley Fool is offering a look at three energy companies using a small IRS "loophole" to help line investor pockets. Learn this strategy, and the energy companies taking advantage, in our special report "The IRS Is Daring You To Make This Energy Investment." Don't miss out on this timely opportunity; click here to access your report -- it's absolutely free. 
This segment is from Tuesday's edition of "Digging for Value," in which sector analysts Joel South and Taylor Muckerman discuss energy and materials news with host Alison Southwick. The twice-weekly show can be viewed on Tuesdays and Thursdays. It can also be found on Twitter, along with our extended coverage of the energy & materials sectors @TMFEnergy.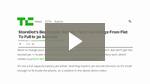 The article This Energy News is Worth Knowing About originally appeared on Fool.com.
Joel South owns shares of Schlumberger. Taylor Muckerman owns shares of Halliburton. The Motley Fool recommends General Motors, Halliburton, and Tesla Motors. The Motley Fool owns shares of Devon Energy, EOG Resources, Nuverra Environmental Solutions, and Tesla Motors. Try any of our Foolish newsletter services free for 30 days. We Fools may not all hold the same opinions, but we all believe that considering a diverse range of insights makes us better investors. The Motley Fool has a disclosure policy.
Copyright © 1995 - 2014 The Motley Fool, LLC. All rights reserved. The Motley Fool has a disclosure policy.
Read Full Story