Chuck Norris slammed for becoming the face of Glock: 'So sad to see you're just a sponsor now'
Chuck Norris becoming the new face of Glock seems on-brand for the gun company, but that doesn't mean everybody likes it.
There are no shortage of Second Amendment supporters giving a thumbs-up to the Walker, Texas Ranger alum's new gig (save a few who see the late R. Lee "The Gunny" Ermey as irreplaceable or wish Norris was repping an American company) — and there are so many new memes born out of this new hire ("I heard you sleep with a Glock on your nightstand so the Glock doesn't get scared").
But others are questioning whether it's a winning combination in light of the growing number of mass shootings in the United States — and calls for stricter gun control laws.
"Chuck shouldn't be working with gun companies at a time like this," wrote a commenter, who — like Norris — is a martial artist. "He should be advocating ways to keep his gun loving friends from possible becoming surprising random mental health people that use guns to kill others and children. Please tell me Chuck, that you do something like that for the kids at least and aren't all about the money. I mean no wonder Bruce Lee died....he wasn't like all these a holes, just about the [money]."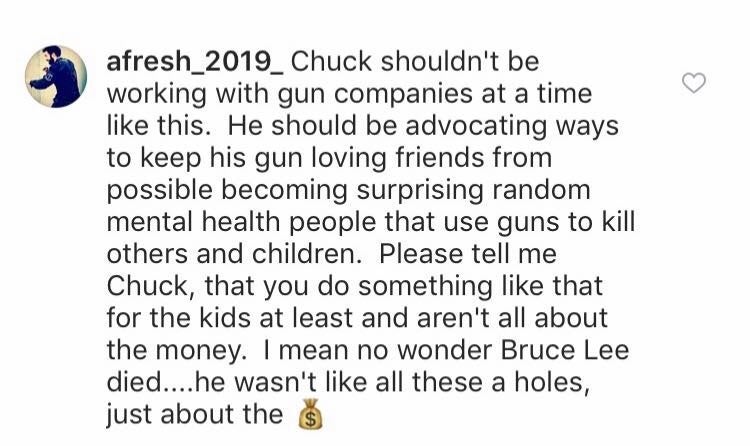 The same commenter asked on a second photo of Norris promoting the pistols, "Would u stand in the way of students like the Parkland Students seeking gun control measures?"

And that led to scores of different comments both for and against gun control. "It's not like gun control works," was a popular sentiment expressed by some Instagram users.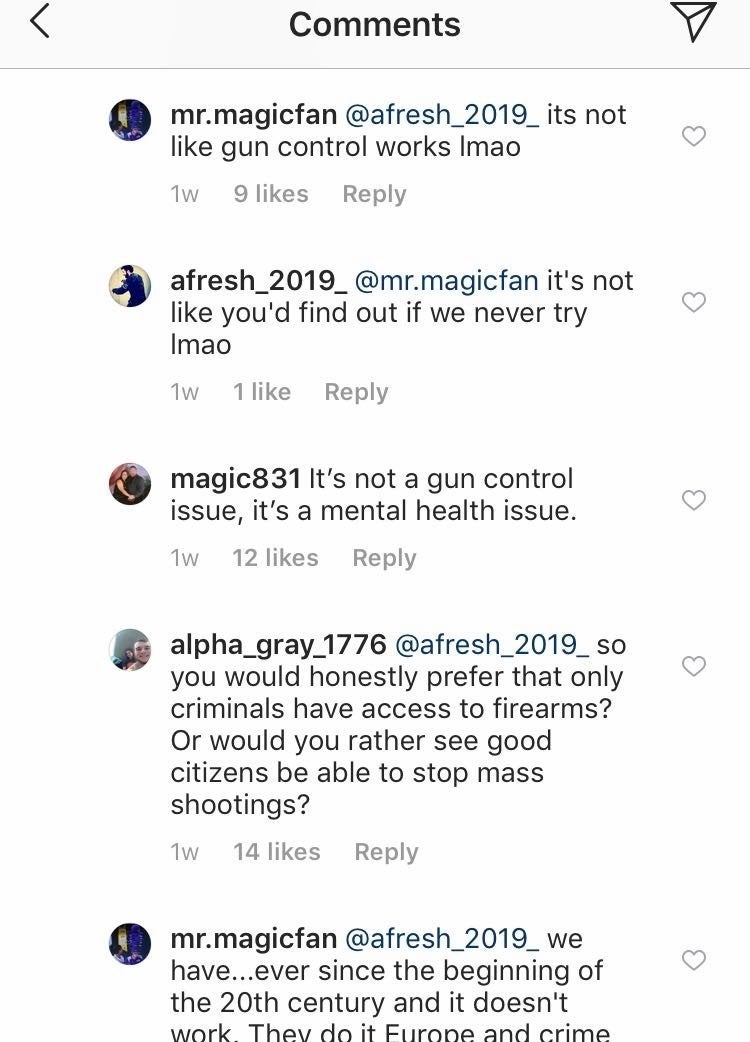 Here are some more reactions, leading with, "So sad to see you're just a sponsor now" and "I do not like people who serve the gun industry."



Norris's gig was announced earlier this month. The company said in a statement, "The parallels between Glock and Norris deliver an authentic, fun and legendary alignment of brands."
Norris's gig will include ad campaigns as well as public appearances, including at the NRA conference in Indianapolis on April 26-27. "I'm honored to partner with this world-renowned brand," Norris said in his own statement. "The values that I have built my life and brand on – tough, real, constant and powerful – are echoed in everything that Glock does and creates. Let me put it this way, if I ever decided to go into firearms, there would be no point – I would just be recreating what Glock has already built. The only thing that would change is the name."
Read Full Story