Banana split dump cake
Banana Split Dump Cake is the BEST DESSERT EVER!! This dump cake is thrown together in minutes with just 6 ingredients and is sure to be an instant crowd pleaser!

Let's be honest, how many of us have time to cook every single recipe from scratch. Sure there are always those one of a kind chocolate chip cookie, bundt cake, or pie crust recipes that HAVE to be followed word for word and passed down through generations, but sometimes simple recipes made quickly with store-bought ingredients are the perfect fix for your sweet tooth! I have a soft spot for dump cakes, and this Banana Split Dump Cake is my personal favorite! It is BEYOND easy, thrown together in minutes, and sure to please. It's gobbled up at parties, family get togethers, or even just a Wednesday night in with my husband. It doesn't get easier or more delicious than this!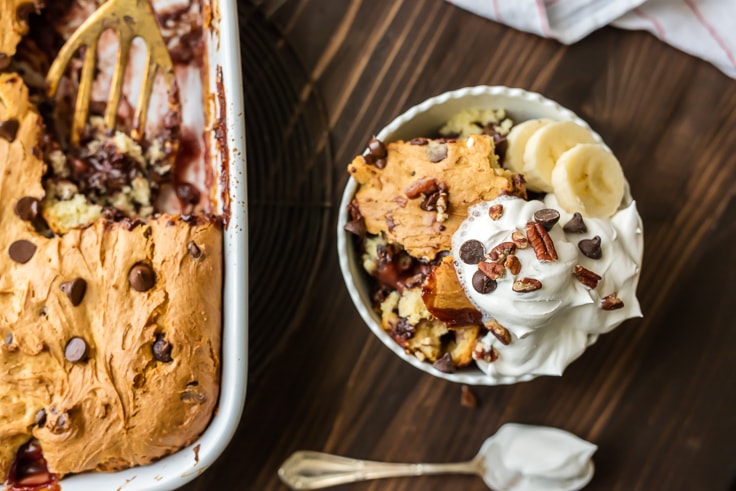 The secret ingredient to keeping this Banana Split Dump Cake super moist and delicious is Banana Cream instant pudding!! Mixed with white cake mix, its the perfect flavor combo. Not too sweet, not too bland, SO EASY. What more could we ask for from a dessert?! I crave this sweet treat year round. Luckily for us, it only has 8 ingredients and has about 10 minutes of prep time. Win, win!


The bottom layer is a mix of fresh strawberries, pineapple, and banana. Each bite tastes like a fun and fresh banana split, in cake form. Fun baking at its finest! This is such a great dessert to take to a potluck, because you'll look like a total star and people will eat it up immediately. You don't have to tell them it's made with cake mix! It can be our little secret.


I hope you enjoy this Banana Split Dump Cake as much as we do!! Enjoy :)
Recipe:
1 box White Cake Mix (I used the Super Moist Deluxe White)
1 small box (3.4 ounces) Instant Banana Cream Pudding Mix
1/2 cup good quality milk chocolate chips
1 3/4 cup skim milk
1 cup fresh strawberries, chopped
2 bananas, sliced
1 cup pineapple, chopped
1/4 cup sugar
whipped cream for serving (optional)
Directions:
Preheat oven to 350F
Spray a 9/13 inch baking dish with nonstick spray.
In a large bowl, mix the pudding milk with milk. Whisk until fully combined. Use a large spoon or whisk to add in the cake mix until fully incorporated and smooth. The mixture will be quite thick, which is fine. Stir in the chocolate chips. Set aside.
In another large bowl, mix together the strawberries, banana, pineapple, and sugar. Stir to combine and let macerate for at least 5 minutes.
When ready to make the cake, pour the fruit into the bottom of the baking dish, making a thin layer.
Top with the cake mix and spread with a spatula or spoon to create a smooth top.
Bake for 45-60 minutes or until the cake is completely cooked through (when a toothpick inserted in comes out clean).
Serve warm topped with fresh whipped cream.
Enjoy!

The post Banana Split Dump Cake appeared first on The Cookie Rookie.
More from The Cookie Rookie:
Lazy girl's snickers ice cream cake
Peanut butter chocolate chip cookie bark
Super easy puff pastry strawberry tart
Read Full Story