#TeaLizard is now a thing — or so says 'Good Morning America'
Almost, Good Morning America. Almost.
On Tuesday, the ABC show'sTwitter account asked its followers whether they thought a photo of LeBron James crying after the Cleveland Cavaliers' NBA Finals win should be inducted into the dank meme hall of fame. But when GMA tried to place it among the ranks of some other beloved memes, they exposed themselves as being more than a little out of touch, calling a meme of Kermit the Frog sipping tea #TeaLizard.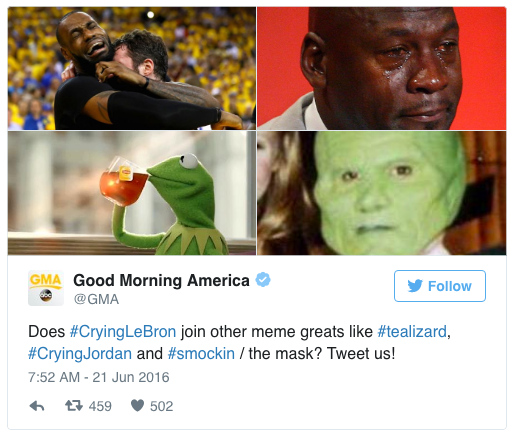 It didn't take long for Twitter users who are nothing if not meme connoisseurs — to call them out on their gaffe. (Editor's note: For what it's worth, few at the Mic offices were familiar with the bizarre "#Smockin/the mask" image GMA also declared a universally recognized thing.)
For real tho, if you don't call this dude the Tea Lizard, you a cop. pic.twitter.com/pCoQtwMKqF

— Ethan Booker (@Ethan_Booker) June 21, 2016
when your good name has been through some shit lately pic.twitter.com/2vdhUskcKZ

— Bim Adewunmi (@bimadew) June 21, 2016
poor kermit the frog being reduced to tea lizard pic.twitter.com/4pAFMExPt2

— s y d n e y (@sydegee) June 21, 2016
I can't believe Good Morning America referred to pop culture icon KERMIT THE FROG as 'Tea Lizard' pic.twitter.com/paSARJiW9q

— colouroffensive. (@colouroffensive) June 21, 2016
The craziest thing about calling Kermit #TeaLizard is that like, he was a famous thing before being a meme. Like he existed already.

— Ryan Broderick (@broderick) June 21, 2016
"Hello fellow teens. You guys want to do weed and talk about tea lizard?" pic.twitter.com/Es4FxnulA5

— Jensen Karp (@JensenClan88) June 21, 2016
@cushbomb@AndrewCieslak@chulapalvin@jonny_is_good@GMA Biologist here: he's a lizard

— Probillmatic (@UweBollocks) June 21, 2016
Not only is Kermit the Frog's very species identified in his name, the Walt Disney Company owns both ABC, which airs Good Morning America, and the Muppets franchise — they should've known better.
After a thorough Twitter drag, the talk show realized its mistake and followed up with this tweet, concluding that #LeBronCrying hadn't found its place amid the meme milieu and apologizing to Kermit for the blunder.
Twitter has spoken: #CryingLeBron does not join other popular memes.

(Sorry, @KermitTheFrog.) pic.twitter.com/bWmvZQyhJ6

— Good Morning America (@GMA) June 21, 2016
And what about the world's actual tea lizards, you ask? They're taking it in stride.
I say, Reginald. @GMA is finally giving us the recognition we deserve! BTW whatever is meme? #TeaLizardpic.twitter.com/ZPkuUvrnOV

— Dub Pool (@dubpool) June 21, 2016
RELATED: Newly discovered frog resembles Kermit
Newly Discovered Frog Resembles Kermit
Newly Discovered Frog Resembles Kermit
Read Full Story