'Power Rangers': First Look at team's new suits (Photo)
In the first official image for the upcoming "Power Rangers" movie, we can see the team's new-and-improved armor.
The image, obtained by Entertainment Weekly, shows the five rangers — singer Becky G as Yellow Ranger Trini, Ludi Lin as Black Ranger Zack, Dacre Montgomery as Red Ranger Jason, Naomi Scott as Pink Ranger Kimberly, and RJ Cyler as Blue Ranger Billy — in updated suits look seem radical and extraterrestrial.
Director Dean Israelite told EW that "These suits needed to feel like they were catalyzed by these kids and their energy, their spirit."
See Photo:'Power Rangers': First Look at Elizabeth Banks as Rita Repulsa
And the film's production designer Andrew Menzies elaborated on how the spandex-free costumes crystallize on the gang's body.
"It's tricky finding a new language for a superhero costume," he said. "Ours is an alien costume that grows on them, that's not man-made. You can't win everyone over, but we are trying to appeal to a more mature audience and gain new fans."
Also Read:Elizabeth Banks Cast as Villain Rita Repulsa in 'Power Rangers' Movie
Last month,Lionsgate unveiled Elizabeth Bank's Rita Repulsa costume, which also didn't look much look like the old version.
"Power Rangers" will hit theaters on May 25, 2017.
See the image below.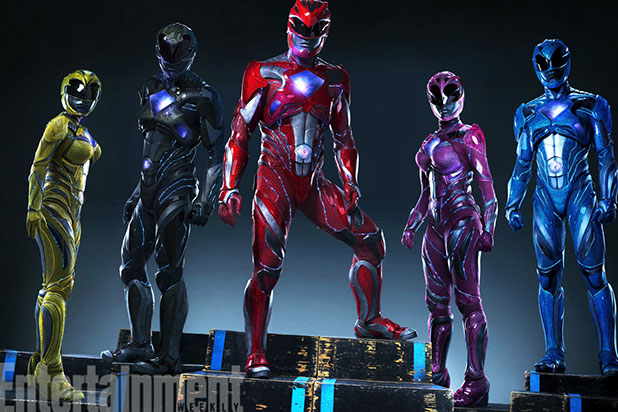 More on AOL Entertainment:
Justin Timberlake just hinted he is releasing his first song in three years
Kristen Wiig's new boyfriend is hot as hell
Taylor Swift tops Billboard's top money-makers list of 2015
Read Full Story