Fred Armisen buys in trendy Los Feliz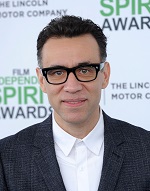 Fear not: Fred Armisen's recent listing does not mean he's exiting Los Angeles. The actor is simply trading up, moving from a nearly $1-million home in the city's hip Silver Lake neighborhood to a home worth twice that much in even trendier Los Feliz (pronounced "Los FEE-lus").
The comedian's Silver Lake craftsman is under contract with a new owner, and he just paid a tad over $2 million for a 3,500-square-foot Tudor home with lots of light and views of the surrounding hills and the city.
Armisen's new home is bigger than his last place, but has the same 1927 vintage and a similarly open floor plan, with lots of windows and cozy spaces, including a breakfast nook with a built-in bench and a bay window offering views of downtown Los Angeles.
The "Portlandia" co-creator can write ironic scenes in the spacious study-plus-lounge, and grab a cup of tea from the kitchen, which is outfitted with reclaimed barn wood.
Friends like Armisen's "Portlandia" co-star Carrie Brownstein will have a wide array of guest rooms to choose from in the 5-bedroom, 4-bath home. The main level includes a bedroom suite with views of Griffith Park, and one bedroom is surrounded on three sides by windows with tall shutters.
The master suite offers a walk-in closet and park views, even from its en-suite bathroom, which features a soaking tub and a separate shower.

Check out his new pad below:

Fred Armisen buys LA home
Fred Armisen buys in trendy Los Feliz
The listing agent was Elizabeth Marquart of RE/MAX Estate Properties.
More in Zillow
Keith Richards Will Give You Shelter, for $12.23M
'Fixer Upper' Couple Snags Historic Estate in Waco
Ice-T and Coco List Opulent Penthouse in New Jersey
Read Full Story