WATCH LIVE: Who's going to win big on Super Tuesday
Starting at 5 p.m. ET, AOL.com will air live coverage of the Super Tuesday primaries and caucuses with our partners at Bloomberg Politics. Be sure to come to check in here for all the latest coverage and analysis of the day that will shape the future of the 2016 election cycle.
Read more of the full coverage of what to expect below:
On Tuesday, more delegates will be awarded than on any other day of the presidential race. About half of the delegates needed for a Republican candidate to win the nomination are at stake, plus about a third for Democrats. In roughly a dozen state races, Republican front-runner Donald Trump and Democratic leader Hillary Clinton seem poised to win in landslides that could render them nearly inevitable.
Delegates, though, will be awarded proportionally, so challengers could use the day to position themselves for an extended fight, particularly on the Republican side, where states only begin winner-take-all delegate allocation later in March. Below, six predictions that suggest Clinton and Trump might be coming up on a very good day.
See more from Super Tuesday:
Super Tuesday 2016 across the country
WATCH LIVE: Who's going to win big on Super Tuesday
READ MORE: Buffett Fires Lucky-to-Be-American Letter at Politicians
PredictWise: Trump and Clinton
The research project led by David Rothschild, an economist at Microsoft Research in New York City who successfully predicted the winner in 21 of the first 26 primary contests in 2012, aggregates betting market data and polling. As of Sunday, PredictWise had Trump up in 10 of 11 states -- all except Texas, where home-state Senator Ted Cruz is at 85 percent. Otherwise Trump is dominant, with his odds of winning ranging from 67 percent in Minnesota to 96 percent in Tennessee. As for Senator Marco Rubio of Florida, he's second most likely to win in every state except Alaska, Arkansas, Oklahoma, and Texas.
According to the most recent data available from Bing's main competitor, Google, Trump and Sanders accounted for an average of 69 percent and 56 percent of search interest, respectively, in the past 24 hours across the states holding delegate-allocating primaries or caucuses on March 1.
FiveThirtyEight: Trump and Clinton
On Sunday, FiveThirtyEight, which is run by former New York Times stats guru Nate Silver, gave Trump odds of winning five of the six Republican contests it has modeled, including Virginia, Georgia, and Alabama. Rubio is forecasted to come in second in the same races. Cruz has an 85 percent chance of winning Texas, with Trump coming in second.
For the Democrats, Clinton is projected to win seven of eight states modeled, including Arkansas (where she spent more than a decade as first lady) at chances above 95 percent, as well as Georgia, Tennessee, Texas, and Virginia. As usual, Sanders is almost certain to win Vermont.
(For each state, FiveThirtyEight uses two models, one that averages polls and one that attempts to combine the effect of endorsements with the polls. Odds sometimes vary between the projections, but for all states, the candidate who has the highest chances of winning in one model has the highest chances in the other.)
Political Insiders: Rubio and Clinton
Trump's endorsement by New Jersey Governor Chris Christie, himself a candidate until recently, shocked many political observers who had witnessed Christie's criticisms of the mogul. Yet Trump is still weak when measured by the number of endorsements from institutional political figures in Super Tuesday states, even after Alabama Senator Jeff Sessions threw his support to him.
By Bloomberg Politics' latest count, Cruz has pretty much locked up Texas with at least 62 state lawmakers, eight members of Congress, and Governor Greg Abbott. Rubio just barely edges him out in overall numbers, not to mention two governors to Cruz's one -- from Arkansas and Tennessee -- plus the senior senator from Oklahoma, Jim Inhofe. On Sunday, Rubio also received the endorsement of Tennessee Senator Lamar Alexander.
The Democratic endorsement ledgers are far more lopsided. According to a tally updated by FiveThirtyEight, Clinton is supported by 33 U.S. representatives, seven U.S. senators, and four governors from Super Tuesday states. This includes almost the entire Massachusetts congressional delegation and the governor and senior U.S. senator from Vermont. Sanders, meanwhile, has just two Super Tuesday endorsements.
Ballotcraft: Trump and Clinton
This fantasy politics game co-founded by two Stanford grads has thousands of players who, using fake money, buy "shares" in candidates. As of Sunday, Trump was expected to win 10 of 11 states, with Cruz's home state of Texas the unsurprising outlier. Cruz is otherwise most competitive in Arkansas and Oklahoma, where the site's users give him at least a 1-in-4 chance of winning. For Rubio, he's second most-likely to win (with at least 25 percent odds) in Georgia, Massachusetts, Minnesota, and Virginia.
"What we hear from our users is that Donald Trump's polling leads are just too large in many of these states," said Ballotcraft CEO Dennis Jiang. "He demonstrated in Nevada and South Carolina that he is able to turn out his supporters, so there's no longer confidence that the superior organizations of Cruz or Rubio will be able to overcome such polling deficits."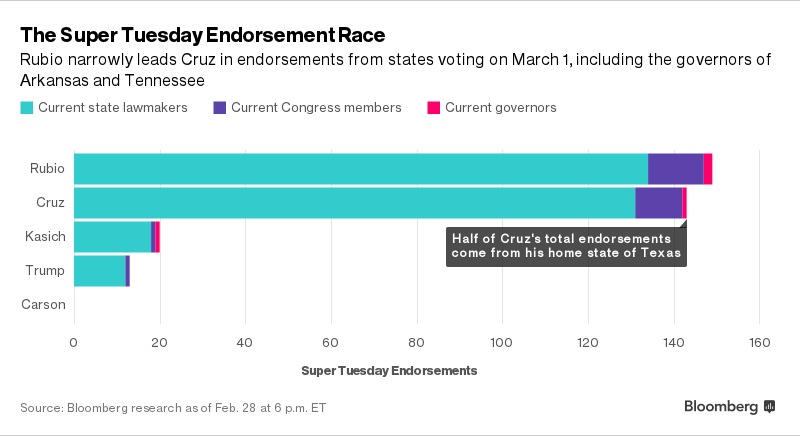 On the Democratic side, Clinton is likely to win the Southern states, where she's expected to perform strongly with African-American voters like she did in South Carolina. Sanders is projected to do better in states such as Colorado, Massachusetts, Minnesota, and Vermont that are home to a lot of white liberals.
State-by-State Tally
Here's a detailed look at who each prediction source says will win each Super Tuesday state on the Republican side.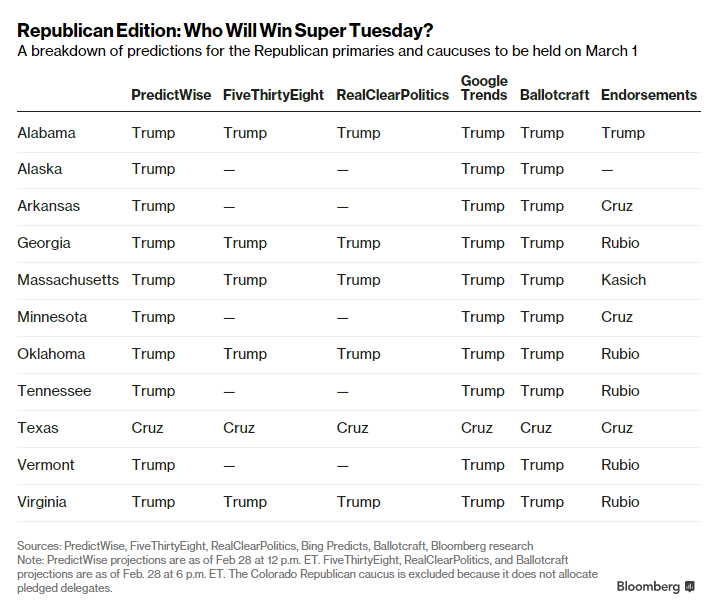 And a look at what each prediction source says to expect on the Democratic side.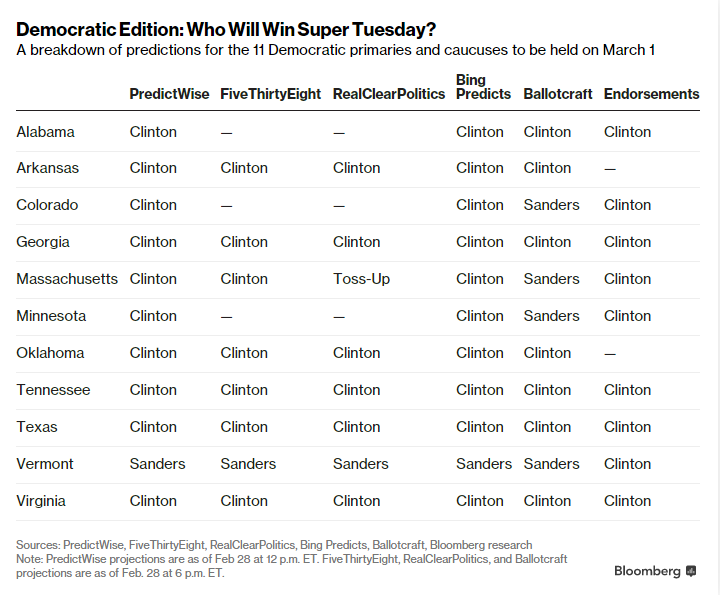 Read Super Tuesday Predictions Point to Trump, Clinton Rout on bloombergpolitics.com
More from Bloomberg.com
Read Full Story