Introducing the 2015-2016 PayScale College Salary Report
Money isn't everything, but when
student loan debt tops $1 trillion
and college tuition grows more expensive every year, prospective college students should think about factoring in future earnings, when they make their college choice. PayScale's
College Salary Report
ranks two-year and four-year colleges and universities, plus majors for all degree levels, and shows which programs are likely to result in high earnings after graduation.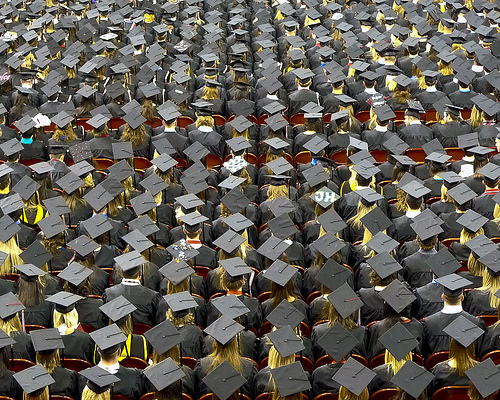 (Photo Credit: j.o.h.n. walker/Flickr)
All things being equal, a four-year school would be students' best bet, if their goal was purely to earn the big bucks after graduation. Early and mid-career pay is consistently higher for alums who attended schools at the top of this list. So why isn't a four-year degree necessarily the right decision for every entering student? Because, they're not going to choose a school or a degree program off a list, based solely on earning potential.
Depending on what students want to study – and what they want to do for a living after graduation – the right associate's degree might be a much smarter choice than any four-year program. It could also be a cheaper way to embark on a longer education, if they decide to apply the credits they've earned during associates degree work toward a bachelor's degree.
How Major and Degree Affect Lifetime Earnings


What students study matters, and not just in terms of lifetime earning potential. Their interests can also determine how much education makes sense, purely from a financial perspective. For example, in the chart below, we see that an associate's in fashion design sets up graduates for a median mid-career salary of $80,000 – the median annual salary they could expect, if they opted for a master's degree in general business.
Of course, looking at majors and degree programs in this way will always be comparing apples to oranges: if a student wants to study liberal arts, petroleum engineering won't set their soul on fire, no matter how tempting the $130,000 median mid-career salary.


The bottom line is that students should choose majors, degree programs, and schools based on a combination of factors, including their interests and aptitudes. Salary is just one important consideration among many to take into account. Armed with information on earning potential after graduation, students can create a path to a career that fuels their dreams, as well as their bank accounts.

More from PayScale:
Incredible company perks: Top 5 swag and service-based perks
How to break 5 career-killing habits
When the boss loves meetings, escape using this 5-step plan
Read Full Story