Top Shelf Thursday: Week 2 NHL notebook
By DAVE TURNER
Devils Insiders

The first few days of this week have been challenging for the great nation of Canada. With a soldier killed on Monday and another gunned down Wednesday while guarding Canada's tomb of the unknown soldier, Canada is mourning once again. As a result, they cancelled Wednesday's game between the Maple Leafs and Senators. In response, the three other buildings who played last night paid tribute to Canada.


It was a great sight to see people singing along with the Canadian anthem. As Americans, we will always stand on guard with our neighbors to the north.
1. The NHL did exactly the right thing with Slava Voynov. The NFL has shown just how not to manage a case of domestic violence and the NHL knows that. This was an important moment for the league, because of what it could have meant if they had not swiftly acted and suspended Voynov indefinitely. The NHL doesn't get much air-time in terms of ESPN and some of the other big sports channels and websites, but you can be sure that if they botched the Voynov ruling, they would have. In the wake of the NFL debacle, everyone is on high-alert. The NHL acted swiftly to remove the Kings' defenseman from playing games. It was a firm job that didn't allow for any negative commentary to come against the league.
2. The Washington Capitals are a dangerous team. Usually it takes a while to learn a new system, especially for the Capitals who went from a very offensively-minded system to one that requires far more backchecking and defensive awareness under new head coach Barry Trotz. The results have been very good so far, as the Caps sit at 3-1-2. Washington is allowing the third fewest shots against in the league at 24.2 shots against per game. Limiting shots is a recipe for defensive success, no doubt. On top of that, the Capitals are a top-ten team on both power play and the penalty kill. They can still score goals, but it has been the play of Braden Holtby that has paced this team. His 2.13 goals against average and .917 save percentage are both upgrades over his numbers from last season and if the fewer shots against results in better goaltending from Holtby, watch out for this team.
3. Trotz's old team isn't too bad either. The Predators have no shot at making the playoffs in a loaded Central Division right? Tell that to them. At 4-0-2, the Preds have won under new head coach Peter Laviolette, behind great goaltending from Pekka Rinne (1.55 gaa .940 save percentage). Without Rinne for most of last season, they struggled, but with the netminder healthy and ready to shoulder a heavy workload, it makes them a far better club. They have plenty of offense out of the back-end with the likes of Shea Weber, Roman Josi and Seth Jones. Their offseason additions to their offense seem to be paying early dividends, as Mike Ribiero (3g, 2a) and Derek Roy (0g, 4a) have chipped in nicely. Great goaltending and timely scoring will keep this team in the mix for a playoff birth.
4. An Edmonton trade on the horizon? Mired in the longest current playoff drought in the NHL, the Edmonton Oilers just can't seem to figure it out. They've had a plethora of top picks, yet those picks haven't translated into anything in the standings. Now, with rumor swirling about the Oilers trading just about anyone not named Taylor Hall in an attempt to "start over," it's just another sign of desperation from this club. Considering that their draft picks haven't really panned as they had hoped, would trading a current roster player for some prospects or picks make this team any better off? That would be under the assumption that the Oilers can start drafting winning players and that might be a lot. Even if they move someone like Jordan Eberle or Ryan Nugent-Hopkins for a package that includes a tough, gritty veteran or two, there are far bigger holes to fill than just a couple of good role players. For Edmonton, it's simple. Until they find a true number one goaltender, they won't succeed. When you build from the net out, you win. Nothing against Ben Scrivens and Viktor Fasth, but neither of them is a true number one netminder.
5. The Colorado Avalanche are in trouble. With the injuries to Semyon Varlamov and Reto Berra in net, the 1-4-2 start by the Avs is trouble. It's starting to look like this team overachieved last season, when they finished with 116 points. They had excellent, steady coaching from Roy, who seems to work well with young players and they had an unbelievable performance from Varlamov in net in 2013-14. Now, they're even struggling to score, even with the likes of Nathan McKinnon, Matt Duchene and new addition Jarome Iginla. Though it's still early and there's a lot of hockey to be played, it seems like teams have scouted the Avs better and know how to counter their incredible team speed. There's not much room for error in the Central Division, where the Avalanche are currently in 6th place. Colorado needs to find their stride quickly, as the rest of the division has continued to look strong. If they're not able to make some ground up soon, they'll be chasing all season.
6. Let's stop calling Montreal's run last year a fluke. If their first seven games are any indication, this team is ready for another deep playoff run this season. Oddly enough, Les Habitants are off to a 6-1-0 start without great goalie play from Carey Price (2.96 gaa .902 save percentage). 22 goals in seven games will help with that and offensively, the Canadiens have been deadly. Alex Galchenyuk (3g, 4a) seems to be taking that next step that every young player in the NHL hopes to take. He's been smart and he finds himself in the right position to make a play with regularity. With guys like Tomas Plekanec (4g, 4a) and Max Pacioretty (2g, 3a) scoring in bunches, once they do get the back end situated, no one is going to want to play the Habs.
Goal Breakdowns: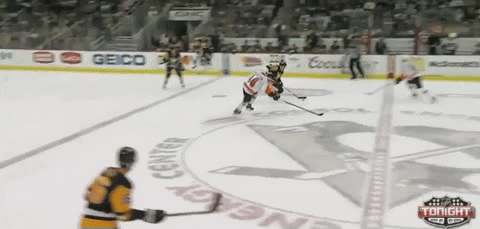 This goal from Wednesday's Flyers/Pens game all starts with a turnover by Simon Despres that led to a goal by Matt Read. The turnover just inside the Flyers zone allows Philadelphia to quickly break out. On the play, Sean Couturier has the puck wide entering the zone on a 3-on-2. Evgeni Malkin is so fixed on Couturier entering the zone wide, with R.J. Umberger driving the slot, that he never notices Matt Read gaining speed and getting around him. Read has the puck on his stick and when Rob Scuderi is late to turn around, Read is able to get the puck to his backhand and go top-shelf to beat. Marc-Andre Fleury. As a whole, this was just bad defensive zone awareness from the Penguins, as Malkin allows Read to drive towards the net uncovered, and Scuderi does get try to get into Couturier's shooting lane, but by doing so takes himself out of position to possibly tie up Read.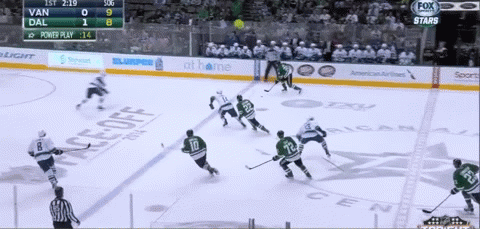 The second goal is a power play tally by Erik Cole of the Dallas Stars on the power play. Vancouver's Nick Bonino loses his stick on the play, which essentially creates a 5-on-3. Cole takes a pass into the slot and has a wide open look at the net. Why? because Shawn Horcoff does an excellent job of screening Canucks defender Chris Tanev, not allowing him to fill the lane and take away the shot from Cole. Was Horcoff's move interference? Tanev sure thought so, but the refs didn't call it and Horcoff never really makes solid contact, he just positions himself inside of Tanev and then turns himself in towards the play after Cole gets the lane. The Stars took perfect advantage of the power play and if you can get away with a little bumping in front, good things will happen.
The final goal of the week comes courtesy of Johnny Gaudreau. The Flames gain the zone on the power play and when Mason Raymond is able to keep the puck in the zone and fight off the Jets Blake Wheeler to get a shooting lane, he does the smart thing and rips a shot with Joe Colborne parked in front of the net. The shot doesn't go through, but Colborne has the sense to notice Gaudreau hanging below the goal line uncovered, feeds it to him and Gaudreau uses his exceptional speed to score on a wrap-around attempt. A senstational play by Colborne, who not only gets the pass off quickly, but had tied up Toby Enstrom of the Jets just enough that he wasn't able to get to the cutting Gaudreau in time. This is a perfect example of why putting big bodies in front of the net on the power play turns into good things.
Stat of the week:
Since the Consol Energy Center opened in 2010, the Philadelphia Flyers are a stunning 10-1-1 in Pittsburgh's gorgeous new home, after their 5-3 win over the Penguins on Wednesday. That's domination.
Quick Hits:
1. The More I think about it, the NHL didn't do the right thing by putting the Chicago Blackhawks in the Winter Classic in Washington D.C. Not because the Blackhawks don't deserve it, but because they went for pure start power over having any sort of matchup that has some sizzle to it. Also, when (wishful thinking at this point?) the Minnesota Wild FINALLY get their well deserved game, a budding rivalry with the Blackhawks would have been a perfect game to showcase. I'm just not a fan of intra-division matchups for those games.
2. The Pens look great in those 90′s throwbacks. There's no more Mario Lemieux or Jaromir Jagr flow, but those jersey are fantastic. I love the yellow sleeves. It's a unique look and Pens should definitely wear them more often.
3. Watching young Anaheim defenders Hampus Lindholm and Sami Vatanen play is a reminder that you don't have to pick in the top half of the draft every year to find good talent. It's all about scouting and drafting the right guys for the system. The Ducks are even better this year because of the play from their blueline.
4. Food of the week: Poutine with Corned Beef. If you're not familiar with the popular Canadian dish Poutine, well, you should be. It's a lot like "disco fries" that we'll see in American eateries, except instead of cheddar cheese, it's topped with cheese curd, which tastes similar to fresh Mozzarella. It's simple; fries, gravy and cheese curd and I like to make a corned beef along with it and chop some of it up and throw it on top. If you haven't ventured into the world of Poutine, you're missing out.
5. Beer of the week: La Fin Du Monde – Unibroue (Quebec) Sticking with the Canadian theme, is a beer I first had on tap while in Montreal. It's a Belgian-Tripel and it's 9% so it packs a punch, but it's a phenomenal beer. I usually stick to dark stuff, but this beer is a highly drinkable selection that has notes of fruit. The flavor is so unique, it's almost hard to explain, but it's great.

Related Links:
Why the Ducks are surging
Hunter Strickland's regrettable outburst
Worst ceremonial pitches of 2014


Read Full Story