Russian Speedskater Olga Graf Nearly Flashed Everyone After Winning A Medal
SOCHI, Russia (AP) - A moment of triumph nearly turned embarrassing for Russian speedskater Olga Graf.
The 30-year-old gave the home country a reason to cheer Sunday, winning Russia's first medal when she took a surprising bronze in the women's 3,000 meters Sunday.
She even got a note of praise from Russian President Vladimir Putin.
When Graf's time flashed on the scoreboard - 4 minutes, 3.47 seconds was a personal best - the crowd at Adler Arena erupted in cheers. She whooped it up on her warm-down lap, then unzipped her skin-tight suit right down to the belly button.
She was wearing nothing underneath.
"I totally forgot," Graf said sheepishly through a translator. "We have very good suits and they are very tight. ... You just want to breathe and you want to take off your suit." When she realized her faux pas, Graf quickly zipped the suit back up with a mortified smile.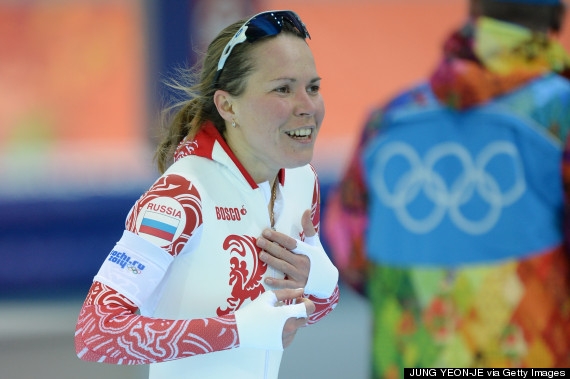 "Only afterward," she said, "did I realize that maybe this video will appear on YouTube. But I don't think it will be so bad." - Paul Newberry - Twitter http://twitter.com/pnewberry1963
___
Associated Press reporters will be filing dispatches about happenings in and around Sochi during the 2014 Winter Games. Follow AP journalists covering the Olympics on Twitter: http://apne.ws/1c3WMiu
Read Full Story