Organic Architecture Thrives (Might Make You Healthier Too)
We know that our environments affect our moods, and that buildings play a major role in that, but how can we change the way we build our homes to help improve our sense of well-being? There is growing evidence that suggests being cooped up in buildings is bad for our health and that having connections to the exterior environment has positive health outcomes.
Studies
have found that views of nature from the home provide a significant improvement in general well-being.
Improving the connection between the interior and the exterior of a building is the driving force behind the organic architecture movement started by Frank Lloyd Wright in the early 1900s. And that connection is integral to designs by contemporary organic architects. Take a closer look at how this style of architecture might work for you.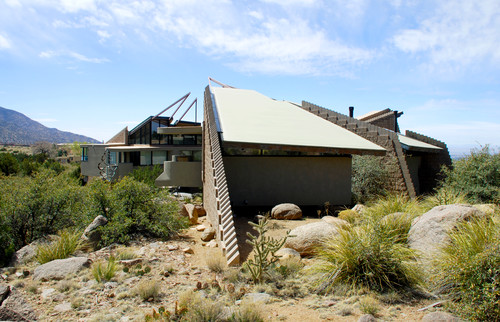 It's all in the geometry.
Organic architecture is almost always governed by a strict set of geometric patterns consistent in every scale of the building, from the overall plan down to the cabinetry and door handles.
Patterns help us understand the world. They allow us to predict the weather, anticipate a valley over a mountain and know when the next train is to arrive. People understand their environment when it is governed by patterns. A home built on patterns will be comprehensible and comfortable.
Below, Bart Prince's Scherger/Kolberg residence in Albuquerque, New Mexico, is arranged around a radial floor plan. Walls and roof framing members extend to a central point, helping to create a comprehensible pattern.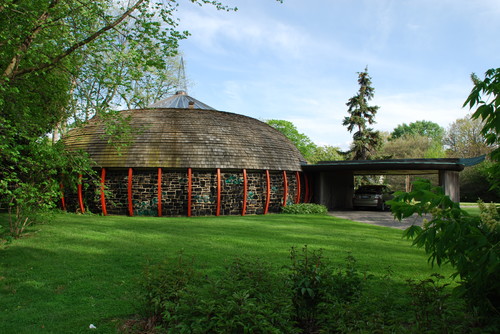 Materials from nature.
To blend an interior space with the external environment, organic architecture utilizes local natural materials to finish the home. Organic homes usually incorporate local stone and timber. Where large, artificially smooth surfaces are used, they are usually broken up with patterns to introduce textures that give the building a natural feel.
Above, Bruce Goff's Ford residence in Aurora, Illinois, uses local materials, including coal, which was quarried nearby. Coal stones in the interior and exterior connect the house to the area's geology.
Harmonizing the masses.
Organic architecture usually incorporates a combination of heavy, massive objects and more ephemeral, lightweight structures. The mass objects are used to tie a building to its site like a trunk does for a tree, while a lightweight canopy often provides shelter that does not feel constrained by massive walls and is free and open.
Robert Oshatz
's Chenequa residence, above, consists of separate roof forms that pinwheel around a central stone-clad elevator core. The core anchors the roof to the ground, while the roof appears to float in the air. The roof also extends into the glass, helping to bring the outside in.
See the rest of this house
Using glass for flow.
Glass is a critical medium for organic architecture. Carefully designed windows allow interior and external spaces to flow freely between one another, with the enclosure of the space being prominent. To achieve this, organic architects usually ensure that window frames are hidden and that materials run unhindered through the glass.
Discover ways to connect indoor and outdoor areas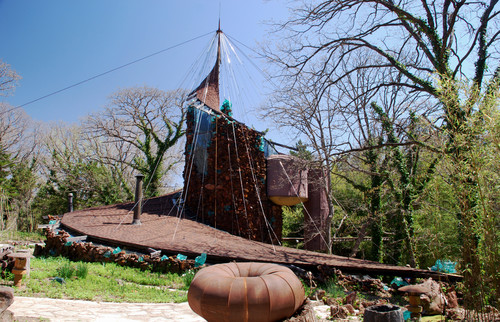 Working within the site. Tying a building to its site is critical in ensuring that it belongs in its location. Frank Lloyd Wright said that a building should be "of the hill and not on the hill," and so organic architecture should appear to grow from its site. When the distinction between the site and the building is eliminated, the outdoor environment is invited into the home.

For example, Bruce Goff's Eugene Bavinger house (above) in Norman, Oklahoma, emerges from the earth as a stone wall that spirals inward and upward. As the house reaches toward the sky, the roof appears to lift off and begin to fly on its own. The stone wall, which was constructed from locally sourced stone, is built in a dry-stacked arrangement to ensure it appears as a natural element. This spiral wall moves in and out of glazing lines and runs through the interior.


Today architects such as Robert Oshatz and Bart Prince create buildings in the organic tradition that forge a harmony with their environments. Their work is idiosyncratic and highly individualized, but so too are their sites and their clients. By following the concepts developed by organic architects, contemporary designers are developing homes that allow their inhabitants to connect with the environment around them. In an increasingly urbanized world, and one with challenges to well-being and mental health, organic architecture provides a road map for healthier buildings.
Read Full Story