Today's Top 10 Housing Markets for Buyers and Sellers
By Camille Salama

U.S. home values rose more slowly in August than they have in a year, and the cooling market offered a clear view of local markets that favor either buyers or sellers.
The nation's hottest markets on the West Coast continued to favor sellers with quick sales and high asking prices. But some still-recovering markets remained a bargain for buyers as more homes went up for sale.
According to the latest Zillow analysis of buyers' and sellers' markets, sellers in the Bay Area, Seattle and Dallas have the most negotiating power, with final sale prices largely at or above asking. For those looking to buy a home, the Northeast and Midwest offer the most favorable conditions, as buyers are less likely to be faced with the fierce bidding wars seen across the West Coast and in larger cities across the country.
In this analysis, a sellers' market is not necessarily one where home values are rising, but rather one in which homes are on the market for a shorter time, price cuts occur less frequently and homes are sold at prices very close to (or greater than) their last listing price. In buyers' markets, homes for sale stay on the market longer, price cuts occur more frequently and homes are sold for less relative to their listing price.
"We now have several different types of markets emerging, including markets that are still muddling along the bottom; markets that shot up immediately after the recession ended and are now cooling quickly; and markets that are still very hot. Each of these environments presents unique challenges and opportunities for buyers and sellers, and what works in one area won't necessarily work in another," said Zillow Chief Economist Dr. Stan Humphries.
To dive into our recently released August Real Estate Market Reports, visit Zillow Research.
To see Zillow's top 10 metros for home buyers and sellers, check out the graphic below.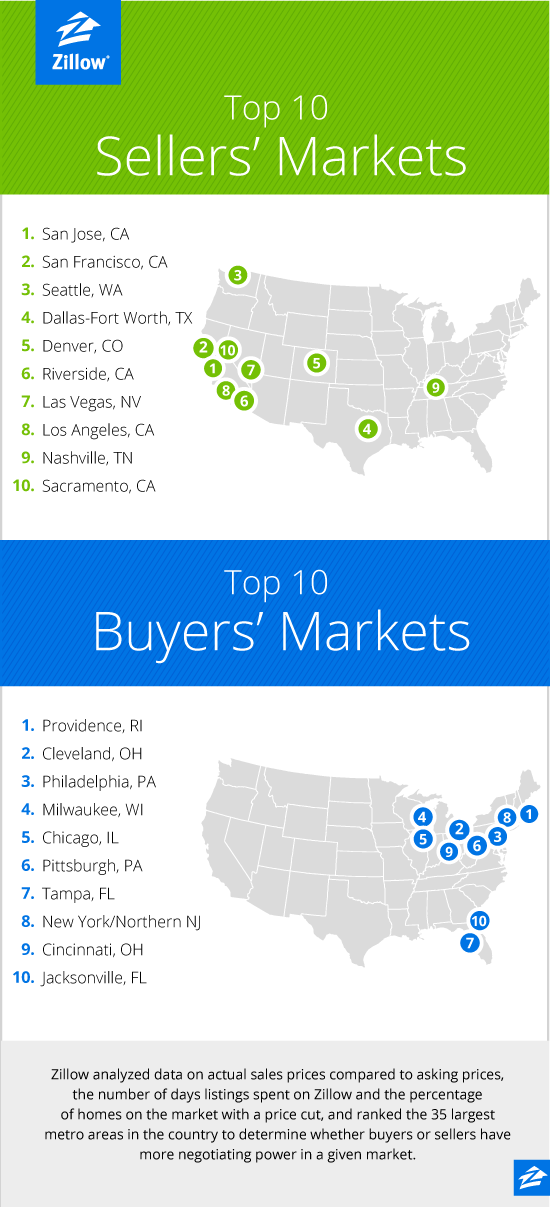 Read Full Story