Room of the Day: Warming to a Contemporary Family Space
By Jeannie Matteucci
Photos by Paul Dyer
Family rooms are where you go to relax, play or visit with friends. But when you have a contemporary home, it can be challenging to create that level of warmth and comfort. That was the situation facing designer
SoYoung Mack
, who wanted to give the family in this San Francisco home an inviting place in which to gather while still respecting the sleek lines and architecture of the renovated home. She struck the right balance with a soothing color palette of browns, neutrals and slate blue that mix with flexible modern furnishings and Asian artifacts.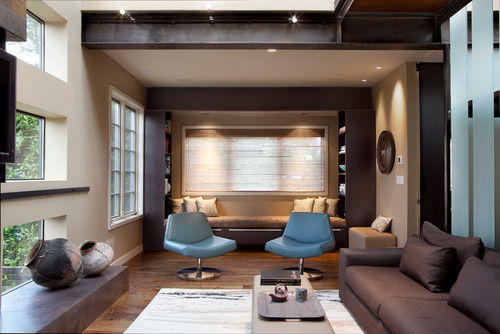 Contemporary Family Room by Mill Valley Interior Designers & DecoratorsSoYoung Mack Design, Assoc. AIA
The homeowners, a professional couple with two school-age sons, wanted a flexible room where the boys could play and the family could watch TV, enjoy the fireplace and visit with friends.
The new contemporary family room was part of a larger renovation that included a 1,200-square-foot addition to this former Mediterranean-style home, which previously felt chopped up and dark.Mack raised the ceiling and removed walls to create a well-lit, loft-like family roomthat opened to the kitchen and breakfast area.
Cabinetry: walnut with espresso finish, custom, OnViu; wood veneers: FSC-certified curly koa, Exotic Hardwoods; flooring: hand-scraped walnut, Restoration Timber; shades: Conrad, Kneedler Fauchere
Since the goal was to keep things versatile, the designer chose furnishings that were light and easy to move around (like the faux-leather box ottomans that are soft and kid friendly, and the pair of light blue swivel chairs). The inviting brown sofa is deep and comfortable, finished in a practical, soft, synthetic textured material with a slight sheen. A large area rug adds warmth to the wood floors.
A library window seat with built-in shelves on both sides at the far end of the family room features a padded bench and plenty of pillows for comfort. It's a cozy spot in a space that feels very open and airy.
Wall-mounted lights: Tech Lighting; window seat pillows (with Galbrath and Paul fabric) and window seat bench (with Bart Halpen fabric): Graziella Interiors; ottomans: custom, Lisa Kampmeyer Upholstery; rug: custom, Sloan Miyasato; sofa: Design Within Reach; swivel chairs: Italian, Khrome Studios; gong: Chinese antique, Sloan Miyasato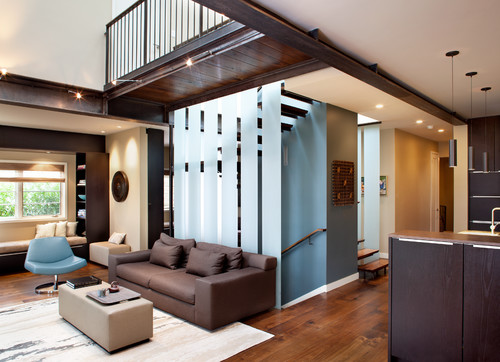 Light blue panels of tempered and frosted glass separate the family room from the adjacent stairwell. "It provides a nice backdrop for the main seating sofa," says Mack. "It's really a buffer, a space break and a beautiful sculptural element in this family room."
This photo also shows the proximity of the kitchen (on the right side of the photo), and the good flow that encourages interaction between the spaces.
Family room wall paint: Tapestry Beige; stairwell paint
:
Knoxville Gray, both by Benjamin Moore; Poltec FJ-Piper Pendants: Policelli Lighting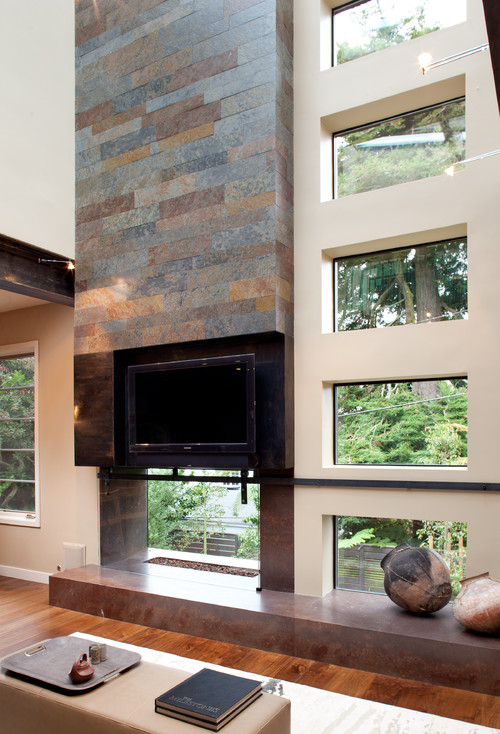 The glass gas fireplace with a two-story slate wall picks up the tones used in the room's color palette. The flat-screen TV above was recessed into the wall so it didn't disrupt the flow of the structure. An operable bronze door on the left hides electrical work and components.
Fireplace tile: Indian multicolor slate, Etheguren Slate; vessels: Brazilian terra-cotta, Living Green; TV: Samsung
A skylight ceiling adds natural light, while a bronze Buddha presides over everything. The Buddha sits on a two-tone dark brown and blue platform that doubles as the core of the stairwell.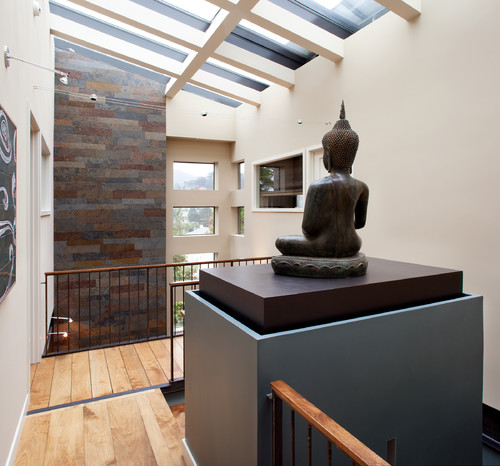 Buddha: Living Green; tile mural on wall: Ann Sacks
See more Rooms of the Day
Read Full Story