Getting the Midcentury Modern Look Today
By Laura Gaskill
Midcentury modern style has only
continued to gain fans
in recent years, and the trend shows no signs of slowing anytime soon. If you are drawn to midcentury style and would love to know more about it, this ideabook can help. Here we'll cover a brief history of the style, touch on key designers and finish with some tips on shopping for vintage or reproduction pieces.
Materials:
Some breakthroughs in design happened during this era -- Charles and Ray Eames produced the first
molded plywood chairs
and the first
molded fiberglass chairs
, which allowed ergonomic shapes like never before. Engineered, high-tech materials like fiberglass, Bakelite, Plexiglas and Lucite were used alongside warm, natural woods, like teak, walnut and rosewood.
Color palette:
Colors tend to be bright and optimistic: pure red, yellow, blue, green or pink. Although color provides the pop, the palette is usually tempered by plenty of natural wood and white.
Key midcentury modern designers to know:
Ray and Charles Eames: American. Key pieces include the molded plywood chair, Shell Chair, lounge chair and elliptical table. The Eames name has become almost synonymous with midcentury design.
Isamu Noguchi: Japanese American. Key pieces: the iconic glass and wood Noguchi coffee table and handmade Japanese paper lamps.
Jens Risom: Danish born, Risom immigrated to the U.S. in 1939 to study design. Key piece: the Risom Lounge Chair, which was originally had surplus parachute straps used as webbing.
George Nelson: American. Key pieces: Platform Bench, Ball Clock, Eye Clock, Coconut Chair, pendant lamps.
Eero Saarinen: Born in Finland, Saarinen immigrated to the U.S. in 1923 with his architect father and textile designer mother. Key pieces include the Tulip Chair, Tulip Table, andWomb Chair.
Hans Wegner: Danish. Key pieces: the Wishbone Chair and the Wing Chair.
Arne Jacobsen: Danish. Key pieces: the Ant Chair, Swan Chair, Swan Sofa, AJ Lamp and Egg Chair.
Of course there are many, many more, but this group is a solid sampling of the work being done at the time.
Buying Midcentury Modern Furniture Now:
You basically have three options when it comes to buying midcentury-modern-style furniture: buy original vintage pieces, buy new designer pieces or buy current pieces inspired by the midcentury aesthetic. Let's explore the options.
1. Hunt down vintage (original) pieces. This can be a surprisingly affordable way to build up a nice collection of midcentury furniture. Since many iconic pieces have remained in production continuously since the day they were designed (see No. 2, next), the period originals do not cost as much as you might expect. There are exceptions, of course, but if you want the real deal, vintage is a great way to get a designer piece often at a lower price.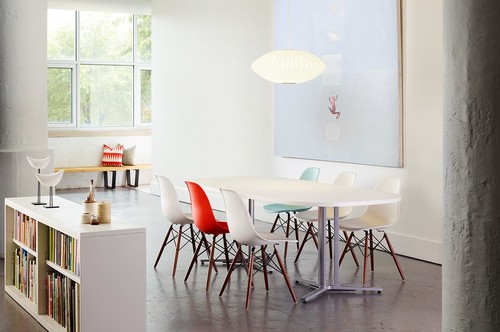 2. Buy new.
Many of the key pieces mentioned earlier have been in production continuously since they were first created. If you want a Saarinen Tulip Table or an Eames rocker, you can order one up in a variety of colors and finishes from a retailer like
Design Within Reach
, which sells pieces made by licensed manufacturers like Knoll and Herman Miller. You can also find pieces in the
Houzz Products section
. Except in the case of some new color and finish options that were not available at the time, what's available today is exactly the same as what rolled out of factories in the 1950s.
3. Seek out new furniture inspired by midcentury design.
There are direct knockoffs -- for instance, a chair that looks exactly like an Eames Shell Chair but is not made by Herman Miller (the licensed manufacturer of Eames products); these have their detractors in the design world. Then there are new designs that are
inspired by
the midcentury aesthetic without being copies. Many retailers (from West Elm to Target) offer fresh twists on midcentury modern styles in a range of prices.
Embracing midcentury modern style today. Instead of trying to re-create a midcentury home exactly, today's take on midcentury modern style is open to interpretation. Don't be afraid to mix in a few iconic midcentury pieces with those in other styles you love, or to revive vintage midcentury finds with new.
Read Full Story