Paint Your Bed for a Boost of Vitality in the Boudoir
By Karen Egly-Thompson
More often than not, bed frames are a neutral color -- they have white, black or wood finishes that coordinate with nearly everything but can lack charisma. Instead, consider using a bright color to add personality and vitality to what is presumably the most frequently used piece of furniture you own. Here are some examples of beds in every color of the rainbow -- and how to get one of your own.
Red
Red is easy to see, which is why it's the color of stoplights and fire engines. While it signifies danger, it is also considered a passionate color and is associated with love. Valentine's Day just wouldn't be right with salmon-colored roses or sage-colored hearts. "Painting the town red" sums up the amorous nature of this spicy color.
Contemporary Bedroom
by
Tel Aviv Interior Designers & Decorators
HILIT
The bold red platform bed is the focus of this bedroom design by
Hilit
. An integrated shelf complements the linear bed. Designer Hilit Karsh says she used a high-gloss, abrasion-resistant paint for this striking project.
For a similar hue, try
Exotic Red
by Benjamin Moore.
Orange
Orange is known as a power color and is often associated with creativity and cheer. It is optimistic and uplifting - a perfect color to wake up next to if you suffer from early-morning grogginess.
This pair of beds by
StudioBaron Design
is painted a subdued orange color reminiscent of a summertime Creamsicle. It is still bright enough to convey orange, but with the right amount of milky softness to dampen any harshness inherent in a brighter, more intense orange. Surrounded primarily by neutrals on the walls and floor, the solid orange color also highlights the voluptuous form and carved motifs of the bed frames.
For a similar hue, try
Kumquat
SW 6648 by Sherwin-Williams.
Yellow
The color yellow is associated with sunshine, making it probably the happiest of hues. This intensely pure yellow cottage-style bed adds freshness and a lively vibe to this girl's bedroom by
Haisma Design
. Although bright colors are often stereotyped as being for kids or ubercontemporary spaces only, this palette of yellow with pink and turquoise accents is at home in this traditional Michigan vacation home, and would be equally welcoming in a bedroom for grown-ups.
For a similar hue, try
Lemon Twist
SW 6909 by Sherwin-Williams.
Green
Green is often associated with good luck and money, as well as the universal signal for "go." The predominant color of plant life, it evokes freshness and vitality while instilling a sense of calm.
This brilliant green painted wrought iron bed is the lifeline of this Australian farmhouse bedroom. Imagine if it were painted a standard white - the bedroom wouldn't have nearly the same charm.
For a similar hue, try
Straightforward Green
by Sherwin-Williams.
Blue
The color of the sky, blue is cited globally as the most popular color. Blue is associated with adventure (going "into the wild blue yonder"), cleanliness and optimism, expressed in the song "Blue Skies Smiling at Me."
It's no wonder this cooling, serene color makes its way into many bedrooms. This blue bobbin four-poster bed turns heads in this tropical-themed Charleston, South Carolina, home. Surrounded by ethereal whites on the walls, floor and bedding, the blue visually pops.
For a similar hue, try
Surfer
by Sherwin-Williams.
Indigo
Dark blues, such as indigo, are affiliated with intuition and perception and are considered reserved and dignified.
Marisol Roman of
Roman Interior Design
shares that this indigo-hued sculptural headboard is actually a painted wall panel. The paneling wraps up to the ceiling to mirror the form of the bed below to give the perception of a canopy effect.
For a similar hue, try
Indigo
by Sherwin-Williams.
Violet
The color purple historically symbolized nobility and opulence, because the dye was so rare and costly to extract - it was made by crushing the shells of thousands of shellfish. In 1856 the first synthetic purple dye, called mauveine, was created in a failed experiment to synthesize quinine. It became immediately popular.
Purple today still evokes a sense of luxury ... and perhaps a touch of mystery. The boudoir is a befitting space for this magical color. A monochromatic look, such as with the bed in this bedroom by
Buckingham Interiors + Design
, doesn't need to be boring or overly matchy. The bed successfully includes a spectrum of purples - from the bluish violet of the bedskirt to the redder tones of the quilt and the brighter, more intense hue for the upholstered headboard.
For a similar hue, try
Impulsive Purple
by Sherwin-Williams.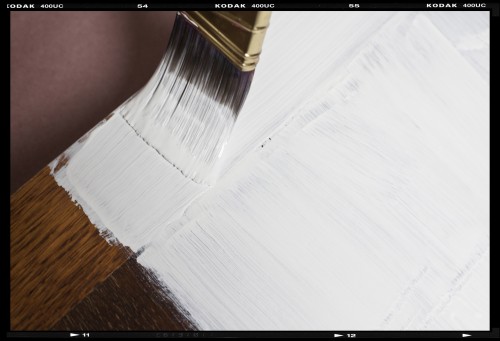 7 things to know about painting your bed:1.
It's best to paint your bed before it's already assembled and in your bedroom with the mattress on top. Otherwise, you'll want to ask for help in removing the mattress, disassembling the bed frame and moving it to a good spot for painting. The time required for this project will vary depending on how fast you work, the intricacy of your bed frame, what look you're trying to achieve and how much prep work, if any, your frame requires. Three days is a solid time estimate, so plan on spending a few nights on the floor on your mattress.
If painting isn't your strong suit, don't worry, this project shouldn't be too complicated; it's an undertaking most will be able to handle. However, if this is not something you want to dive into or you don't have any workspace, you could enlist a crafty friend or relative. Also, some professional painters do offer furniture painting services. The advantages of doing it yourself are that it will be economical and you'll have a hand (yours, in fact) in determining how quickly the job is completed - not to mention the fun! A friend, relative or professional painter will likely do a quality job, but the turnaround time may not be as fast as you'd like.
2.
For furniture it's recommended to use a paint with a medium- to high-gloss sheen, depending on the look you are trying to achieve. It deters fingerprints, increases durability and allows for a cleanable and wipeable surface. High-gloss sheens are typically appropriate on contemporary furniture, whereas a semigloss is a safe go-to sheen for most other pieces.
3.
For a distressed look, try milk or chalk paint, which doesn't require any surface prep other than making sure it's clean. If you are looking for an even, nondistressed application of paint, lightly sanding the surface with a medium- to fine-grit sandpaper, then priming it and sanding it again will create a good base for latex or emulsion paint. Be sure to remove any dust from sanding with a tack cloth after each step. Also, fill any holes or cracks before you start. Be sure to remove any decorative hardware first. No, you won't be able to paint around it without its looking terrible!
4.
If you're considering painting a wrought iron bed, consider having it professionally sandblasted, primed and then powder coated versus having it painted with conventional paint. Powder coating uses fine particles of resin mixed with pigment and is applied with a spray gun with an electrostatic charge. The charged powder adheres to the metal and then is melted at 400 degrees Fahrenheit in an industrial oven. The result is a finish that is much more durable than conventional paint. To boot, powder coating is much more environmentally friendly than painting, because there are no solvent emissions.
5.
Wood beds can be painted using a sprayer, a brush or a roller. A roller is a good choice if your bed has a lot of flat planes. Beds with more intricate carving and spindles may be easier to paint with a brush; just brush the paint on with the grain, otherwise brush marks may show. Commercial sprayers, which can be rented at hardware stores, deliver an even coat that doesn't show brush marks. However, they can create paint drips if too much paint is applied, so it's good to do a practice run first. A dedicated painting space free from wind and separate from everything else is a requirement for spray painting.
6.
Darker paint colors will likely need two or perhaps three coats of paint. Lighter colors will probably require only two coats.
7.
Be sure to allow ample drying time between coats of paint and check the paint manufacturer's recommended duration. Twenty-four hours for each coat is ideal; that's especially important for the last coat of paint. Also take into consideration the temperature and humidity. Paint dries more slowly in cold temperatures and high humidity. Avoid painting in intense sunlight, as the paint will dry too quickly and the paint color may appear inconsistent when it's dry, especially for darker colors. After the last coat of paint has dried, apply a clear sealant and allow it to dry for 24 hours as well. It will add some sheen and will help protect against nicks and scratches.
More:
14 Steps to a Perfectly Polished Bedroom
Read Full Story