A Front Yard Designed To Be Sociable
By Bonnie Monte
When you live in a Southern California beach town and an ocean view is right outside your door, it makes sense to turn your front yard into a gathering spot. That was the thinking of Sacha McCrae, homeowner and principal of
Living Gardens Landscape Design
. "The front is where friends and neighbors gather. The back of the house is a more intimate family space," she says.
Beach Style Patio
by
San Clemente Landscape Architects & Landscape Designers
Living Gardens Landscape Design
Yard at a Glance
Who lives here: Sacha McCrae; her husband, Rob; and their son, Josh
Location: San Clemente, California
Size: 4,600 square feet (427 square meters) combined front and backyards

The Front Yard

The front yard is divided into separate zones -- a stone patio, a raised deck and a seating area around a fire pit -- giving each area the feel of a destination. When McCrae started her yard renovation four years ago, the patio against the house was existing, but the deck and fire pit areas were an overgrown hodgepodge.

White armchairs: West Elm

To capture the view of the Pacific, McCrae built an
ipe wood deck
that sits 6 inches off the ground. For furnishings she played off the soft color of the existing patio.
Teak patio furniture: Regatta Collection, Crate & Barrel
A
succulent
garden planted in a painted wood frame adds texture.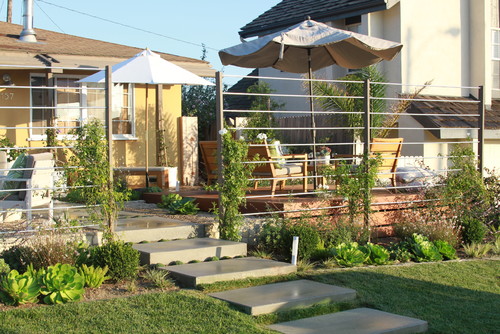 McCrae designed an eight-foot-high trellis (her husband didn't want a solid front fence), using treated and painted 2-by-4s and conduit pipe. This photo was taken when the bower vines (
Pandorea jasminoides
) were just getting a foothold.
In frost-free San Clemente, bower vines thrive.
The seating area around the fire pit is a favorite spot for kids. "They like the little bit of separation," says McCrae. The
gravel
surface is very forgiving of drips and spills, so no one has to fret about dripping s'mores.
Stepping stones edge the driveway, with elfin thyme (
Thymus serpyllum
'Elfin') providing soft tufting in the pockets between the stones. The summertime bloomer tolerates drought as well as light foot traffic.
See how to create a neighborly front yard
McCrae kept existing brick counters and sited the grill between them. They make a handy surface for dishing up dinner.
The shade structure over the patio already existed, but McCrae added a striking vertical planter on one side to screen the space even more. It's built of painted cedar 2-by-8s and lined with a waterproof pond liner that has drainage holes.
Read Full Story