Zillow Mortgage Marketplace: 30-Year Fixed Rise Slightly
By Alexa Fiander
Mortgage rates
for
30-year fixed
mortgages rose this week, with the current rate borrowers were quoted on Zillow Mortgage Marketplace at 4.01 percent, up from 3.99 percent at this same time last week. The 30-year fixed mortgage rate declined early last week, dropping to as low as 3.92 percent on Wednesday before rising to the current rate over the weekend. (See the chart below.)
"Rates hovered near 12-months lows, remaining below 4 percent for most of last week due to the markets' anticipation of the European Central Bank's decision to ease monetary policy to stimulate growth," said
Erin Lantz
, vice president of mortgages at Zillow. "This week, we expect rates to drift upward if the ECB's plans suggest a more worrisome picture of the European economy, or if the U.S.
employment report
reveals unexpectedly strong
jobs
growth when it is released on Friday."
Additionally, the
15-year fixed
mortgage rate this morning was 3.01 percent, and for
5/1 ARMs
, the rate was 2.76 percent.
What are the interest rates right now? Check
Zillow Mortgage Marketplace
for mortgage rate trends and up-to-the-minute
mortgage rates
for your state.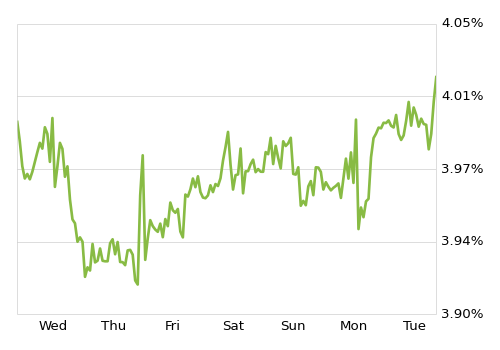 *The weekly mortgage rate chart illustrates the average 30-year fixed interest rate in six-hour intervals.
Read Full Story