Before and After: 5 Spectacularly Converted Garages
I suppose some people actually park in their garages. We have been in our house for 15 years and have never once used it for its intended purpose. Which is why I dream of converting it into a family room one day soon.
The best thing about converting a garage into living space is that the structure already exists. In most cases all you need is a little imagination to transform the interior into a comfy, pretty, livable space. (An architect can be
very
handy when it comes to creating space where you thought there was none).
These five examples - a studio, two living rooms, a mini house and guest quarters - have interpreted the humble garage in vastly different but equally inspiring ways.
This is an exterior shot of a lovely little studio that used to be a not-so-lovely garage.
Eclectic Patio
by
Los Angeles Landscape Architects & Landscape Designers
Urban Oasis
Here it is in its original state: a dark and jumbled mess of unfinished space with some random storage thrown in.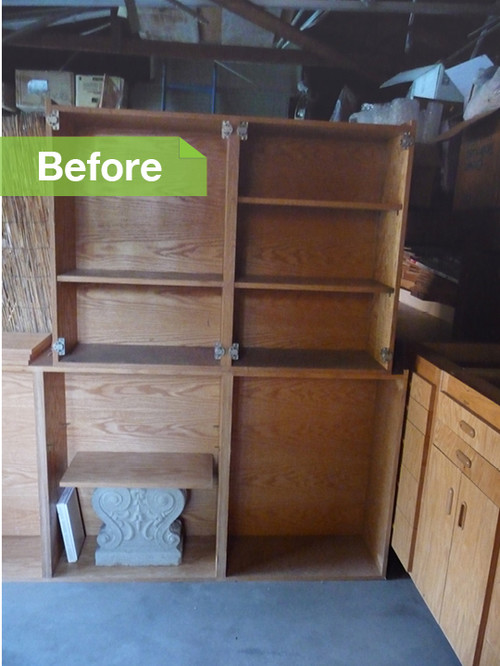 AFTER:
Here is the same space reinvented as a bright studio apartment with a view to the pool. A key for a successful garage transformation is light, light, light. Because most garages start out small with relatively short ceilings, natural light makes all the difference in how the space feels.
See more of this garage transformation
Dark, windowless and poorly organized. In other words, your typical garage.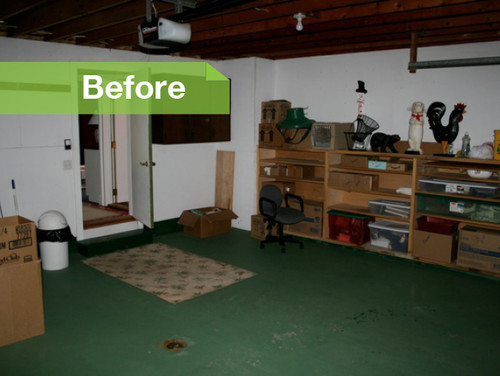 AFTER:
This is one of my favorite renovations. It's light and modern, with incredibly clever uses of space. The architect managed to get a bright, architecturally interesting living room into that dreary garage.
Big windows and half walls increase the sense of space and openness, but also separate the entry hall from the living room.
See more of this renovation
You can imagine what's in here: a broken lawn mower and a lot of spiders.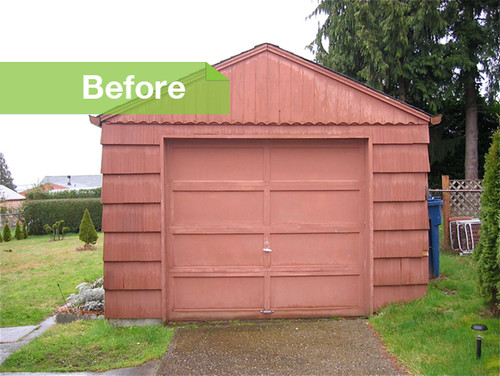 AFTER:
Artist, welder and designer
Michelle de la Vega
's entire home is in this 250-square-foot former garage in Seattle. Except for the addition of a bathroom, the footprint did not change.
Eclectic Exterior
by
New York Photographers
Ira Lippke
A room of one's own, complete with sleeping loft and kitty.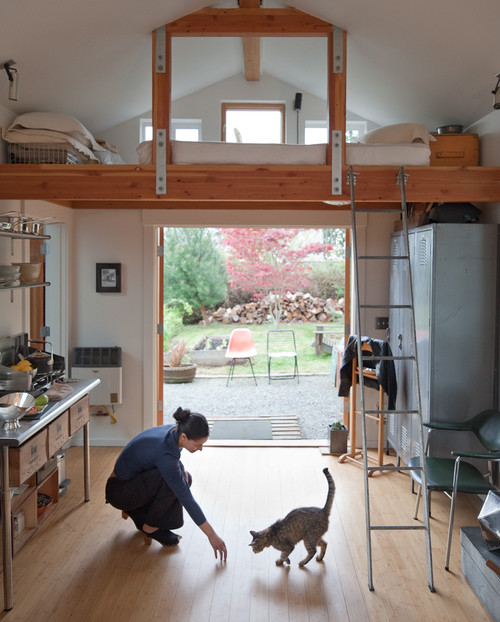 Get the whole story here
It might be a dumpy garage in this shot, but those high peaked ceilings are a very good omen of what's to come.
AFTER:
Susan Jay Design transformed the garage of a ranch-style California home into a swinging midcentury living room. It's still recognizable as the same structure because the architect maintained that open, gorgeous ceiling.
BEFORE and AFTER:
Rossington Architecture
in San Francisco transformed this dark, under-the-house garage typical of the area into a bright playroom and guest quarters. Natural light comes from one wall only, but light colors and lots of pot lights help brighten the space.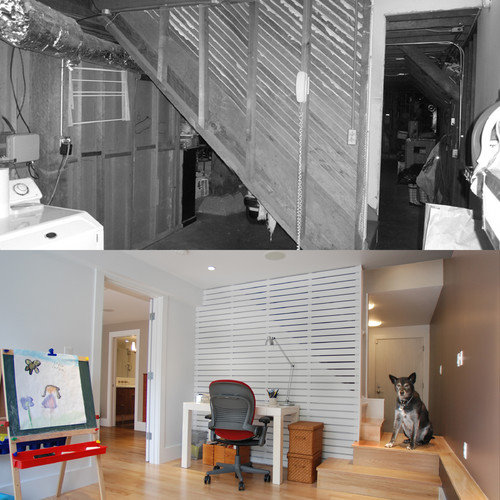 See more photos of this project
Don't miss:
How to Make your Garage a Storage Powerhouse >>
Read Full Story