5 Dramatic Front Door Makeovers
By Michael Franco
Ostensibly, a home's
front door
is there for one reason and one reason only: to let people come and go while keeping the inside environment secure and separate from the outside. But a front door is so much more than that. It is often the first thing that draws the eye of a passerby or visitor. It also sets the style and
mood of your home
, welcoming guests with an air of elegance, friendliness, whimsy or warmth.
If your front door is not setting the tone you want, here are some fun, easy and rewarding ways to make it the arresting centerpiece it deserves to be.
1. Decorate It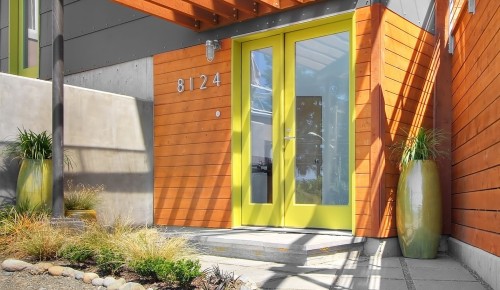 Source:
Verge Architecture
There are nearly limitless possibilities for decorating your front door. You could simply
paint it a different color (or colors)
, hang a wreath in the center or add a dramatic house number above or to the side. Other options include installing long shutters on either side or adding a playful, historic or decorative specialty door knocker. Online retailer Architectural Depot sells a wide range of knockers, from chili peppers to poodles, that are sure to make you smile when you come home at the end of a long day.
2. Replace It
A study commissioned by door manufacturer Therma-Tru found that replacing a home's front door can increase the perceived value of the home. In the study, enhancing an entryway upped a home's perceived value by as much as five times the cost of the new door.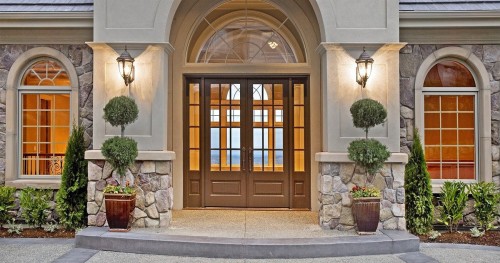 Source: Zillow
When replacing your door, don't think only about swapping one door for another -- although that alone could dramatically increase the appeal of your entrance. Instead, look to enlarge the
entryway
by installing a door with windows on either side or above. This will add a sense of grandeur to the front of the house and create a more pleasant atmosphere inside, thanks to the added natural light.
3. Light It Up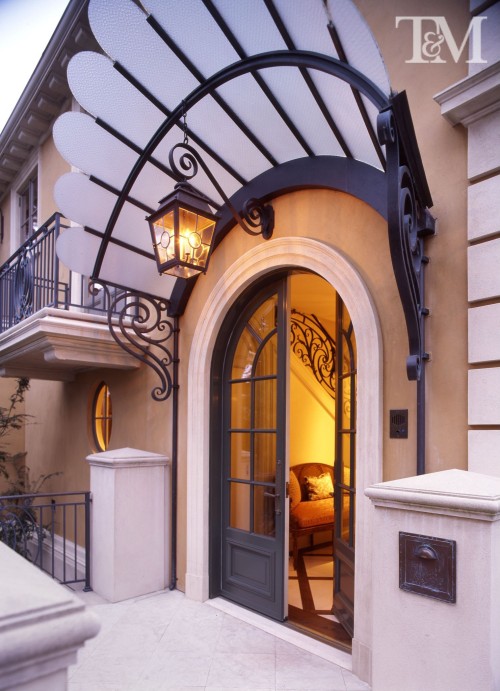 Source:
Suzanne Tucker
of Tucker & Marks Inc.
If you don't already have lights at your front door, installing them can be a big presentation booster. If you do have lights, consider replacing them to update the look of your entry. Wall sconces are available in a myriad of designs, from traditional lanterns to sleek modern steel models. You can find thousands of sconces at online retailers such as Destination Lighting. If you have a porch, install a hanging fixture to cast a welcoming pool of light on the front door. Finally, to add dramatic flair, place outdoor spotlights on the ground and aim them at the door, so it can truly take center stage.
4. Add Planters
One of the quickest ways to enhance your entryway is to set a
planter
containing a variety of different colored and textured plants and flowers on either side of the door. You can create an Old World look with vase-like cement planters, go Zen with simple geometric-glazed pots or strike a whimsical note with old tin or wooden buckets. A common approach is to place a tall plant, such as a grass, in the center of the pot, then surround it by a low-grower like ivy. If you live in a cold climate, after the growing season has passed, use the planters to display seasonal decor, such as pumpkins for Halloween or painted white branches with
twinkle lights for Christmas
.
5. Go High Tech
The front door isn't necessarily the most technologically advanced part of the house, but with the IS7121-2 Audio/Video Door Answering System, a doorbell and phone combo from VTech, you can change that. You simply install a doorbell module beside the front door, then indoors, plug in the two video phone receivers wherever you'd like. When someone rings the doorbell, the module automatically snaps his picture and sends it to the handset. You can then choose to stream video and have a conversation with the visitor or go answer the door in person. Or if you're not feeling very social, pretend you're not home. The system stores up to 100 images, so at the end of the day or a week later, you can review who's stopped by.
As a phone, the IS7121-2 includes Voice Announce caller ID, HD audio, speakerphone, last 10-number redial, caller ID for both the current call and call waiting and many other features. It's a system that's sure to banish the phrase "dumb as a doornail" forever!
While style and budget will be considerations, any improvement you can make to your home's most prominent feature is likely worth the investment of time and money. Remember, your front door makes the first and last impression of your home for anyone who comes knocking.
This post has been brought to you by VTech. Its facts and opinions are those of BobVila.com.Bob Vila is the home improvement expert widely known as host of TV's This Old House, Bob Vila's Home Again, and Bob Vila. Today, Bob continues his mission to help people upgrade their homes and improve their lives with advice online at BobVila.com. His video-rich site offers a full range of fresh, authoritative content – practical tips, inspirational ideas, and more than 1,000 videos from Bob Vila television.Note: The views and opinions expressed in this article are those of the author and do not necessarily reflect the opinion or position of Zillow or AOL.
Read Full Story