For Sale: Homes With Exercise as an Option
By Sharona Ott
The hardest part of going to the gym isn't the workout -- it's leaving the house and getting there. For those stay-at-home types, these homes offer fun exercise options without having to walk farther than your own backyard.
Yoga studio
225 Main St., Farmington, Maine
For sale: $657,500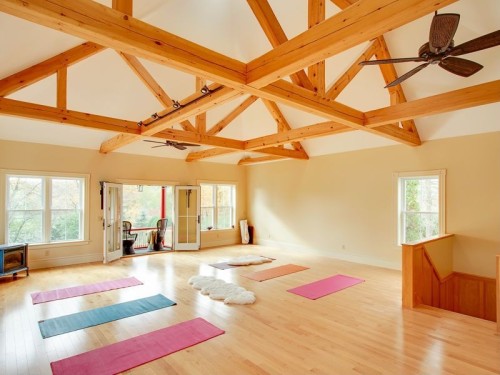 Looking to practice yoga at home? You are in luck - this 4,951-square-foot Victorian-style home has a peaceful, sun-drenched room used for yoga and it also leads to an intimate balcony. Built in 1888, this historic 6-bedroom, 5-bathroom home boasts a gourmet kitchen and a beautiful garden with a gazebo. The home is energy efficient as well, utilizing wind power and solar-powered hot water. Located near the University of Maine and ski spots, more recreation awaits.
Putting green
4N745 Mountain Ash Drive, Wayne, Ill.
For sale: $895,000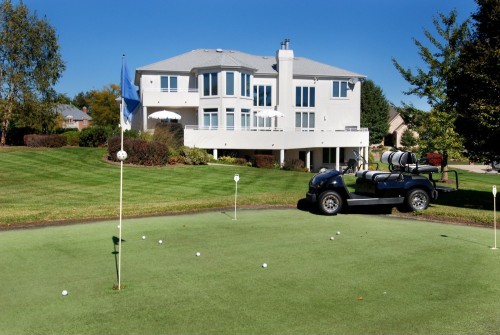 Located 36 miles west of Chicago, this 6,200-square-foot home is perfect for entertaining indoor and outdoor. The interior of the 4-bedroom 5-bathroom property includes a hot tub, wet bar, and game room. An expansive deck overlooks the backyard, where one can golf at the home's putting green. Assigned schools also receive an impressive 8-out-of-10 and above by GreatSchools.
Giant-sized chess
10202 E. Journey Lane, No. 1352, Scottsdale, Ariz.
For sale: $2.595 million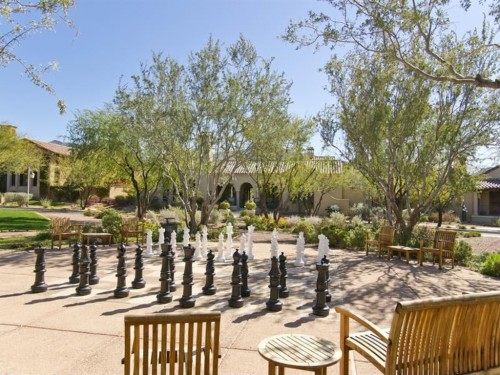 This 4-bedroom, 5-bathroom mansion offers leisurely living over its 5,100-square feet of living space. Unique design features include imported stone, tile, and marble. Loads of activities are available in the backyard, too. Cozy up by the fireplace in a covered cabana, take a dip in the pool, spend some time on the putting green and play chess on a giant outdoor chessboard!
Indoor basketball court
722 Prospect Ave., Winnetka, Ill.
For sale: $7.595 million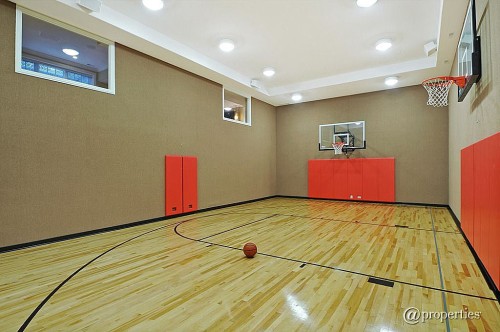 Sitting on one acre, this spacious 12,000-square-foot home has 6 bedrooms and 8.2 bathrooms, as well as an elevator to navigate its three floors. The fun will likely never stop here, with a starry theater room, golf simulator, and a multi-purpose recreation room sure to be a slam dunk for any basketball fan.
Baseball field
18880 Old Coach Way, Poway, Calif.
For sale: $10.9 million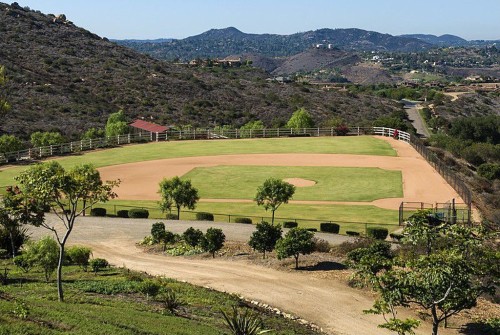 This massive 42.2-acre compound is located 30 miles from San Diego and is a recreation-lover's dream. The 12,764-square-foot home sports a lavish 30-foot-long gourmet kitchen and other lovely features, but the outdoor features cannot be beat. If the infinity-edge pool, waterfall, slide and lazy river are not enough, go saddle up - the estate also includes a barn, riding arena, and corral. But the pièce de résistance is the fenced baseball diamond with turf and clay composite construction. There is a separate batting cage and pitching practice mound. Who is behind this playground for adults? A
sports agent,
naturally.
Dance studio
2900 NE 37th St., Fort Lauderdale, Fla.
For sale: $17.9 million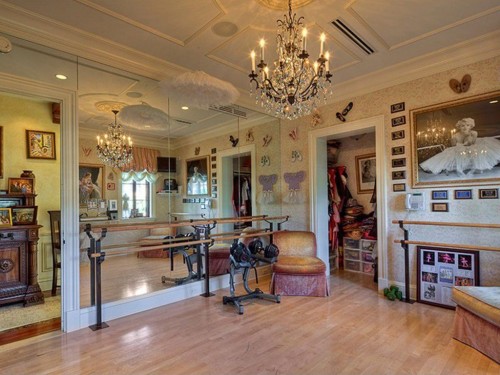 With 9 bedrooms, 17 bathrooms and 17,812 square feet of stunning architecture, this home could easily be a resort. Located on 1.1 acres on a rare double point lot on the Intracoastal Waterway, it contains a pool with a waterfall, waterslide, in-pool bar, and Jacuzzi overlooking 650 feet of water frontage. Both wood and stone are incorporated beautifully throughout the home and are accented by grand pillars. While hard to choose, perhaps the most unique recreation space in this home is the elegant ballet studio. A chandelier graces its ceiling while a wall-to-wall mirror and ballet bar sit awaiting its next ballerina.
Read Full Story