Zillow Mortgage Marketplace: 30-Year Rate Drops Again
By Alexa Fiander
Mortgage rates
for
30-year fixed
mortgages fell last week, with the current rate borrowers were quoted on Zillow Mortgage Marketplace at 4.20 percent, down from 4.25 percent at this same time last week. The 30-year fixed mortgage rate peaked on Wednesday at 4.28 percent before falling to 4.20 percent over the weekend. (See the full chart below.)
"Last week mortgage rates dipped after Friday's job report which, while fairly strong, failed to meet the market's expectations," said
Erin Lantz
, vice president of mortgages at Zillow. "This week, we expect rates to remain about where they are now, and aren't anticipating any market-moving surprises with the release of the FOMC's (Federal Open Market Committee) minutes from the March meeting."
Additionally, the
15-year fixed
mortgage rate this morning was 3.17 percent and for
5/1 ARMs
, the rate was 2.86 percent.
What are the interest rates right now? Check
Zillow Mortgage Marketplace
for mortgage rate trends and up-to-the-minute
mortgage rates
for your state.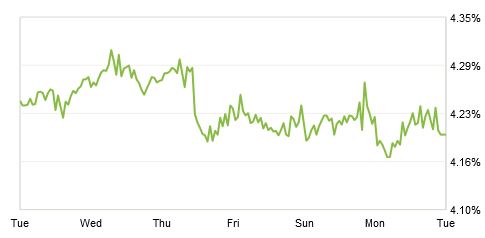 *The weekly mortgage rate chart illustrates the average 30-year fixed interest in six-hour intervals.
Read Full Story