Most U.S. Homes Now Affordable for Average Buyers
By Cory Hopkins
The majority of homes nationwide are more affordable now than they were in the years leading up to the start of the housing bubble, with homebuyers currently spending a smaller share of their incomes on a mortgage than they have historically. Nationwide, roughly two-thirds (66.4 percent) of homes for sale on Zillow are considered affordable, and in many metro areas, the majority of homes are more affordable now than they have been historically for typical buyers making the area's median income,
according to new research from Zillow.
But homes aren't affordable everywhere. Among the 35 largest metros nationwide, more than half of homes currently listed for sale in Miami (62.4 percent), Los Angeles (57.2 percent), San Diego (55.3 percent), San Francisco (55.2 percent), Denver (52.8 percent), San Jose (50.9 percent) and Portland, Ore. (50.3 percent) are unaffordable by historical standards.
Mortgage interest rates
are currently very low, which helps homebuyers' dollars go further when buying a new home. But mortgage rates are rising, along with home values themselves, and as both go up, maintaining home affordability will become more challenging in a number of areas. In fact, in some areas, particularly in California, affordability is actually worse today than it was during the pre-bubble years.
Homebuyers making the median income in Los Angeles, San Francisco and San Jose should already expect to pay a larger share of their income today toward a mortgage than during the pre-bubble years. Zillow expects mortgage rates on a 30-year, fixed-rate mortgage to reach or exceed 5 percent by the first quarter of 2015. Assuming rates at that level and another year of forecasted home value growth, homebuyers in San Diego; Riverside, Calif.; Portland, Ore.; Sacramento; and Miami will also soon be paying a larger share of their incomes to their mortgage than they were during the pre-bubble years.
"As affordability worsens, we're already beginning to see more of the kinds of worrisome trends we saw en masse during the years leading up to the housing crash. These include a greater reliance on non-traditional home financing, smaller down payments and a greater pressure to move further away from urban job centers in order to find affordable housing options," said Zillow Chief Economist
Dr. Stan Humphries
. "We're not in a bubble yet, but we're beginning to see the early signs of one in some areas."
See the full graphic below, and for a deeper dive into Zillow's affordability data visit
Zillow Research
.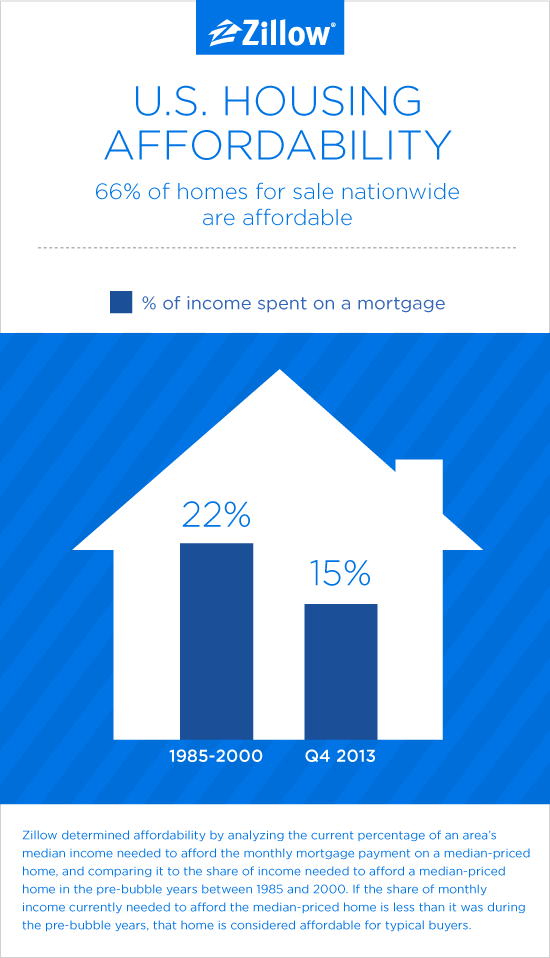 Read Full Story