Zillow Mortgage Marketplace: 30-Year Fixed Rates Fall Back
By Alexa Fiander
Mortgage rates
for
30-year fixed
mortgages fell last week, with the current rate borrowers were quoted on Zillow Mortgage Marketplace at 4.25 percent, down from 4.27 percent at this same time last week. The
30-year fixed mortgage rate
peaked on Wednesday at 4.29 percent before falling to 4.20 percent, where rates hovered for the remainder of the week. (See the complete chart below.)
"Rates dropped last week, erasing most of the run-up triggered previously by the
Fed's
surprisingly aggressive guidance on plans to increase the Federal Funds Rate," said
Erin Lantz
, vice president of mortgages at Zillow. "We expect rates to remain fairly steady this week, not making any significant movements until after Friday's jobs report."
Additionally, the
15-year fixed
mortgage rate this morning was 3.22 percent and for
5/1 ARMs
, the rate was 2.77 percent.
What are the interest rates right now? Check Zillow Mortgage Marketplace for mortgage rate trends and up-to-the-minute mortgage rates for your state.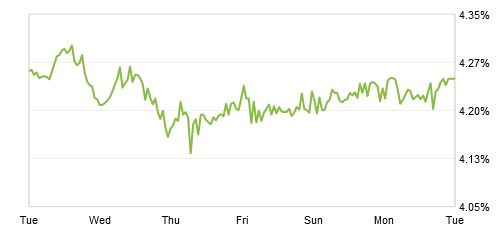 *The weekly mortgage rate chart illustrates the average 30-year fixed interest in six-hour intervals.
Read Full Story