'American Dream Builders,' Episode 2 Recap: Midcentury Muddle
By Emily Heffter
Each week, Zillow Blog will provide a recap of NBC's new home renovation show, "American Dream Builders," hosted by celebrity designer Nate Berkus. Zillow is proud to be partnered with the show in its debut season. The show airs Sunday nights at 8 p.m. ET (7 p.m. CT).

This week on NBC's home renovation reality show "American Dream Builders," each team had one week to remodel and design a home built in a popular architectural style:
midcentury modern
. Both homes are small and feel tired. Or as host and designer Nate Berkus puts it: "These couples have seen their dream homes become a nightmare."
If your nightmares involve vinyl siding, that is.
The best-selling
homes in the Palm Springs neighborhood
have kept the mid-century design intact and maximized their use of outdoor space, since the homes aren't very large.
As an added challenge, each team is asked to make the two homes' underwhelming yards into "an outdoor oasis" where the homeowners can enjoy additional space as well as cool down in the hot Palm Springs weather.
Team Red
Team Red, under the site management leadership of
Lukas
, lists three goals to tackle:
Create indoor/outdoor living area
Give bedrooms facelift
Add special projects to make house pop
Lukas assigns himself the kitchen,
Erinn
says she is going to make the master bedroom a "calming oasis" by painting it a darker color,
Nancy
makes plans to weld a big piece of art and
Vanessa
is assigned to work with
Dann
on the guest bedroom. Dann, who is from Palm Springs, will also focus on the outdoors. "Palm Springs is about that true melding of indoor-outdoor living, so we have a huge job to do," he says.
Team Blue
Andrew
is the site manager for Team Blue and the team's goals are:
Create a custom pergola in back
Give front exterior a mid-century modern makeover
Open up more space in master bedroom
The members of Team Blue clash right away.
Jay
, the only builder on the team, wants to update the front of the house with a larger door. Andrew,
Christina
,
Darren
,
Elaine
and
Nina
, disagree. They are concerned his idea is not consistent with the lines of mid-century architecture. Once the new door frame is in place, they overrule Jay.
"That's a disaster," says Christina.
"This does not put us in a good spot. ... It looks like crap," site manager Andrew tells him.
Eventually, Jay, in his second humbling moment in two weeks, reframes the entry for a smaller door.
"Voila," he grumbles. "There it is."
Christina is concerned that team leader Andrew is not doing enough to rein in Elaine. At one point, Jay has to help diffuse an argument between the two women after Elaine criticizes Christina's drawings.
"Girlfriend, the day you have a sense of proportion, I'll let you use it," Elaine tells her. "I need you to understand that in the real world, you would be working for me."
Team Red
On Team Red, Dann talks about a plan to have the indoors/outdoors as one by removing a wall between living room and kitchen and replacing the windows with panoramic doors - floor-to-ceiling glass doors that fold all the way open, which will create "one continuous room," says Lukas.
Vanessa discovers some chicken wire and hands it to Lukas. The two - who collaborated on a dining room table out of a kitchen floor in episode 1 - have the same "a-ha" moment of using the chicken wire for a project, and Lukas says to Vanessa, "Do you want to play with me?"
Meanwhile, Nancy is busy designing a bedroom as well as welding a sculpture out of steel.
Dann, Erinn and Nancy shop for plants that can withstand the extreme Palm Springs heat and dry weather. Erinn spots a plant that she feels is perfect - "coffea" - which "blooms from spring to fall." Dann picks out furnishings.
Judges check progress
With a few days left before the reveal, the judges pay a visit to both homes and have mixed reactions to both teams' plans.
They start with Team Blue where Elaine explains her design idea for the living room: "We have brown walls, then shots of yellow, so it's going to be very chic. And the living room is going to be this very metallic grass cloth."
Nate thinks that Elaine's color palette in Team Blue's living room might be too dark, especially because of the low ceilings and lack of light.
Meanwhile, over on Team Red, Erinn promises Nate her bedroom "is going to be the sexiest place in the house."
Nate says, "This could either be the coolest thing I've ever seen in my life or the ugliest house on the face of the earth. We'll see what happens."
As the teams scramble to finish, a storm rolls in and forces them to stop work for part of the final day. At 3 a.m. on reveal day, both teams are still working and frantic.
"In order to speed up the process, I've become this crazy person," Lukas says, as he flips over a framed print that is hung upside down on a wall.
Over at Team Red's project, Nancy is having a crisis because the bed is too big. She starts crying.
"This is wrong," she spurts. "This sucks!"
Dann helps keep her calm and they move the bed to make it fit. "We're going to be fine," he says, helping her pile pillows on the bed to disguise the headboard.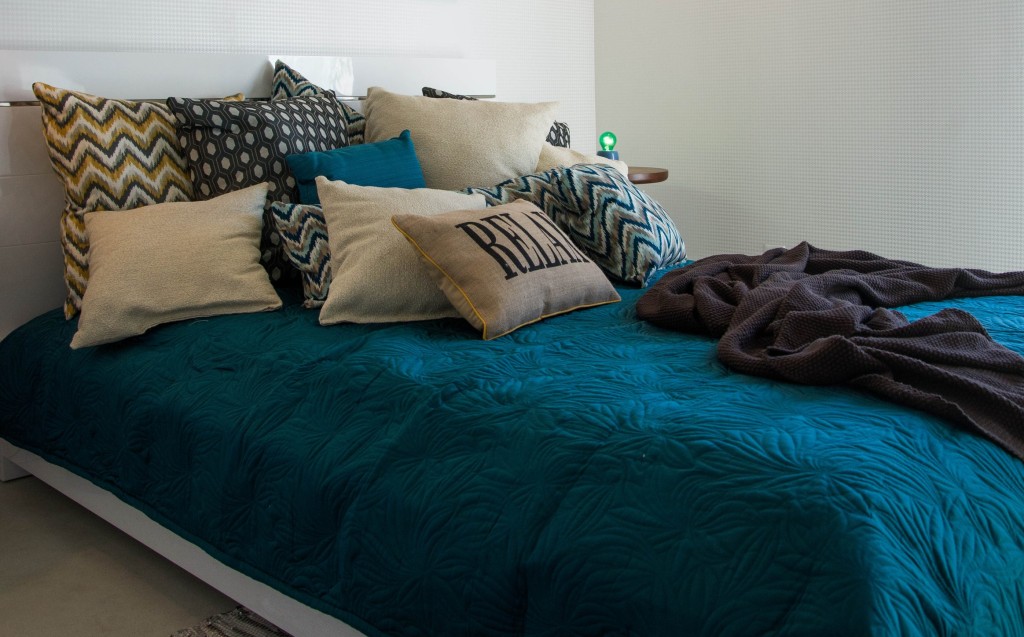 Reveal
The judges head into Team Blue's house first, and immediately, Nate announces that Elaine made the right choice with her dark, textured walls.
"This is mid-century modern, for now," he says. "It's really sexy."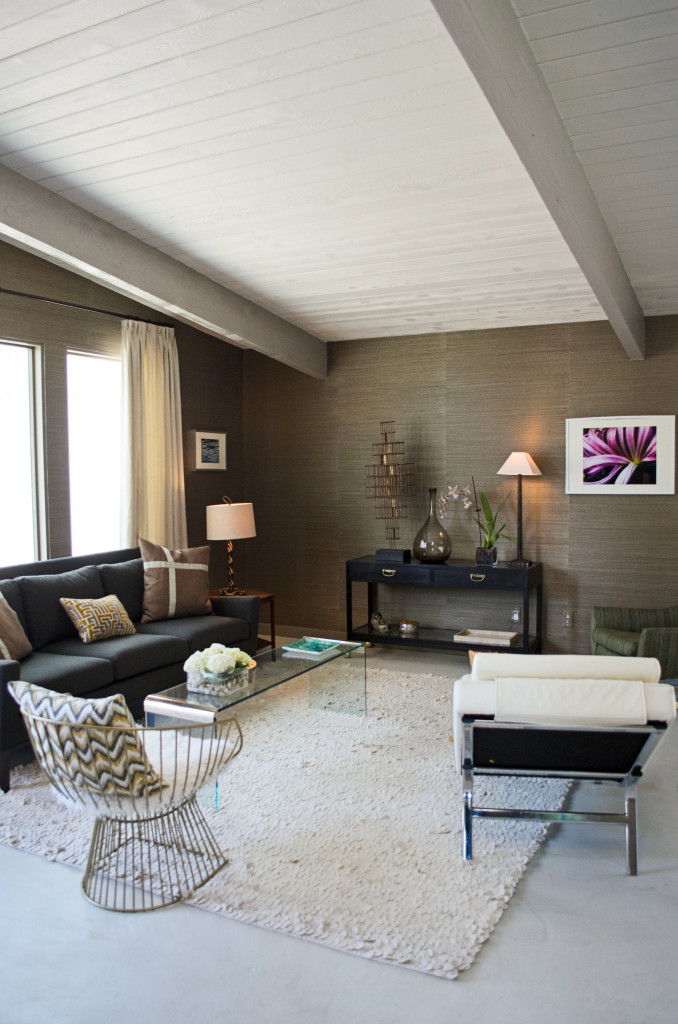 But things are not as well-received in the bedroom. Judge
Monica Pedersen
doesn't like the headboard or painting that Christina chose.
The judges love the home's new outdoor space until they spot an ugly, old water heater on the side of the house.
"This destroys it," says judge
Eddie George
. "It's the stain on the white suit."
Team Red's simple living room design gets rave reviews from the judges.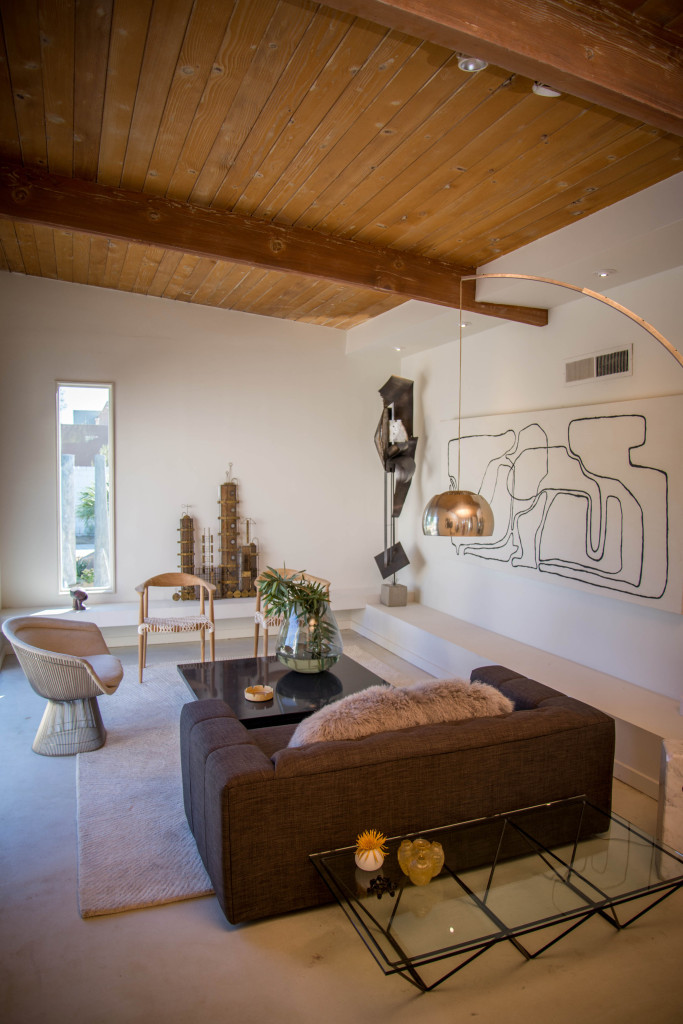 "Oh my goodness," Nate says. "Six pieces of furniture and a rug and it looks spectacular."
They declare that by intentionally leaving out some shelving in the kitchen, the team gave the kitchen a clean, mid-century feel.
But the judges don't like the bedrooms.
Monica says there are "way too many textiles" in the bedroom Nancy and Dann threw together at the last minute.
"I just don't get it in here," says Eddie.
Erinn's dark master bedroom feels small, and the judges say it doesn't go with the rest of the house, either.
But the outdoor space is a true addition to the home and the large chicken-wire lamp created by Lukas and Vanessa receives oohs and ahhs as it seems to float above a long dining table.
The neighborhood council chooses Team Blue as the winning team. The judges tell Team Blue that the home's curb appeal, the colors inside, as well as the organic materials used by Darren for the outdoor space helped them win, but the water heater eyesore was not overlooked by the council or the judges.
Team Red is grilled by the judges. Erinn's master bedroom was an issue as well as Nancy's guest room. Erinn's room was too dark and not welcoming. "We were designing for two guys," Lukas says, defending Erinn's decision. He says that taking time for the sculpture took Nancy away from designing the bedroom and that was the weak point in their home.
In spite of creating an innovative sculpture, the judges cite Nancy's room as the most problematic. By selecting a too-large bed for the space, the bedroom design was overdone with too many textiles and patterns. The sophistication level was not at the same in the rest of the home.
Nancy is eliminated.
In the end, both families are thrilled with their new designs. Each home has increases in its estimated value, thanks to new landscaping, outdoor space and modern interiors.
Before the show, the homes were estimated by Zillow to have a lower market value than
similar homes in the neighborhood
. But the Zestimate® home value should increase, following an appraiser's inspection of the remodeled home that takes into account special features, location and market conditions.
What did you think about episode 2? Leave your thoughts in the comments section!
If you missed the episode, you can watch the show online on
nbc.com
or Hulu Plus.
More about "American Dream Builders":
"
American Dream Builders" Episode 2: Exit Interview
Midcentury Homes for "American Dream Builders" Fans
"
American Dream Builders," Episode 2: Before & After
Get Amy's Take on "American Dream Builders," Episode 2
More on AOL
Real Estate
:
Find out how to
calculate mortgage
payments.
Find
homes for sale
in your area.
Find
foreclosures
in your area.See celebrity real estate.Follow us on Twitter at @AOLRealEstate or connect with AOL Real Estate on Facebook
.
Read Full Story