Zillow Mortgage Marketplace: 30-Year Rate Rises
By Alexa Fiander
Mortgage rates
for
30-year fixed
mortgages rose this week, with the current rate borrowers were quoted on Zillow Mortgage Marketplace at 4.21 percent, up from 4.11 percent at this same time last week. The 30-year fixed mortgage rate steadily rose last week, peaking at 4.27 percent on Monday before dropping slightly to today's rate. (The chart for the full week is below.)
"Rates rose on Monday to levels not seen since mid-January, as the situation in Ukraine appeared to improve and Friday's jobs report beat expectations," said
Erin Lantz
, director of mortgages at Zillow. "This week, we expect rates to remain fairly steady, unless the economic reports being released in the latter half of the week are strong enough to accelerate the gradual upward momentum we saw following last week's jobs report."
Additionally, the
15-year fixed
mortgage rate this morning was 3.15 percent and for
5/1 ARMs
, the rate was 2.74 percent.
What are the interest rates right now? Check Zillow Mortgage Marketplace for mortgage rate trends and up-to-the-minute mortgage rates for your state.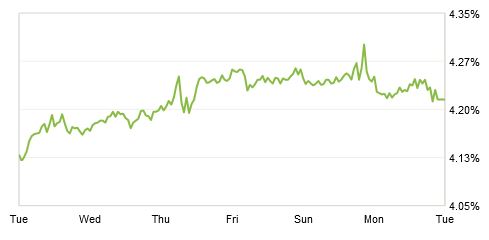 *The weekly mortgage rate chart illustrates the average 30-year fixed interest in six-hour intervals.
Read Full Story