Zillow Mortgage Marketplace: 30-Year Rate Makes 1st Drop in Month
By Alexa Fiander
Mortgage rates
for
30-year fixed
mortgages fell this week, with the current rate borrowers were quoted on Zillow Mortgage Marketplace at 4.11 percent, down from 4.18 percent at this same time last week. The 30-year fixed mortgage rate declined steadily last week, dropping to as low as 4.09 percent on Monday before rising slightly to today's rate. (See the complete chart below.)
"Rates drifted downwards last week as geopolitical concerns emerged from the turmoil in Ukraine," said
Erin Lantz
, director of mortgages at Zillow. "This week, while the jobs report on Friday is typically the dominant market catalyst, we expect rates will remain depressed while the situation in Ukraine remains unsettled."
Additionally, the
15-year fixed
mortgage rate Tuesday was 3.08 percent and for
5/1 ARMs
, the rate was 2.69 percent.
What are interest rates right now? Check
Zillow Mortgage Marketplace
for mortgage rate trends and up-to-the-minute
mortgage rates
for your state.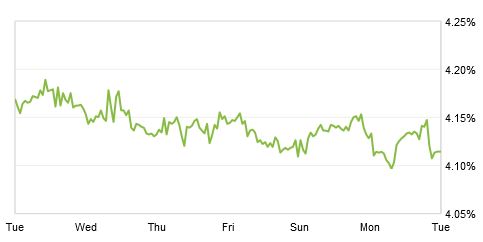 *The weekly mortgage rate chart illustrates the average 30-year fixed interest in six-hour intervals.
Previous posts from Zillow about mortgage rates:
30-Year Rate Holds Steady
30-Year Rate Rises Again
30-Year-Fixed Rate Bumps Up
30-Year Rates Dip
More from AOL
Real Estate
:
Find out how to
calculate mortgage
payments.
Find
homes for sale
in your area.
Find
foreclosures
in your area.Find homes for rent in your area.
Follow us on Twitter at @AOLRealEstate or connect with AOL Real Estate on Facebook
.
Read Full Story