Zillow Mortgage Marketplace: 30-Year Rate Rises Again
By Alexa Fiander
Mortgage rates
for
30-year fixed
mortgages rose again this week, with the current rate borrowers were quoted on Zillow Mortgage Marketplace at 4.18 percent, up from 4.14 percent at this same time last week. The 30-year fixed mortgage rate hovered between 4.17 and 4.21 percent for the majority of the week, spiking to 4.27 percent on Wednesday before dropping back down to 4.18 percent on Thursday.
"Last week, rates rose briefly when comments by Janet Yellen, the new Federal Reserve Chair, ended speculation that the Fed might delay the winding down of its stimulus program due to recent weak economic data," said
Erin Lantz
, director of mortgages at Zillow. "During this holiday-shortened week with limited economic data scheduled for release, we expect rates will continue to follow the gradual upward path of the past two weeks." (See the complete chart below.)
Additionally, the
15-year fixed
mortgage rate this morning was 3.14 percent and for
5/1 ARMs
, the rate was 2.71 percent.
What are the interest rates right now? Check Zillow Mortgage Marketplace for mortgage rate trends and up-to-the-minute mortgage rates for your state.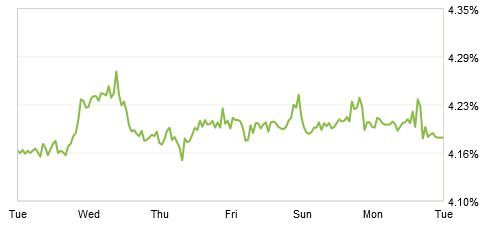 *The weekly mortgage rate chart illustrates the average 30-year fixed interest in six-hour intervals.
Previous posts from Zillow about mortgage rates:
Zillow Mortgage Marketplace: 30-Year-Fixed Rate Bumps Up
30-Year Rates Dip
30-Year Fixed Rate Holds Steady
More from AOL
Real Estate
:
Find out how to
calculate mortgage
payments.
Find
homes for sale
in your area.
Find
foreclosures
in your area.Find homes for rent in your area.
Read Full Story