Zillow Mortgage Marketplace: 30-Year Rates Dip
Mortgage rates
for
30-year fixed
mortgages fell this week, with the current rate borrowers were quoted on
Zillow
Mortgage Marketplace at 4.18 percent, down from 4.23 percent at this same time last week. The 30-year fixed mortgage rate remained stable for the majority of the week, peaking on Wednesday at 4.26 percent before dropping to the current rate over the weekend.
"Last week, rates dipped abruptly after China's lackluster manufacturing report triggered concerns about the health of the global economy," said
Erin Lantz
, director of mortgages at Zillow. "This week, markets will look to Wednesday's Fed announcement about unwinding its
stimulus program
and Thursday's GDP numbers as indicators of whether the U.S. economy can continue to improve. Mortgage rates could be affected by either or both."
Additionally, the
15-year fixed
mortgage rate this morning was 3.18 percent and for
5/1 ARMs
, the rate was 2.80 percent.
What are the interest rates right now? Check Zillow Mortgage Marketplace for mortgage rate trends and up-to-the-minute mortgage rates for your state.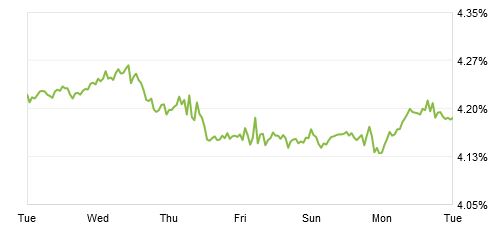 *The weekly mortgage rate chart illustrates the average 30-year fixed interest in six-hour intervals.
Previous posts from Zillow about mortgages:
Zillow Mortgage Marketplace: 30-Year Fixed Rate Holds Steady
Rates Tick Down Again
30-Year Fixed Mortgage Rate Rises Slightly
More from AOL
Real Estate
:
Find out how to
calculate mortgage
payments.
Find
homes for sale
in your area.
Find
foreclosures
in your area.Find homes for rent in your area.
Read Full Story