Who Wins March Madness by the Paycheck?
Who do you predict will win March Madness this year? Maybe you're rooting for the team with the best record in your favorite conference or have picked one of the underdogs. While it may make sense to look at three-point percentages and rebounds per game, online salary database PayScale has started a tradition of ranking the teams in the tournament by a different factor: alumni salary.
For the fourth year in a row, PayScale has pitted the schools in the tournament against each other according to the median annual salary for a graduate who is working full time; namely, graduates who are now 5-15 years into their careers, approximately 30 to 40 years old.
So, after the winning defense has been analyzed and the final net has been cut, which players and their classmates are most likely to score big, post-tournament? The Tigers of Princeton University are the winners with an average salary of $102,000 per year.
Princeton beat out the two-time, reigning champion Duke University, who came in second with a salary of $99,000 this year. "For the first time in three years, Duke didn't win it all. The pay of Duke graduates has been slipping, unlike schools like Kansas, which are holding steady," says PayScale director of quantitative analysis, Al Lee.
The results for Duke and Princeton aren't too shabby, though. It seems that whether or not the Princeton or Duke players get into the NBA, they'll likely be able to afford a nice car -- just not a collection of them.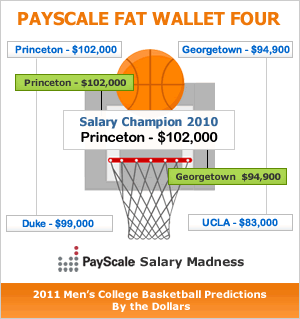 Who else came out on top? Georgetown University was third with $94,000 and UCLA filled out the rest of PayScale's "Fat Wallet Four" with $83,000 per year. UCLA has the distinction of being part of the Pac-10. Of all the conferences represented in the tournament, schools from the Pac-10 have the highest median pay levels, coming in just under $80,000 overall.
On the flip side, some schools' graduates earn about a third of the top-ranked Tigers. Alabama State University sits at the bottom of the results with an average graduate salary of $37,800, while Morehead State ($47,500)and University of North Carolina at Asheville ($47,400) fare a bit better.
When cost of living is considered, such as New Jersey versus Alabama, these differences may not be so extreme.
Are you curious where your favorite team landed in the salary line up? See PayScale's bracket for Salary Madness 2011.
Next:
March Madness and Other Bets Are On at the Office
Related Stories from GlassDoor
Read Full Story