Companies Hiring In August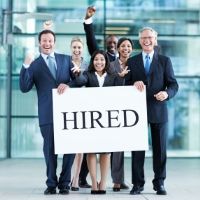 I know economic times are tough right now, and nothing would make the world happier than more jobs and less anxiety. Unfortunately, no one can snap their fingers and make that happen. Well, maybe Oprah could, but I'm not her, unfortunately.
As much as I'd like to tell you to look under your chair and find a new job, I can't. The next best thing is to point you in the direction of companies that are hiring right now, in need of good workers and are hiring this month.
What they're looking for
What makes a good worker? For credit-card processing company Central Payment Corporation, the basics are still important.
"Central Payment Corporation is looking for candidates with an excellent work ethic, a positive attitude and the ability to succeed in a competitive environment," says managing partner Zachary Hyman. "It is important that CPC employees have an ethical approach to business, a personable demeanor and professional appearance."
In the interest of providing you with many options, the following list contains opportunities in locations all over the country. You'll also notice that although each company's industry is listed, they're offering positions that are varied and that require backgrounds in all industries.
Here are 15 companies hiring in August:
Industry: Sales and marketing
Positions Available:Retail Merchandiser, Unit Manager, Area Manager
Location:
Nationwide
Industry: Various (including IT, engineering, finance and accounting, office and administrative, legal, medical and science, government)
Positions Available:Mortgage Processor, Accounts Payable/Receivable Manager, Mechanical Engineer, Paralegal, HR Manager
Location: Nationwide
Industry: Insurance
Positions Available: Sales Representative
Location: Nationwide
Industry: Grocery
Positions Available: Cashier, Shift Manager, Manager trainee
Location: Nationwide (including Connecticut, Rhode Island, Illinois and Indiana)
Industry: Agriculture/manufacturing
Positions Available:IT Application Support Specialist, IT Support Analyst , Accountant, Turbine Specialist, Mechanical Engineer
Location: Illinois, Iowa, Pennsylvania
See All Archer Daniels Midland Jobs >>
Industry: Automotive retail
Positions Available:Part-Time Sales, Full-Time Sales, Parts Sales Manager, Store Manager, Territory Sales Manager
Location: Nationwide (including California, Maryland, Wyoming)
Industry: Publishing
Positions Available:Sales Representative, Writer and Editor, Account manager
Location: California, Michigan, Ohio, Kentucky, New York, Massachusetts
See All Cengage Learning Jobs >>
Industry: Credit card processing
Positions Available: Outside Sales Representative, Account Executive, Entry-Level Sales Representative
Location: Nationwide (work-from-home opportunities)
See All Central Payment Corporation Jobs >>
Industry: Advertising/Media
Available Positions:Inside Media Sales Consultant, Outside Media Sales Consultant
Location: Nationwide (including Maryland, Pennsylvania, New Jersey)
Industry: Health care
Positions Available:Dentist, Dental Assistant, Dental Hygienist, Office Manager
Location: Nationwide (including Texas, Arizona, Georgia)
Industry: Recruiting/staffing
Positions Available:Senior Level Marketing, Managing Director, Staffing Specialist
Location: Nationwide(including Wisconsin, Connecticut, Washington DC)
Industry: Home healthcare services
Positions Available:Physical Therapist, Occupational Therapist, Speech Therapist, Sales Representative
Location: Nationwide (including South Carolina, Virginia, Maryland, North Carolina)
See All Medical Services of America Jobs >>
Industry: Engineering
Positions Available:NDT Technician, ROV Mechanical and Electronic Technician, Engineer, Designer, Diver, Project Manager
Location: Nationwide
See All Oceaneering International Inc. Jobs >>
Industry: Pharmaceutical
Available Positions:Pharmaceutical Sales Representative, Clinical nurse educator
Location: Arizona, Florida, California, Texas
See All Quintiles Transnational Jobs >>
Industry: Post secondary allied health education
Available Positions:Dental Assistant Instructor, Admissions Representative
Location: Michigan, Ohio
See all Ross Education Jobs >>
*Note: Adecco is a recruiting and staffing firm looking to fill positions on behalf of other employers across the country and in a variety of fields.
Next: Top 10 Companies Hiring This Week >>
Read Full Story